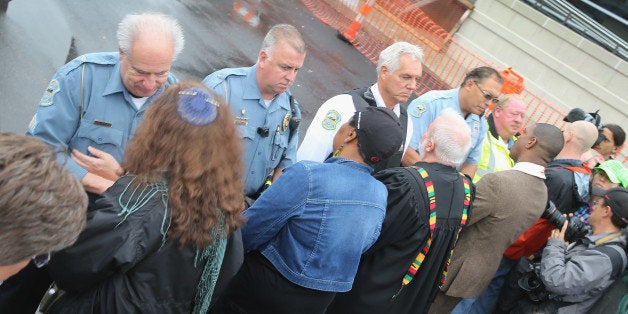 Last Monday I was arrested in Ferguson, Missouri, along with dozens of other clergy, seminarians, and people of many faith traditions. As a white, middle-aged, married, mother of three and a rule-abiding Presbyterian, this was a new experience for me. We marched in the street, sang in the rain, shivered in the police van, and danced in the jail cell. There were many unpleasant parts of this experience, including physical discomfort (cold, hunger, thirst, no access to restrooms, confinement in very small spaces) and psychological discomfort (lack of control, lack of information and communication, very thorough pat downs, unpredictable behavior from police officers). Yet one of the hardest parts was figuring out how to explain where I had been to my five year-old child in terms she could understand. I went with this: "When you know you are loved, you can say when you are sorry."
Repentance was the theological center of Monday's clergy action. Repentance involves two elements: confessing sin and a willingness to do differently, to amend our ways. What makes repentance possible is faith in the love of God. When we know that we are loved by God, we can admit the ways in which we have fallen short of who we are called to be.
Repentance over racism is very tricky, because our public language about racism gets easily sidetracked into questions about the intentions or beliefs of individuals (this person is or is not racist). But racism is systemic. It indicates the ways in which our social structures make life easier for white people and harder for black and brown people. Every person living in America participates in this system in some way or another -- to their benefit, their harm, or both. I often uphold structural racism in small ways that do not spring from mean intentions or hateful beliefs, but rather from ignorance or inattention, because I am focused on my own comforts or crises.
Monday morning began at Wellspring United Methodist Church, with a brief training in civil disobedience, with prayer and with repentance. There were famous leaders there, including Cornel West. There were many faith leaders from around the country, including rabbis, imams, priests, pastors, and avowed religious persons. There were incredible local faith leaders from St. Louis who are doing amazing work, such as Rabbi Susan Talve, Rev. Traci Blackmon, Rev. Rebecca Ragland. And there were national faith-based organizing leaders, such as Rev. Nelson Pierce and Rev. Alvin Herring. But all of these people acknowledge that the true leaders of this movement are the young people of Ferguson, black millenials who have been out in the streets protesting day after day and night after night. These are the people who have borne the brunt of systemic racism and militarized policing. These are the people who have arisen as the leaders of a movement for equality and justice that has wide implications and global reach.
One of the first moments of our time together that morning was to admit that we, as people of faith in this country, have failed these young people. We have not worked hard enough to dismantle racism in the United States. We have not fought hard enough against media representations of them as thugs and criminals. We failed the young people of Ferguson, and young black people across the country, long before Michael Brown was gunned down in the street. And so we repented. We could do this because all of us, in different ways, affirm that we are held in a larger context of love.
Working within the Reformed traditions in Christianity, I think of it this way. Because we know that God loves us, we can admit that we screw up. Because God says that I am ok, I can admit that I am a hot mess. It is the love of God -- abundant and capacious, with room for all -- that gives me the confidence to confess my sins.
Then we followed the lead of the protesters of Ferguson and took to the streets. We had repented; We called others to repent. After prayer and song, litany and testimony, clergy members stood directly in front of the police officers present, addressed them by name, and said, "You are part of an unjust and racist system that is responsible for the death of Mike Brown. I call for your repentance, and I offer to hear your confession."
The police officers had varying (and in some cases wildly divergent) responses to our words. Some refused to make eye contact. Others engaged in heartfelt conversations. I was astonished and humbled by the context of love. A woman next to me testified of God's enveloping love. Clergy to my right spoke with such tenderness about the availability of grace.
We later crossed the police line, knowing we would be arrested. Many chanted, "We love you," as we crossed the line.
The police officers I encountered from the time of my arrest to my release (a seven hour ordeal) had diverse attitudes. One clearly felt betrayed by the clergy, as his family has received numerous threats in the past two months. One thanked us for coming. Some treated us with hostility, and some treated us with respect and kindness. One had us stand, handcuffed, with our backs to the wall, while he ranted that we should be protesting President Obama. As prisoners, we were exposed to the discretionary power of these officers with few avenues of response.
After two hours of training and worship, four hours and thirty-two minutes of protest, and seven hours as a prisoner in Ferguson, I was released to cheers and warm embraces from other protesters. After the exhausting and dehumanizing ordeal, it was overwhelming to feel such welcome and community.
I often hear white people respond to discussions of racism by saying "I am not racist"; "I didn't mean it that way"; or "not all white people are racist." These remarks miss the point that racism is systemic and institutionalized. It is not about individual beliefs or intentions. They also miss a larger theological point. God loves us, so we can admit we are wrong and try to do better.
Every week in church we practice repentance. There are various liturgies, but they basically say, "Because you love us, God, we can tell you we screwed up again. We are sorry. Help us as we work hard to do better." It is a good thing we practice because the work of repentance is ongoing. I have been posting on Facebook about my experience in Ferguson, and in one comment I referred to the police van as a "paddy wagon." A friend who is an activist and teacher, Chris Doucot, explained to me that this term has its origins as a slur against Irish people, who were once upon a time racialized as a reviled ethnic group in the U.S. Oh shit. In the midst of my attempts to dismantle racism, I did it again. Thank you for telling me. I am so sorry. I have the freedom to do this -- to repent -- because I stand in the context of God's love.
Related
Popular in the Community