ST. LOUIS -- After seven months of research, public meetings and battling ridicule, a commission tasked with helping the St. Louis region released its final report on Monday, highlighting nearly 200 improvements it believes should be made.
Missouri Gov. Jay Nixon (D) chose 16 area residents -- out of more than 300 applicants -- to form the Ferguson Commission last year following the unrest that occurred after the death of Michael Brown, an unarmed black teenager who was fatally shot by a white police officer.
The St. Louis American spoke to commission co-chairs Rich McClure and Starksy Wilson before the report's release to hear their thoughts on the group's process and future expectations. They made it clear although some of the calls to action mentioned in the report are directed at specific public offices and organizations, it is up to residents to really see them through.
"At the end of the day, the community and civic leaders, and business leaders all across our region are going to have to keep up the pressure for the accountable bodies we identify to act," McClure said. "It is that pressure that will ultimately result in the action."
Monday's report, titled "Forward Through Ferguson: A Path Toward Racial Equity," addresses these failed commissions. It sets itself apart from these past works by not just investigating the region's unrest and listing recommendations but by also studying underlying issues and sharing a narrative about the area.
Commission members, the report reads, have gotten "comfortable with some very uncomfortable data -- data that highlights harsh facts about St. Louis."
The report is broken into three distinct sections -- "Justice For All," "Youth at The Center" and "Opportunity to Thrive" -- that address complex topics such as racial equity, police reform, education opportunities for children living in poverty, minimum wage increase and access to affordable health care.
Sometimes, especially shortly after the establishment of the commission, protesters and other community members would disrupt meetings to share concerns about the commission simply being a distraction. The commission's youngest member, 21-year-old Rasheen Aldridge, told the St. Louis Post-Dispatch he initially thought the commission "was just a way to really not get to the serious issues" but has since changed his mind.
McClure said many of the suggestions that ended up in the final report came directly from complaints brought forward by residents.
"Many of those voices articulated and documented helped us think through things and helped us understand and helped the commission get depths and intensity and passion to the views," he said.
The "Justice for All" segment of the report most closely deals with police relations and protocol. Its calls to actions include assigning Missouri Attorney General Chris Koster as special prosecutor for use of force cases; tasking the state's highway patrol with investigating such cases; and providing consistent and universal police training that would include a comprehensive plan to handle protest demonstrations. The section also touches on court reform and civilian review boards.
The "Youth at The Center" section of the report addresses child hunger and education reform. Its calls to action suggest establishing school-based health centers, revising the state's school accreditation system and reforming discipline practices. The "Opportunity to Thrive" section addresses issues of discrimination in housing, affordable health care, minimum wage increase.
Throughout the report, the commission reaffirms their reasoning behind call to actions with alarming statistics of disparity among the black community in the region. According to research stated in the report, for example, more than 50 percent of black fifth-graders in 2010 scored below basic levels in science, math and communication arts on state tests.
Wilson, who was an active protester prior to being appointed to the commission, said it's problematic to think there "is some great separation from commissioners and people who engage in protests."
He said he received protesters' blessing before agreeing to be on the commission, and his position in the community has created opportunities to have more open dialogues with law enforcement leaders than protesters have tried to accomplish in the past.
Wilson said he hopes people who have been engaged in the process "have something to say about it being more than a distraction, but rather it being a place to create a record of testimony."
The commission is not a lobbying organization, McClure said, but added that he expects various lobbying groups to align themselves with the suggestions laid out in the report.
The commission's primary concern is getting through to local groups and making a positive impact on the region.
"We recognize there is a national conversation that happens around this," Wilson said. "But our desire to move and have impact focuses regionally first."
"When you look at the accountable bodies, most of them are local and state bodies, so that's where we focused most of our energy," he added.
However, Wilson said, the commission has various contacts in the area who have been in touch with the Obama administration.
Nixon's office has received regular updates on the report.
At a Monday afternoon press conference, the governor said he was proud of the commission's work and called the group "remarkable."
Nixon attended one of the commission's more recent meetings and spoke on the calls to action involving police reform. According to McClure, the governor indicated he was studying the commission's recommendations and taking them seriously.
The commission also updated the community regularly on its process by sharing draft postings and updates on its website and at meetings.
"Our ongoing intention was is communicate and report back to the community, which has been the process," Wilson said.
"The real deal is we want to get some results in these policy recommendations and impact lives of young people who are coming up in this region, coming up with these issues," Wilson said. "So, whomever can help with that, we are willing to engage with."
This story is published as part of a partnership between The St. Louis American and The Huffington Post.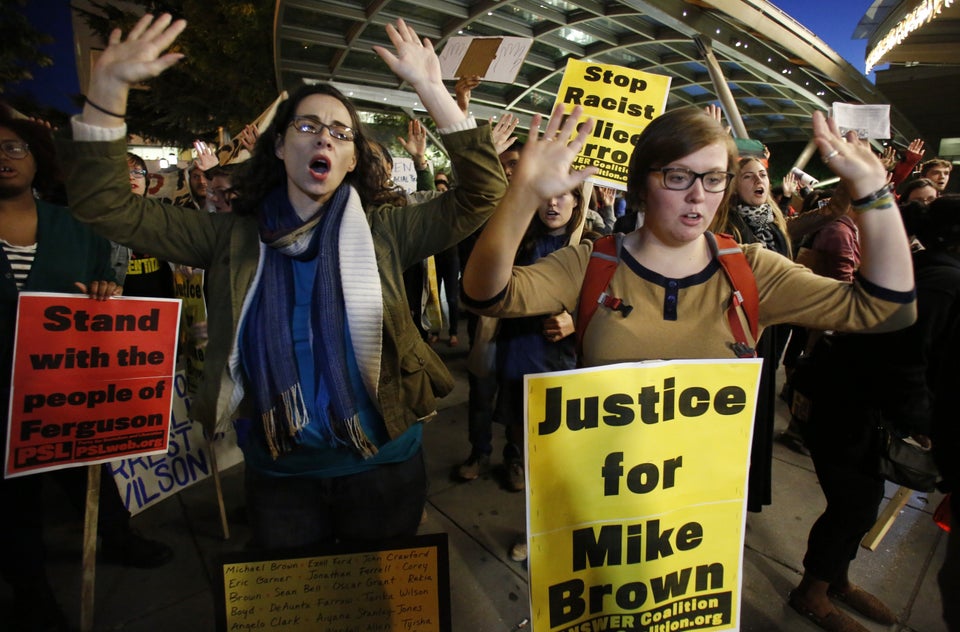 Ferguson
Popular in the Community