FERGUSON, Mo. -- Two weeks ago, before a massive police crackdown on protests over the death of an 18-year-old, community members in this small Saint Louis suburb were cleaning up businesses along the main stretch of shops hit by looting.
Conversations with employees at some of those stores were revealing. Nobody condoned the looting. They said it didn't make any sense. But many also suggested they understood why people were so angry about the way they had been treated by police in the past.
Advance Auto Parts, which is technically located in Dellwood but sits along West Florissant Ave. -- where most of the protests have taken place -- was looted soon after Michael Brown's Aug. 9 death. The Huffington Post spoke with its workers on the morning of Aug. 13. They said they didn't understand why people had decided to take advantage of the situation and steal from a neighborhood store. Yet they also had their own stories about being profiled or mistreated by police officers in the Saint Louis County area.
"They see dreads, and they, you know, I'm young, I'm black, that's an automatic flag depending on the cop you dealing with," said Josh Young, 24, who has lived in the area his whole life. "I've gotten harassed, pulled over for no reason. They want to search my car, didn't find anything, got mad, you know, still want to write me petty tickets. I've been dealing with it before. Now, do I go out of my way to try to antagonize police? No, not at all."
Quincy Qualls, an employee who recently bought a house in nearby Jennings, said that there was "a lot of craziness going on" in the neighborhood after the shooting and that he didn't see why people were taking it out on businesses where others from the community worked. But he knew the issues that people have had with police.
"Everybody had a bad experience," said Qualls. "It's kinda one of those things, you know. I guess if you don't look like you're from the area, they wanna find out who you are. Sometimes they do go a little too far with some issues that you feel like it's unnecessary. But, you know, I guess it's part of their job, and they gotta do what they gotta do, and if you cooperate, make the process a whole lot faster."
"Cooperate, the process will go 10 times faster," Qualls said. He added that many Ferguson cops come into the store to buy things for their cars and "they seem all right."
Young said he was at a candlelight vigil for Brown and participated in protests on the first day.
"Other than that, I've been here, helping them clean this up and trying to get my job in order. As long as the process stays peaceful, I don't have a problem with it, but ruining the neighborhood, I don't like that at all," Young said. "People who live up here got to see this every day. The people who messing up the neighborhood don't even stay over here."
Before You Go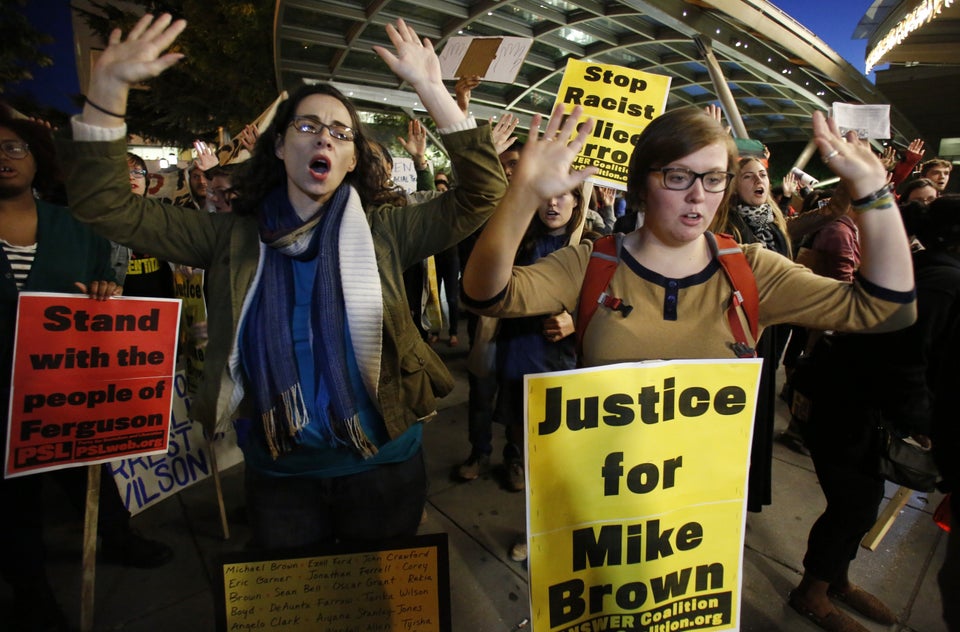 Ferguson
Popular in the Community