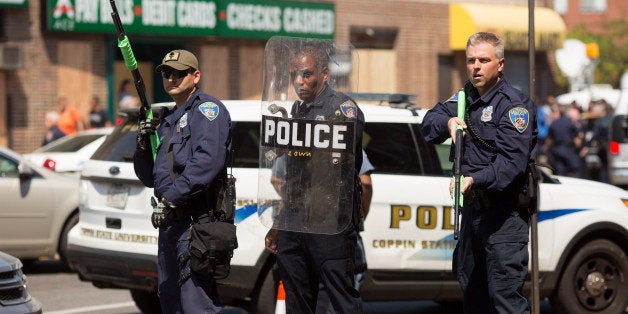 If you were paying attention to the news Monday, you might have heard something about how a violent crime wave has swept across these United States, one that could potentially reverse the gains made nationwide in violent crime reduction. You might have also heard that this was the result of something called "the Ferguson effect," in which the civil unrest that arose out of the killing of Michael Brown has served as the inspiration for widespread lawlessness.
Well, now you can hear that this is all a load of hot nonsense, so relax.
Driving this bit of alarm was an op-ed written by Manhattan Institute fellow Heather Mac Donald that appeared on The Wall Street Journal's opinion page on May 29. In the piece, titled "The New Nationwide Crime Wave," Mac Donald warns that "the nation's two-decades-long crime decline may be over," and that the "most plausible explanation of the current surge in lawlessness is the intense agitation against American police departments over the past nine months."
But is there some sort of ongoing, nationwide crime wave? Mac Donald has certainly chosen a few choice examples to hype:
Gun violence is up more than 60% compared with this time last year, according to Baltimore police, with 32 shootings over Memorial Day weekend. May has been the most violent month the city has seen in 15 years.

In Milwaukee, homicides were up 180% by May 17 over the same period the previous year. Through April, shootings in St. Louis were up 39%, robberies 43%, and homicides 25%. "Crime is the worst I've ever seen it," said St. Louis Alderman Joe Vacarro at a May 7 City Hall hearing.

Murders in Atlanta were up 32% as of mid-May. Shootings in Chicago had increased 24% and homicides 17%. Shootings and other violent felonies in Los Angeles had spiked by 25%; in New York, murder was up nearly 13%, and gun violence 7%.
So, there's no denying that there are a number of urban police departments that have themselves some problems. But does all of this add up to a "new nationwide crime wave"? I'm afraid not. Further examination tells a story of cherry-picking.
For instance, as you go through that three-paragraph flurry of frightening statistics slowly, you become aware that there's a lot of mixing and matching happening. Homicides are compared to shootings. Robberies are broken out in one instance, while in another instance, the whole of one city's violent crimes are bundled together under the banner of "other violent felonies."
New York City's scary stat, to Mac Donald, is the murder rate. I can see why: according to CompStat, homicides thus far this year are up in comparison to the rate over a comparable period of time last year. And yet, if you just glance over to right of the spreadsheet, you'll also learn that the homicide rate in New York City is down 32 percent when compared to five years ago, and down 83 percent compared to 22 years ago. All of which indicates that New York City's darkest days are well in the past, regardless of this year's slight spike. Speaking of, the overall rate of violent crime in New York City is actually down by nearly 7 percent this year.
When Mac Donald talks about Los Angeles, however, suddenly she's not worried about the homicide rate. Instead, the frightening data point becomes "shootings and other violent felonies." When you look at CompStat, you see why: although incidents of rape, robbery and aggravated assaults are up, the homicide rate isn't.
What tells the more accurate story about a crime wave, homicide rates or total violent crime? For Mac Donald, it's whatever statistic looks more alarming.
There's also an amusing but feeble attempt to introduce some fairly terrifying large numbers in Mac Donald's op-ed:
Those citywide statistics from law-enforcement officials mask even more startling neighborhood-level increases. Shooting incidents are up 500% in an East Harlem precinct compared with last year; in a South Central Los Angeles police division, shooting victims are up 100%.
What, exactly, is the point of this passage? The way these large numbers come associated with super-obscure locations sets my well-honed instincts for statistical jukery a-jangle. This is where Mac Donald has reckoned that the story she's telling is too good to check. But seeing as I'm in for a penny here, I reckoned, why not check anyway?
Based upon my best guesses, the "Los Angeles police division" reporting a 100% increase in "shooting victims" is the Newton police district, which covers part of South Los Angeles, Downtown L.A. and the fashion district. There's some statistical significance here, I'll admit. Over the course of this year, the Newton district has reported 52 "shooting victims," as compared to the 26 that were reported over a comparable period last year. But "shooting victims" citywide are only up 23 percent this year. So this isn't an instance of citywide statistics "mask[ing] startling neighborhood-level increases." This is an instance of a statistical outlier being pulled from a larger body of data and dressed up like a bogeyman.
What is the "East Harlem precinct" that Mac Donald describes here? It can only be Manhattan's 28th, which is the only police precinct that's both located in Harlem and features this 500% jump in its CompStat report. Why refer to it as "an East Harlem precinct" instead of "Manhattan's 28th?" Probably because it would be slightly easier to scrutinize. Having done so, I'll definitely back Mac Donald up on the 500% increase in "shooting incidents" -- there have been six so far this year, as compared to one last year. Are you suddenly saying, "So what?" Don't feel alone. My rate of both "So what?" and "Come on, now" both shot up nearly 300 percent after discovering this.
How these odd inclusions speak to a crime trend that's being driven by "the Ferguson effect," is beyond all understanding. Of course, as The Washington Post reports, the "385 people shot and killed by police nationwide during the first five months of this year" does happen to be "more than twice the rate of fatal police shootings tallied by the federal government over the past decade," based on what numbers are available, as "officials concede" they are "incomplete" because they are "grossly underreported." To be honest, this is enough to "agitate" me, though admittedly I've yet to hurt anyone because of this agitation. The year is young, though!
But perhaps the most important thing to note here is that it's just silly to hold out a handful of examples of cities, each with the odd statistical spike in a crime rate or two as proof of some sort of national trend. It's a chasm traversed by a rickety bridge laden with red flags, sufficient to make me wonder if, say, the homicide rate in America's cities is truly spiking. Fortunately, John R. Lott of the Crime Prevention Research Center got to this already: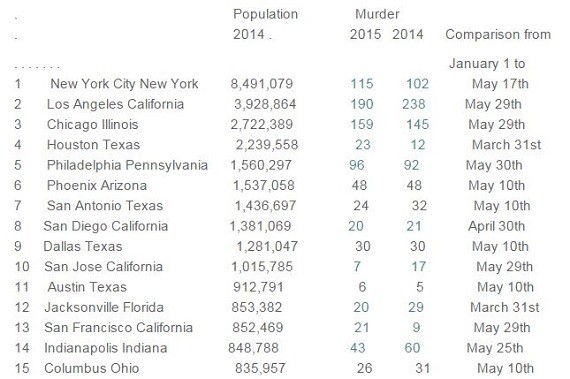 As Lott reports: "The bottom line is that across the largest 15 cities in the US the murder rate has fallen by 43 from 871 to 828, a 5% drop."
It just goes to show, cherry-picking only works when you're picking actual cherries. Otherwise, caveat lector.
Before You Go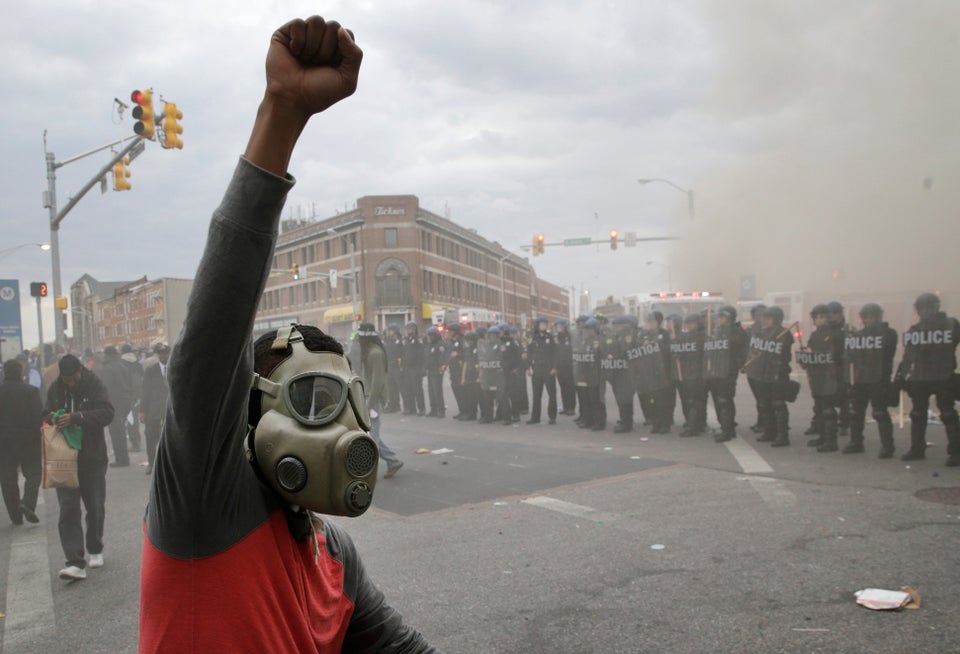 Baltimore Protests
Popular in the Community