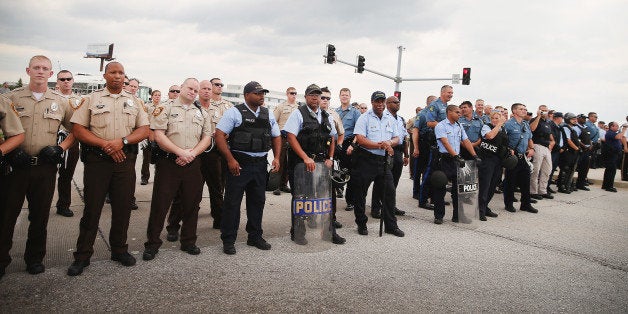 WASHINGTON -- Police officers on duty in Ferguson should not be wearing wristbands showing support for the cop who shot and killed an unarmed teenager last month, the Justice Department on Friday told police in St. Louis County. DOJ officials also said they personally had observed Ferguson police officers not wearing name plates, in direct conflict with Ferguson Police Department policy.
A photo posted on social media during demonstrations in Ferguson on Tuesday night appears to show an officer working crowd control wearing a wristband that reads "I am Darren Wilson." That slogan is affiliated with a campaign in support of the Ferguson police officer who killed Michael Brown on Aug. 9, and whom protestors want to see arrested. A grand jury currently is weighing the evidence against Wilson, and the FBI has launched a separate civil rights investigation into the case.
Missouri State Highway Patrol Capt. Ron Johnson said the wristbands were "not a statement of law enforcement" and that he would have conversations with law enforcement agencies about officers wearing the wristbands.
Christy Lopez, deputy chief of the special litigation section of DOJ's Civil Rights Division, sent a letter to Ferguson Police Chief Tom Jackson on Friday indicating that Jackson had agreed to prohibit Ferguson officers from wearing "I am Darren Wilson" bracelets while in uniform and on duty. The letter said Jackson had said he would make sure the other municipal agencies working in Ferguson would prohibit their officers from wearing the bracelets as well.
Lopez said St. Louis County Police Chief Jon Belmar and Missouri Highway Patrol Ron Replogle had indicated to Justice Department officials they also would ban the bracelets.
"These bracelets reinforce the very 'us versus them' mentality that many residents of Ferguson believe exists," Lopez wrote in the letter.
In a separate letter that DOJ sent to Jackson this week that was released on Friday, Civil Rights Division officials asked him to make sure his officers were wearing name tags while on duty. Lopez had mentioned that letter in a meeting with St. Louis County residents earlier this week, and Jackson reportedly assured federal officials that officers would wear name tags while on duty.
"Sometimes things are just so obvious that we feel like we can recommend a change right away," Lopez said at the meeting. "In a democracy, people need to know who their police are."
Some social media users have reported that officers from other police departments assisting police in Ferguson still were not wearing name badges at protests this week.
"Officers wearing name plates while in uniform is a basic component of transparency and accountability. It is a near-universal requirement of sound policing practices and required under some state laws," the letter to Jackson states. "Allowing officers to remain anonymous when they interact with the public contributes to mistrust and undermines accountability. The failure to wear name plates conveys a message to community members that, through anonymity, officers may seek to act with impunity."
Police officers regularly ditched their name tags during protests last month, allowing them to operate anonymously and making it more difficult for citizens to hold individual officers accountable for their actions. Asked about officers not wearing name tags last month, Johnson said people were harassing officers online, while Jackson said that protestors would use an officer's name to taunt them. "It kind of reduces that personal taunt and allows us to be generic," Jackson said at the time.
Jackson also apologized to the Brown family and protestors this week in a video released by a public relations firm working for the city. Jackson had been heavily criticized for releasing footage that showed Brown allegedly committing a strong-arm robbery at a convenience store shortly before he was killed.
Before You Go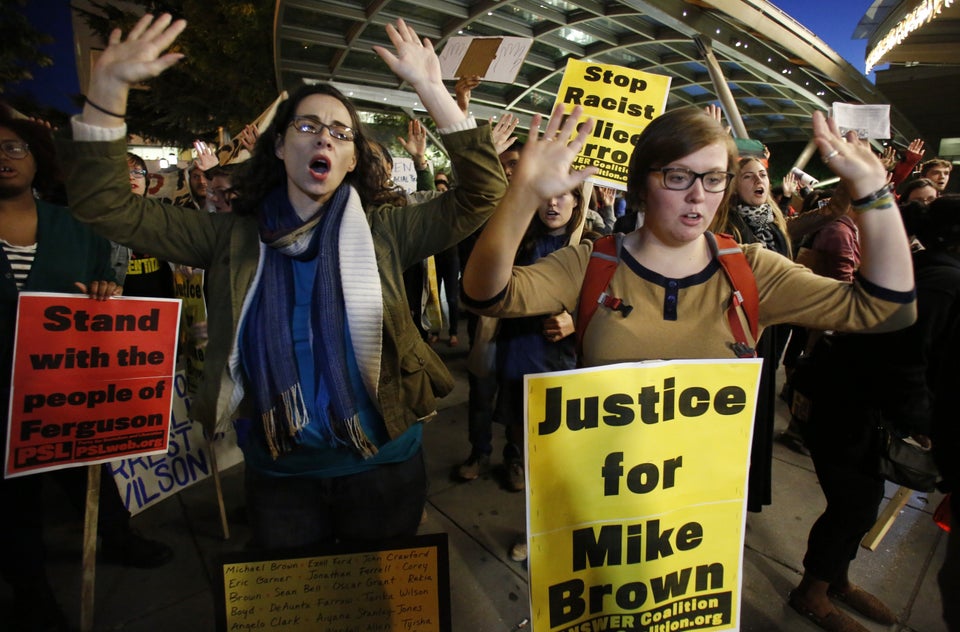 Ferguson
Popular in the Community