ST. LOUIS -- The deal that Ferguson, Missouri, reached with the U.S Department of Justice to reform its police department and municipal court system could still fail if city voters reject two tax increases next month, Mayor James Knowles said in an interview with The Huffington Post this week.
The St. Louis County municipality may not have enough money to fully implement the deal, Knowles warned.
Earlier this month, the Ferguson City Council voted in favor of a consent agreement with the federal government aimed at eliminating unconstitutional policing practices. The agreement, which arises out of a DOJ investigation launched after the death of 18-year-old Michael Brown in August 2014, is still subject to the approval of a federal judge. The judge has scheduled a public hearing on the matter next month.
But Knowles, who serves as Ferguson's part-time mayor, argued this week that there's another step. The various initiatives under the consent agreement could cost the city of some 22,000 people around $1 million in the first year. Unless voters approve tax hikes on April 5, he said, Ferguson will actually be forced to lay off 12 police officers from its force of around 55 and close one of two firehouses.
In the past, city officials, the police department and the municipal court helped cover expenses by aggressively raising revenue from fines and fees. But that practice drove a wedge between the police and many community members, and the deal with DOJ aims to eliminate such abuses.
"People have spoken very loudly that they don't want money to come from fines and forfeitures," Knowles said. "So the money is going to come from taxes. If people don't want the services or don't want to pay for the services we provide after the taxes, then we're going to have to cut those services."
Ferguson is currently operating with a $2.9 million deficit. One proposal on the ballot would raise the sales tax by a half-cent, to 9.113 percent.
Another proposal would hike the property tax: A homeowner with a $60,000 house would pay less than $5 more per month, while a homeowner with a $120,000 house would see an increase of less than $8 per month.
One of the reasons that communities in St. Louis County came to rely so heavily upon revenue from fines and fees is that a Missouri state constitutional amendment makes it difficult for municipalities to raise tax rates: Most such increases have to approved by public referendum. That helped create the extraordinary situation in which Ferguson takes in less from property taxes, which are progressive levies related to wealth, than from fines and fees, which put the greater burden on the poorest residents.
"The crash back in 2009 of the housing market severely damaged this area and continues to."
Knowles blamed much of the city's budget shortfall on the housing market crash.
"The Hancock amendment didn't really affect things here as much as the property values and the issues of commerce and everything else in this area not rebounding as fast as it needed to make up for an area that also has a lot of needs," Knowles said.
"The crash back in 2009 of the housing market severely damaged this area and continues to. My family house that I grew up in at one point could've sold for $130,000. The next-door neighbor's house just sold for $50,000. You're talking about losing almost two-thirds of the value of many of these homes and not leaving with much," he added. "That's really an unfortunate kind of situation."
About 50 percent of Ferguson homeowners owed more on their mortgages than their homes were worth as of 2014. At the time of Brown's death, the average home in Ferguson was selling for around $66,000, and property values have dropped further since then.
As for a spike in the fines and fees that Ferguson was collecting in the years just before the 2014 unrest, Knowles blamed that in large part on red-light cameras.
"Everyone breaks the law; everyone goes through the light gets a ticket," he said. "They were writing a lot of tickets, those red-light cameras."
Not everybody agrees that the way to solve Ferguson's budget woes is to raise sales and property taxes. Several residents have condemned the proposals at recent public meetings, arguing that officials should find other avenues to pay for the costs of the DOJ agreement.
Elizabeth Patterson, 56, has lived in Ferguson for 20 years and thinks city officials should be held more accountable for the deficit.
"We shouldn't have to pay for every mistake the Ferguson Police Department and City Hall made. This wasn't just something that happened overnight," she told HuffPost. "The city needs to figure out how to pay for their mistakes."
Knowles said the city has to fund services somehow.
"Who do they think the city is? The city is the people. This is their money. This is their votes, their buildings, their police force. Where do they think the money comes from if it doesn't come from them?" he asked.
When the city council was voting to approve the consent agreement earlier this month, Knowles made his point even more starkly.
"If we don't get these tax increases in April, it doesn't matter if we pass the decree or not. We're not going to have the money to meet the demands," he said.
"The other option, of course," the mayor added, "is fighting it."
Before You Go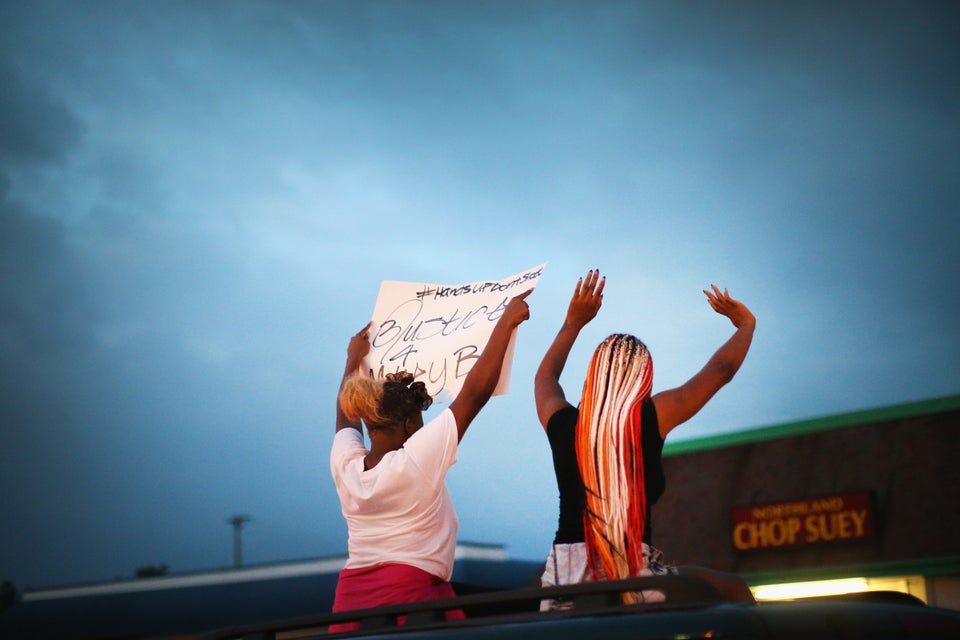 Ferguson Photos by Scott Olson
Popular in the Community