FERGUSON, Mo. -- The federal government on Wednesday called for a massive overhaul of the law enforcement practices of this St. Louis suburb in a scathing report that found the city regularly engaged in unconstitutional practices that had the heaviest impact on Ferguson's black residents.
The long-anticipated report detailed systemic issues with the Ferguson Police Department and its municipal court, and provided accounts of individual incidents, many based on police reports authored by Ferguson officers. The report lends force to the complaints of protesters and some Ferguson residents, who have long said the city treated them as sources of revenue rather than citizens to be protected.
In a briefing with reporters on Wednesday, a Justice Department official expressed confidence that Ferguson could implement a lengthy list of necessary reforms. The official said the city cooperated with the DOJ investigation, and a meeting with Ferguson officials on Tuesday was not adversarial.
But the public reaction of Ferguson officials to the damning report left unclear what will happen next. Mayor James Knowles III made a brief statement before cameras on Wednesday night, announcing that one Ferguson employee who sent racist emails mentioned in the report had been fired, and two other employees who sent racist emails were on leave.
Yet Knowles, who appeared without police Chief Tom Jackson or other city officials, gave no indication that his government would continue to cooperate with federal civil rights officials. And the racist emails, though disturbing, were only a minor component of the lengthy federal report, which called into question the city's entire approach to policing and the enforcement of its municipal code.
The report raises the question of whether the Ferguson will continue to operate its own police department or instead contract with another law enforcement agency. Ferguson is one of the smallest cities subjected to such a Justice Department probe, and the high cost of implementing reforms, along with an anticipated decrease in municipal court revenue from fines and fees, may force the city to consider disbanding its police force of just over 50 officers.
Attorney General Eric Holder said at Justice Department headquarters in Washington that it was "time for Ferguson's leaders to take immediate, wholesale and structural corrective action" to address problems detailed in the report.
Holder said police policies caused "severely damaged relationships between law enforcement and members of the community" and "made professional policing vastly more difficult -– and unnecessarily placed officers at increased risk." He said the Justice Department would reserve the right to force the city to comply.
"Nothing is off the table," Holder said, adding that federal officials would also work with surrounding municipalities that are likely engaged in the same types of unconstitutional practices found in Ferguson.
The civil rights investigation into the patterns and practices of the Ferguson Police Department began in September, just weeks after 18-year-old Michael Brown was shot to death by then-Ferguson police officer Darren Wilson. The results of the probe were announced on Wednesday at the same time the Justice Department said there was not enough evidence to charge Wilson with willfully violating Brown's civil rights.
Federal investigators said their review found disparities between the treatment of blacks and whites that couldn't be explained. For example, black drivers were more than twice as likely to be searched during vehicle stops than white drivers, even after investigators considered non-race variables. Of those searched, white drivers were much more likely to actually be in possession of contraband, indicating that officers impermissibly considered drivers' race when deciding whether to search a vehicle.
While black residents made up roughly 67 percent of Ferguson's population, police seemed to only enforce certain petty municipal laws against African-Americans. Over the past few years, blacks faced 95 percent of all jaywalking charges, 94 percent of all failure to comply charges, 92 percent of all resisting arrest charges, 92 percent of all peace disturbance charges and 89 percent of failure to obey charges. Black residents also were 68 percent less likely than whites to have the charges against them dismissed by a municipal judge.
The report found a wide range of problems with the discipline of Ferguson police officers, and said officers could lie without consequences. In one incident in November 2010, several officers, including a sergeant, were thrown out of a bar for bullying a customer, but only one of the officers was disciplined -- after he was arrested for DUI after abandoning his car in a ditch. The lack of discipline sends a message to Ferguson officers that they can "behave as they like, regardless of law or policy, and even if caught, that punishment will be light," according to the report.
Protesters and activists said they saw the Justice Department report largely as vindication, and many took to social media to call for the Ferguson Police Department to shut down. They noted that the constitutional problems found in Ferguson are hardly unique, common to many towns within St. Louis County's network of municipalities. Even law enforcement officials in the St. Louis region have spoken of the need to reform municipal courts, especially with some cities deriving massive portions of their revenue from tickets and fees.
Christopher Phillips, a 34-year-old cinematographer who was arrested by Ferguson police during a protest last month, said he was "not surprised" by the statistics and said the federal investigation confirms what he's been telling people for years.
"I'm glad it's out there because it validates my experiences. Nearly every day of coming home from work I seen young men and women of color pulled over, getting searched, for years," Phillips, who lives in the apartment complex near where Brown was killed, told HuffPost. Still, he said he found aspects of the report "jarring."
Phillips said he doubted that Ferguson officials could fix a system they've fostered for years. "If the officials in Ferguson were truly concerned, it would've been taken care of a long time ago," Phillips said. "That whole system needs to be flushed out."
Before You Go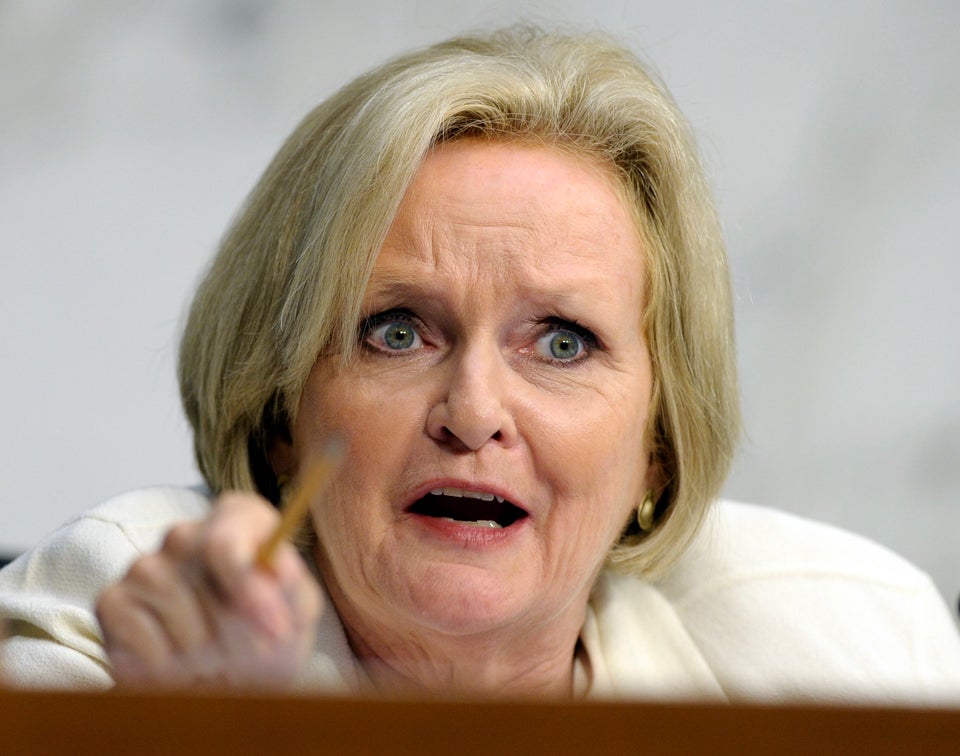 Politicians React To Ferguson
Popular in the Community