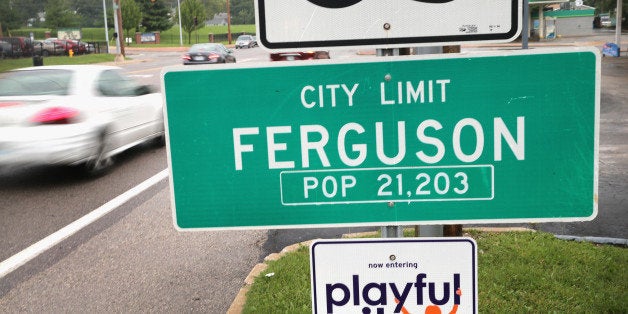 FERGUSON, Mo. -- Hundreds of local residents gathered at two-closed door meetings Monday night to discuss what needs to change in this St. Louis suburb after weeks of protests in the wake of the death of an unarmed black teenager.
Many attendees said they were generally encouraged by the dialogue that took place at the meetings, which were open only to Ferguson residents and were hosted at two local churches by a secretive Justice Department unit. Ferguson was rocked by protests, looting and a heavy police response after the death of 18-year-old Michael Brown, who was shot several times by Ferguson Officer Darren Wilson on Aug. 9.
Community Relations Service, a part of the Justice Department that attempts to mediate tense situations in communities, particularly those involving race, organized the meetings. The service does not publicize its work, and often operates confidentially. As a result, Ferguson police took measures on Monday to keep non-residents and reporters out of the meetings, including checking for photo identification. One Ferguson resident was asked to leave when he attempted to record the meeting at Wellspring Church, but he was later allowed back in when he agreed to no longer film.
Derrick Dean, an employee of DOJ's Community Relations Service, lead the meeting at Wellspring Church. On a video recorded by the activist before he was asked to leave, Dean explains why the proceedings shouldn't be documented.
"If you're being recorded and the words that you say may come back to haunt you on any social media platform or any other way, it's not fair to the people that are here," Dean said. "Nobody wants to say something controversial or honest and have it recorded."
Josh Renaud, a Ferguson resident who also works for the St. Louis Post-Dispatch, also tweeted from inside the Wellspring meeting. Renaud wrote on Twitter that he stood up when a DOJ facilitator asked members of the media to stand, but explained that he was a resident and was allowed to stay,
"As a resident, I liked tenor of meeting, glad people felt free to speak honestly, openly. As journalist, wish reporters had been allowed in," he tweeted afterwards. Renaud also commented that many attendees were tired of the way Ferguson has been portrayed in the media.
The meetings on Monday focused on what Ferguson officials say are misconceptions about their city, and an 18-point document about the issue was handed out to many residents in attendance. In addition to pointing out several facts about how the government works in the city, the document also noted that Mayor James Knowles regrets stating that there is no racial divide in Ferguson, adding that the comment was "taken out of context."
Ferguson Councilman David Conway, who attended the meeting at Our Lady of Guadalupe Church and represents the city's 3rd Ward, said that as the father of six children, he was especially saddened by Brown's death. But he told The Huffington Post he hopes that the tragedy will result in changes for the city.
"It's sad that it does take an event like this to get more of the community to work together. But it's moving in the right way. I'm glad to see as many people come out as they did," Conway said.
Ferguson Township Democratic Committeewoman Patricia Bynes also wrote on Twitter that she was encouraged by the discussion in the meeting she attended.
"The meeting was good. There was healthy dialogue among neighbors. Yes they were angry. Yes they were concerned. [Everyone] didn't agree but it was peaceful and council members gave answers," she tweeted.
Barbara Bristol, a black 68-year-old retired data-entry worker, also found the meeting she attended productive.
"A lot was accomplished tonight. A lot of good things were said tonight. The biggest thing that was mentioned is that we as a community need to come together as one. Because there's no black, there's no white, there's no Hispanic. We are all one community. We all need to rally around the flagpole. We have to work a little harder to make this a better community," Bristol told HuffPost. This town hall meeting was more comfortable than others, she added, because "everyone seemed as though they were working toward the same goal."
Bristol, originally from New Jersey, said she lived through two riots in Newark and Plainfield before moving to Ferguson, and the two cities were never the same again. She doesn't want that to happen here.
"In order for this not to happen to Ferguson, the people that live here need to stay here, and we need to work together to make sure that this doesn't happen again. Because we don't want this to happen anywhere again," she said.
Despite the sense that the meetings were generally positive, Kristian Blackmon, a 33-year-old Washington University employee who lives in Ferguson, said there is plenty more work to be done. Blackmon said that many of the speakers at the meeting she attended were elderly white people upset that the protesters were impacting the farmer's market.
"But they're failing to recognize why the protesting is going on. They should be upset at the problem. Be upset that Michael Brown got killed. Be upset that some police are just not right," Blackmon said. "Race is an issue. It's not all of the issue, but it is a big issue. I'm actually conflicted because I have fond memories of growing up in Ferguson, but at the same time I have been racially profiled. You should be more upset that your community is plagued with oppression and hate than you are that you can't get to the market."
Blackmon said she knows a lot of people who will not travel through northern St. Louis County or Ferguson because they want to avoid being harassed by the cops. It's an experience she doesn't think a lot of white attendees at Monday's meetings can understand, she said.
"A lot of people that came here tonight lived in a nicer part of Ferguson. A lot of them were more well-off than the people in Canfield," she said. "It's about class. But they didn't want to address that issue. People don't want to talk about it, but I don't want to live with it."
Mariah Stewart reported from Ferguson. Ryan J. Reilly reported from Washington.
REAL LIFE. REAL NEWS. REAL VOICES.
Help us tell more of the stories that matter from voices that too often remain unheard.
BEFORE YOU GO
PHOTO GALLERY
Politicians React To Ferguson