FERGUSON, Mo. -- Voters showed up at polling places in record numbers for a municipal election in this St. Louis suburb on Tuesday, tripling the number of black representatives on Ferguson City Council by electing two black candidates.
Tuesday's election in Ferguson would have been historic no matter the outcome. Three incumbents decided not to run, leaving half of the council's six seats up for grabs. The council now has one black member who was not up for re-election, and two black candidates were vying for one of the open seats. That meant city council was assured to have at least double the number of African-Americans once the votes are counted.
When the results came in, they showed that Ella Jones, who is black, received nearly half of the vote in a four-way race for a seat representing Ward 1, while Wesley Bell, who also is black, received 66 percent of the vote in Ward 3. Ward 2 was a different story, with former Ferguson Mayor Brian Fletcher, who is white, beating another white candidate, Bob Hudgins, who had aligned himself with the protest movement.
"I just want to get to my other opponents and help them understand that we have to work together," Jones said in an interview after her victory. "So, whatever thing they had, lay it aside, because it's about Ferguson. It's not about me." She said she was determined to work with the U.S. Justice Department to reform the city police department and municipal court.
Municipal elections like Ferguson's are normally sleepy affairs, but this year's race received national media coverage in the wake of outrage over the August police shooting of unarmed teen Michael Brown. While rainy weather caused some campaigners to fret about turnout, a top elections official said he expected many more would vote than in prior council elections.
"I think Ferguson is going to be higher than the rest of the county, and it would not surprise me if they ended up with something to the order of 30 percent turnout," Eric Fey, director of elections for St. Louis County, said in an interview with The Huffington Post before the numbers came in. Based on reports from his staff, Fey said that he expected that turnout in Ferguson would be significantly higher than nearby Normandy, which he predicted would have a "paltry" turnout of 10 percent to 12 percent of registered voters.
At the First Presbyterian Church of Ferguson, the crowd of voters trended older and white at midday. Voters there live in Ward 2 and are choosing between Hudgins and Fletcher. Fletcher is a former Ferguson mayor who has defended much of the status quo.
"The weather is concerning me, regarding turnout," Hudgins said in an interview. He talked about making a targeted effort to lure African-American voters, while Fletcher talked about how his prior involvement with the government and work on the "I Love Ferguson" campaign gave him pretty good name recognition. "I'm feeling pretty confident," said Fletcher.
Ward 3 covers the area where Brown was shot to death by a police officer who confronted him walking in the street. The council race was between Wesley Bell and Lee Smith, who has gotten support from politicians affiliated with the protest movement.
Eddie McNeil, 59, who has lived in Ferguson since 2013, said he was voting for Bell, who serves as municipal court judge in nearby Velda City.
"I felt it was really important to come out in this election," McNeil said. "In the past, I have to admit, that I haven't come out to vote, but I felt it was important based on the things that have happened in Ferguson. I feel like it's time that we get the kind of leadership in that we wanted."
McNeil said racial profiling is a problem in St. Louis, as are municipal courts. A recent Justice Department report on Ferguson excoriated the town's police department and municipal court for treating residents more as sources of fines and fees than as citizens deserving of protection.
"I'm a pretty good guy, and I could tell you -- see, the only time I've ever been to jail is based on a traffic stop," McNeil said. "I wasn't able to pay a ticket, and a warrant was issued for my arrest. You're not allowing a citizen to be successful if he's looking for a job and he has a warrant for his arrest, he's got to worry about court costs ... He doesn't have a job because he's not qualified to have a job simply based on a ticket, a warrant, a failure to appear warrant. It's just ridiculous."
This article has been updated to include comments from Jones.
Mariah Stewart reported from Ferguson. Ryan J. Reilly reported from Washington.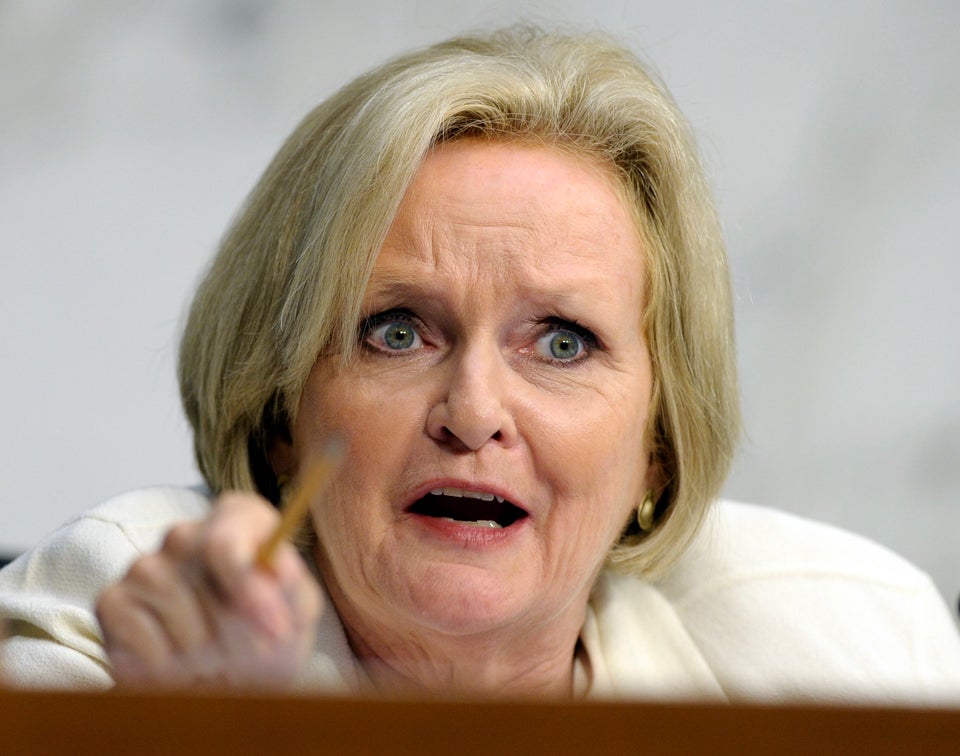 Politicians React To Ferguson
Popular in the Community