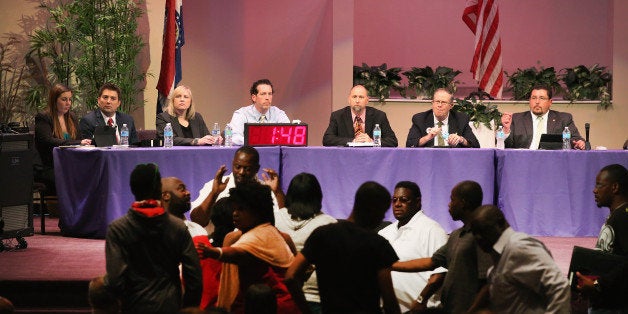 FERGUSON, Missouri -- The Ferguson City Council is heading for a historic election this spring. Less than a year since the nation focused on racial tensions in this small St. Louis suburb, residents will head to the ballot box with their first real chance to change local government.
After African-American teen Michael Brown was shot and killed by a white police officer on Aug. 9 last year, national news outlets pointed to the lopsided racial makeup not only of the Ferguson police force but of the city government. While nearly 70 percent of Ferguson residents are black, five of the six members of the city council, as well as the mayor, are white.
But three of those white council members decided not to run for re-election in April. Eight candidates, four of whom are black, are now competing for the open seats. That's an extraordinary number in a town that has seen only two black council members ever, according to Fusion. And since both candidates for one open seat are black, the city council is set to at least double its African-American representation.
Of course, reformers come from all racial groups -- as do defenders of the status quo -- but giving the majority of Ferguson's residents a bigger voice in government seems like a positive step.
The Ferguson City Council consists of six members chosen in nonpartisan elections. Their terms are overlapping and run for three years. The pay is low, and most members maintain a career outside of their council duties. Even the mayor, who presides over council meetings, makes only about $350 a month.
The three council members who decided not to seek re-election are Kim Tihen of Ward 1, Tim Larson of Ward 2 and David Conway of Ward 3. Larson declined to discuss why he's not running, while Tihen did not respond to an interview request. But Tihen, a former Ferguson police officer, came under particular scrutiny after Brown's death because she was one of the officers sued over the alleged beating of a local construction worker, who was then charged with destruction of property for bleeding on officers' uniforms.
Conway, whose ward includes the street where Brown was shot, said he had decided before Brown's death that he would not run again because it was too much of a time commitment. The father of six said it was difficult to balance his legislative work with his children's extracurricular activities. Still, he called his time on the council "very eye-opening" and warned that new council members would be entering an environment with "a lot of tension."
"They're walking into a really tough spot. It's going to be hard to gain the trust back with the people," Conway said. He recommended that the new members "engage in the community as much as you possibly can."
The Ferguson City Council faces some tough issues. Residents have called for something to be done about the businesses hit hard by looters and arsonists in the wake of the grand jury's decision not to indict former Officer Darren Wilson in Brown's death, not to mention the huge impact those riots have had on homeowners' insurance rates. The U.S. Justice Department, meanwhile, is conducting a civil rights investigation into the practices of the Ferguson Police Department.
While city council meetings regularly drew protesters and large crowds last fall, its most recent gathering in late January was attended by only a few dozen people. Bob Hudgins, a Ferguson resident who has chronicled the protests on social media and is one of two candidates running to represent Ward 2, told The Huffington Post that he was "very concerned" by both the lower turnout and the makeup of the audience, which skewed older.
"If you go by tonight, I would lose," Hudgins said at the January meeting. "None of my people, the people that used to show up here, who are younger, are here." He suggested that many in the crowd were supporters of his opponent, Brian Fletcher, the former mayor who started an "I Love Ferguson" campaign after all the negative stories about the town.
Both Ward 2 candidates are white, and they are running to represent a ward that covers much of the more affluent side of town, including the police and fire department headquarters, the city hall and plenty of shops. But Hudgins has cast his lot with those demanding big changes, while Fletcher is seen as the establishment candidate.
"I know some people are burned out. People have their regular schedules and the economy isn't great around here, I get it. But I'm making an extra effort. I didn't want to be a politician. I never had aspirations to be one, but now that's what I'll have to do. So I'm here," Hudgins said.
Asked about the white majority on the council, Fletcher said, "The people that participate are the ones that actually determine who's on the council. I don't know if it's a bad or a good thing. I think the best person for the job should be elected. I certainly would encourage more African-American participation on a lot of things, such as the city boards and the commissions."
In Ward 3, one black candidate is facing opposition from a local politician who was closely affiliated with the protests. Wesley Bell is a local lawyer who previously ran for St. Louis County Council and teaches criminal justice at a community college. But it's his role as municipal judge in the tiny town of Velda City that has earned him scrutiny from Patricia Bynes, the Democratic committeewoman from Ferguson who is assisting some candidates in the upcoming election.
"We need black judges and we need black attorneys, but we have to be sensitive to the issues at hand and what the people want," Bynes told The Huffington Post. She is backing Bell's opponent, a retired black Ferguson resident named Lee Smith. "We need blacks and people of color in office, but with this buffet of controversy over judges and municipal courts, it's not the right time for him," Bynes said of Bell.
Bell said he was moved to run for the Ferguson City Council because he is heavily involved in the community. "I've been very active in Ferguson. I work in Ferguson. These issues in our city, it's a call for solution. At some point you have to stand up and be a solution," he said.
As of late, Bell said, he hasn't been practicing law much and his role as municipal judge is just part-time, since Velda City holds court only three times a month. Of the 50-plus municipal courts in St. Louis County, Bell is one of only five black judges. He said he was pushing reform efforts even before Brown's death drew national attention.
"A lot of the court reform that people are asking for, I'm proud to say, I've already have been implementing those from the bench," Bell said. For instance, he said he allows people to make payment arrangements if they can't afford the fine upfront.
"I stand by my record and that's why I can walk in my city," Bell said. "A lot of judges don't walk in their city, because some of them haven't been fair."
In Ward 1, four candidates are running for the open seat -- two of whom are black and two of whom are white. One of the black candidates, Adrienne Hawkins, blames the low turnout at the most recent city council meeting on a loss of hope.
"I don't believe that the community is giving up. I believe they are possibly losing hope that change is coming. That's why I chose to run for city council," she said.
Hawkins took a long pause, getting teary-eyed. "I don't ever want any of our young people to lose hope," she said. "We can't give up even though we all are a little worn, but never tired. We have to keep fighting for change."
This story was published as part of a partnership between The Huffington Post and The St. Louis American, which covers the St. Louis region's African-American community.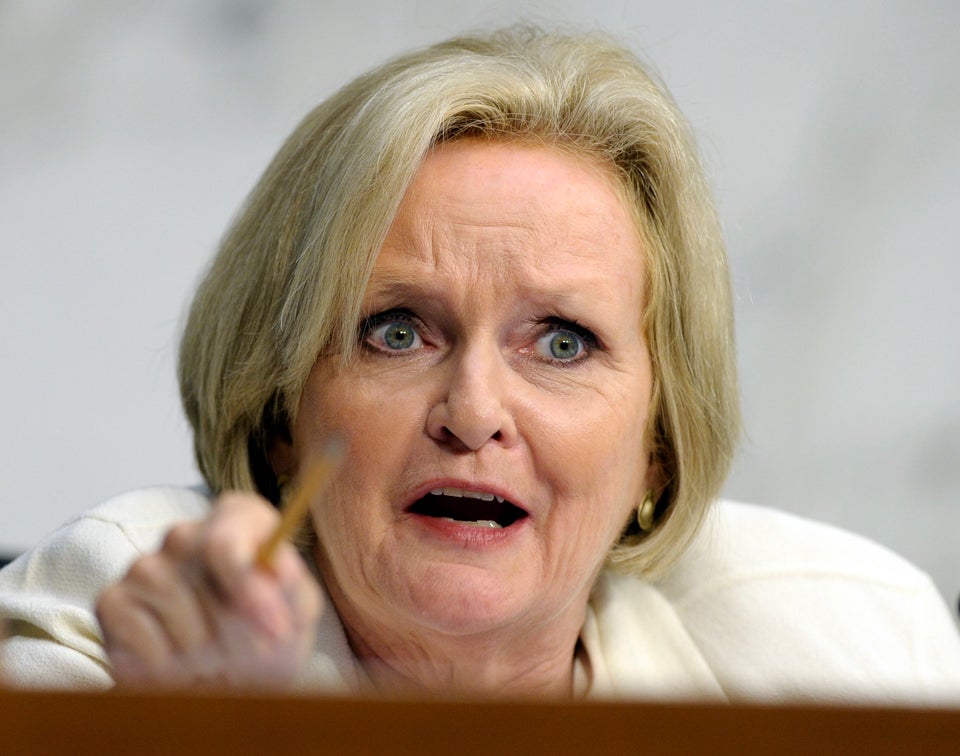 Politicians React To Ferguson