As Ferguson, Missouri, began to recede from the headlines, a familiar pattern took shape: The national media was preparing to move to the next big story.
This, on one level, is by necessity. The media simply can't camp out in Ferguson indefinitely, with more stories to cover -- the ebola outbreak, the rise of the Islamic State, the border crisis and whatever unpredictable news might break. Nor would Ferguson residents want the entire media horde to stick around. Tensions were already flaring, and many locals have had enough of the big-footing and the Kleig lights.
But on another level, the fleeing of the scene is symbolic of our country's short attention span. It is not by chance that black residents of Ferguson are harassed and arrested more than the whites, nor is it a historical anomaly that they have far less wealth, higher unemployment or substandard schools. The businesses that pockmark Ferguson -- the pawn shops, the liquor stores, the payday lenders -- are put in stark relief by the coffee shops and wine bars next door in Crestwood, a neighborhood that is 94 percent white and has an average income of $65,000, compared with Ferguson's $36,000.
None of this is by accident. But this is not the kind of story that can be told in a week.
Telling it, though, requires being there. And, like every other national outlet, HuffPost has other stories we need to cover. So we settled on an unorthodox approach: The Ferguson fellowship. We asked our readers to help fund it.
We suspected our audience would see the value in having a reporter on the ground in Ferguson. But were blown away by the response.
When the fundraising effort expired, our readers had chipped in $40,969, enough to cover our reporter's salary for a year, with HuffPost picking up the costs of equipment and health benefits. (We've left the fundraising open. If you'd still like to take part, any additional money raised will go to pay our reporter.)
We -- and you -- have hired Mariah Stewart, who lives in nearby Florissant and covered the beginning of the protests. She caught the attention of outlets as far flung as the BBC, which brought her on the air to report from the scene. The Beacon Reader, a kind of Kickstarter for journalism, began working with her shortly after the protests began. When we launched our project, we partnered with Beacon for the fundraising and met Stewart, who has been reporting for us since. (Get signed up for her dispatches here.)
Some in the media deemed the project unseemly, arguing that if we feel Ferguson is so important, we ought to hire somebody and pay them ourselves. What, after all, is $40,000 for a giant company like HuffPost, owned by an even bigger company like AOL? But no media company has an infinite editorial budget. And a new hire, in general, requires a tradeoff. We wanted more journalism, without reducing our political coverage elsewhere. And we knew our readers did, too.
If a reader recognized that fundraising to leave a reporter in Ferguson was an unusual but worthwhile enterprise, the reader was free to donate. On the other hand, if a reader thought the idea absurd or offensive, then great, there was no need to give. If enough people agreed it was worthwhile, by definition, it's worthwhile to them.
Indeed, philanthropy has been funding journalism for much of its history, including today with outfits like ProPublica and the Center for Public Integrity. The journalism they produce regularly winds up in the pages of for-profit publications such as The New York Times or Los Angeles Times. The difference, of course, is that those giving to the big journalism nonprofits tend to be writing very big checks (and getting a very nice writeoff). For our project, aside from four people who gave a combined $13,500, the average gift was $44.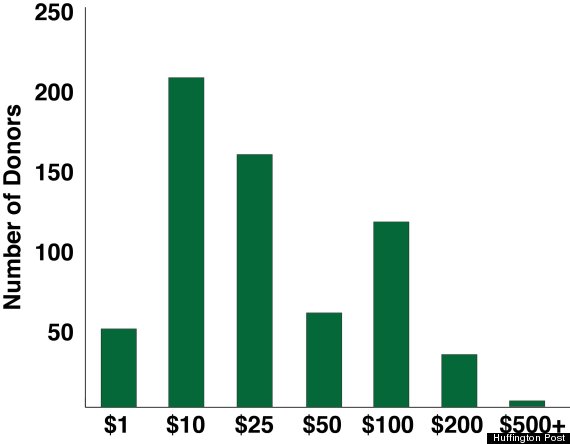 By funding this project, HuffPost readers have placed their faith in us to deliver the kind of compelling coverage from Ferguson they demand. It wouldn't have been possible without the generous and enthusiastic support of our readers, and for that we offer our heartfelt gratitude.
Enter your email address below to be notified when HuffPost's Ferguson fellow, Mariah Stewart, files a new story
Calling all HuffPost superfans!
Sign up for membership to become a founding member and help shape HuffPost's next chapter
BEFORE YOU GO