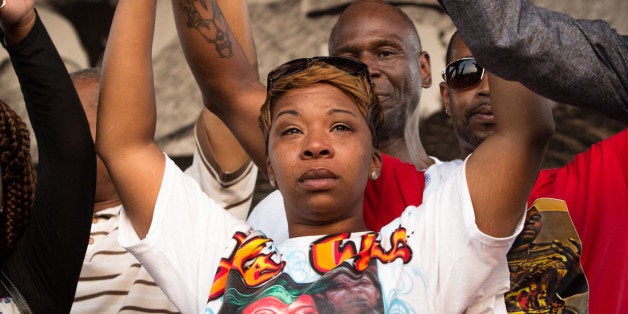 It's hard to say how I want the world to remember my son because you have to really know someone to honor the person properly. The world didn't get to know my son on a personal level. It didn't get that Michael Orlandus Darrion Brown, a.k.a. "Mike Mike," was a devoted son, brother, grandson, nephew and cousin who had a great sense of humor. It didn't know that he had big dreams and loved tech gadgets. The world met him on August 9, 2014 when he was 18 years old. Since only friends, family and maybe his teachers and pediatrician knew Mike-Mike on an intimate level, what I ask of everyone is simple: Keep me your prayers and hearts, because now I must be the voice for my son.
Mike-Mike was a young man coming into his own. When most people turn 18, they think they're adults -- "Hey, I can make my own decisions!" As his mother, I can tell you he wasn't there yet, but I'm proud to say he was headed that way until he was taken from us. My son was on his journey of transitioning from a boy to a man.
I want the world to be inspired by the impact of Mike-Mike's death, which has awakened this country not only to the disparities in our justice system and communities, but also the need for us to pay attention to the younger generation. Let our kids know that it doesn't matter where they come from, or how much money they have, or who raised them. Tell them, "You're still good enough. You matter! You can be a mayor, a lawyer, a scientist or a teacher; you can even be a police officer, but be a good, decent and fair one." Bottom line, our kids can be anything they dream of, but it takes encouragement and that starts at home. I'm proud to say I always instilled positivity in Mike-Mike and my other kids. I hope this moment reminds us to do that.
Please honor my child's memory by encouraging our young people, and building them up so that everything we're trying to do with the protests and marches is not in vain.
People will ask me how all this will "end." I don't know because I'm still very much in this fight and in this moment. The public support gives me strength, and I'm getting stronger by the day. My son is a legend. People become legends because they make history, and that's what he did. It brought the hidden, painful truths of this country to light for new generation, and people across the world will be better for it.
Read more compelling, entertaining and thought-provoking African-American focused content at EBONY.com
Popular in the Community