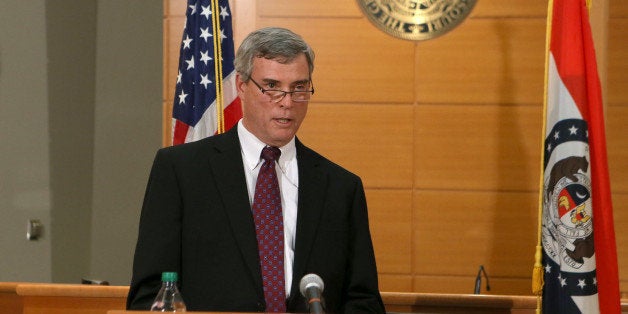 I woke up this morning with the worst kind of hangover: anger, confusion, wondering what happened. Without a drop of alcohol to explain how I felt. So here are some of the questions I have about Michael Brown, Darren Wilson and Ferguson.
Why was the announcement made as it was?
The grand jury made its decision no later than early afternoon on Monday. Why was the announcement held until 9 p.m. EST? That put the announcement at the end of hours of tension allowed to build, after dark, and suspiciously smack in TV prime time. There was nothing more to "get ready" on the streets except to allow crowds to gather and frustration to ramp up. Why not make the announcement as soon as a decision was rendered? Why not hold it until say 7 a.m. Tuesday morning when people were asleep and not yet gathered? In daytime? Wouldn't those actions have reduced somewhat the potential for violence?
Why was the prosecutor, Robert McCulloch, seemingly smirking?
Why was the prosecutor, Robert McCulloch, whose very title implies his task before a grand jury, seemingly so pleased with the result? Throughout his press conference, he went out of his way to chastise the media and mock discrepancies among the witnesses to Brown's shooting. This was unprofessional at the very minimum, and did nothing to calm tensions or create the impression of a fair process.
Every attorney knows that in any situation witnesses will disagree with one another. The shooting occurred within seconds, and each witness saw it from a different location, so of course statements will vary. And indeed it is possible in any criminal situation that some witnesses may lie. McCulloch essentially treated this as some sort of unique facet of the Brown case. He kept referring to the significant gaps between the physical evidence and witness statements, yet the key thing, what initially happened between Michael Brown and Darren Wilson at the window of the police car, was by its nature not able to be supported or refuted by any physical evidence (What was said? Who acted first? At what point did Wilson shoot?)
Why was the physical evidence of Wilson's injury not seen as more significant?
A key element of showing Darren Wilson was justified in his use of deadly force was the claim that Michael Brown punched/attacked him in his police cruiser, causing Wilson to fear for his life and fire his weapon. The law governing this states "An officer may use lethal force only when the officer reasonably believes that the action is in defense of human life, including the officer's own life." To a casual observer, the injuries Wilson sustained, which appear to be minor bruises, do not support the criteria necessary to have fired the first shots or Wilson's statements that his life was in danger. It was the action at the door of the police car that precipitated everything that followed.
Wilson's injuries were testified to on page 25 of the transcript. The questions appear only to describe for the record what was evident in the hospital photos, nothing more.
Given McCulloch's personal history, which creates the appearance of bias, why did he handle the case?
Everyone knew the Brown killing was among the most controversial and sensitive cases Missouri had seen for a long time. Given the racial tensions and violence that both happened and were worried to happen, avoiding even the appearance of bias seemed a key element in helping tamp down concerns that the issue was treated unjustly. So why was McCulloch allowed to shepherd the case?
McCulloch has a tragic, close, familial connection to violence. In 1964 his father, a police officer, was shot and killed by an African-American man in a public housing complex. In 2000 McCulloch controversially declined to bring charges against two detectives accused of excessive force in the killing of two unarmed black men, who died after 20 shots were fired into their car by police.
McCulloch made questionable statements in August as protests unfolded in Ferguson. He criticized Missouri Governor Nixon for replacing St. Louis County police control of the Ferguson protests with officers and leadership from the Missouri State Highway Patrol. "It's shameful what he did today, he had no legal authority to do that," McCulloch said at the time. "To denigrate the men and women of the county police department is shameful." He also praised police: "The abuse that they took on that line was incredible," he said, in reference to the SWAT and riot teams on call in Ferguson in the early days of the protests. "The use of force, while they were doing it under the circumstances, I don't think was excessive," he said.
A formal accusation of bias towards the police on the part of McCulloch is impossible to demonstrate. The appearance of bias is impossible to ignore. Given the controversy and sensitivity of the Brown killing, was there not anyone else in the state of Missouri who could have prosecuted the case? Why didn't the governor appoint a special prosecutor as he was able to do?
Why did the grand jury take it upon themselves to sort out the witness conclusively?
The point of a grand jury is only to determine if probable cause of a crime, a very low legal hurdle, exists. If it does, they return an indictment and the case goes to trial for resolution. There, in open court with all sides publicly testifying, a jury selected for the specific case goes through all the evidence, and decides which witnesses to believe and which to discard. Cross-examination occurs, particularly of critical witnesses such as Darren Wilson.
The most significant elements of the case could only be accounted for by Wilson, or Brown. One is dead, and one is fighting for his life. The latter point is often a critical one in a criminal trial and a defendant's statements exonerating themselves are often looked at very closely. One of the key points of even having a trial is for the trial jury to sort out conflicting evidence; absent a confession, every criminal case has some sort of conflicting evidence.
It appears that the grand jury took it upon itself not just to decide if probable cause existed, but to try Darren Wilson in secret, without the checks and balances of an open trial.
What was said by prosecutors in front of the grand jury?
Did prosecutors actually ask for the grand jury to indict? If they did not believe the evidence supported an indictment, why did they take the case to the grand jury instead of dismissing the charges themselves as is normal procedure? It is clear that prosecutors went to great efforts to challenge the credibility of outside witnesses, going as far as labeling some as making up their stories to match publicly-available details.
Were the same standards applied to the ultimate witness, Darren Wilson? Were his conclusive statements, which some could consider to be self-serving, aggressively challenged? If they were, exposing that would help to calm tensions.
Wilson's grand jury testimony is here; it does not appear to contain challenging questioning, but have a look yourself.
The key element in determining whether Wilson was justified in shooting was the the question of whether Wilson thought his own life was in mortal danger. Wilson made the following statements to the grand jury; were they seen by the jury as unbiased or self-serving, or simply truthful?
According the Wilson, Brown had the "crazy" look of a "demon... It looked like he was almost bulking up to run through the shots, like it was making him mad that I'm shooting at him," Wilson told the grand jury
Wilson described Brown as "very aggressive" and was convinced the teen was "gonna kill me." "It was just like intense," the officer said. "I've never seen anybody look that, for lack of a better word, crazy."
Wilson also stated: "He turned, looked at me, made like a grunting noise and had the most intense aggressive face I've ever seen on a person."
Wilson was a veteran cop. Did anyone challenge his assertion, after years on the streets, that 18-year-old Michael Brown did indeed display the "most intense aggressive face I've ever seen on a person?"
By the way, Brown, according to Wilson on page 225 of the transcript, only made that aggressive face after Wilson shot him the first time.
This one we pretty much know the answer to. With the grand jury's decision, Darren Wilson will not be criminally charged for killing Michael Brown by the state of Missouri.
The Federal Department of Justice can charge Wilson with violating Brown's civil rights, under the Fifth Amendment of the Bill of Rights, for "depriving him of his life." Civil rights investigations can drag on for years. The Justice Department's civil rights investigation into George Zimmerman, the neighborhood watch volunteer who fatally shot unarmed 17-year-old Trayvon Martin in Sanford, Florida, is still active after two years with no results expected, well, for a long time.
I am not a lawyer, and in the short time since the grand jury's announcement have obviously not yet waded through all 70 hours of testimony and thousands of pages of written documentation, so it is possible that answers to some of these questions may already exist. I hope so, but I worry they don't.
What happened in Ferguson matters to us all as Americans. Are we doomed to remain a nation hopelessly, violently adrift in a swamp of racism? Do we have a justice system that is indeed just? Can everyone expect to receive fair treatment in our system, from the moment police confront an alleged criminal to the moment some sort of final decision is reached? Do our police forces exist to "protect and serve," or does that only apply to some groups of Americans, while for others the police are deadly enemies?
Without any disrespect, Michael Browns come and go. There have been young black men killed under dubious circumstances by the police before Brown, and God help us, there will be more killed under dubious circumstances by the police after Brown.
Until the real questions of Ferguson are answered, we will do this over and over and over again.
REAL LIFE. REAL NEWS. REAL VOICES.
Help us tell more of the stories that matter from voices that too often remain unheard.