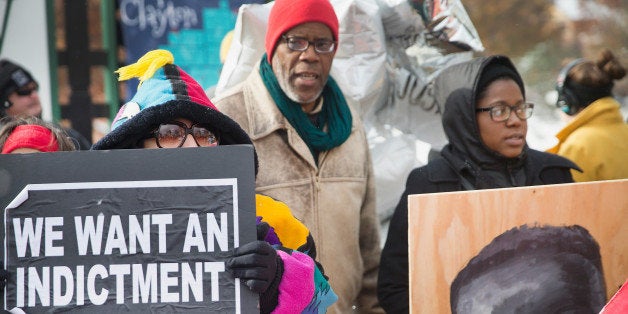 FERGUSON, Mo., Nov 19 (Reuters) - A St. Louis suburb that faced weeks of sometimes violent protests following August's fatal shooting of an unarmed black teenager by a white policeman remained on edge on Wednesday as it waited to learn if the officer would face charges.
A grand jury has been meeting for nearly three months, considering whether to indict Ferguson, Missouri, police officer Darren Wilson for the Aug. 9 shooting of Michael Brown, an incident that laid bare long-simmering racial tensions in the mostly black city.
Missouri Governor Jay Nixon on Tuesday named his picks for a 16-member commission charged with coming up with ways to address the social and economic inequalities of Ferguson. He has declared a state of emergency ahead of the grand jury's report, which officials said would likely come this month and that many expect to provoke another wave of protests.
Nixon defended the emergency declaration, which some called heavy-handed, particularly given that protests in recent days had been peaceful.
"We are certainly concerned about folks that are not coming to speak but instead are coming to instigate or to cause harm to fellow citizens or to their property," Nixon told reporters. "We are planning for all contingencies, in the hope that we can provide wide-open lanes for people to speak their voices while at the same time protecting the safety and property of Missourans."
Officials said local police had been through conflict de-escalation training since August, after being criticized for using tear gas and rubber bullets on protesters who at times threw rocks and gasoline bombs. Activist leaders have also been training potential protesters in nonviolent civil disobedience techniques.
There are conflicting accounts of what preceded the Aug. 9 shooting of Brown, with some witnesses contending he had raised his hands in surrender and others describing a struggled between the teen and Wilson.
(Reporting by Scott Malone; Editing by Peter Cooney)

Popular in the Community