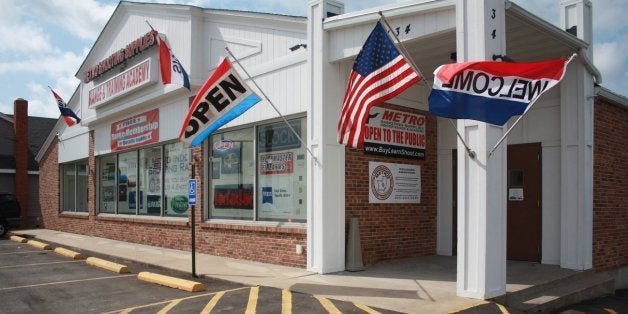 Civil unrest in suburban St. Louis has caused some people to stock up on guns for self-defense, according to local gun shops.
Steve Walsh, owner of Ruby's Guns in Ellisville, Missouri, described sales as double what they usually are. "I've had shipments come in every single day this week, and that's not normal," he said.
"I'm about to fill up the back of my Suburban with a whole bunch of handguns and shotguns," Walsh added. "Because of the rioting, everyone's nervous up here now."
In the days since a police officer in nearby Ferguson fatally shot an unarmed teenager on Saturday afternoon, that town has been racked with unrest. Though many of the protesters have been peaceful, others have hurled rocks, bottles and Molotov cocktails at police. Stores and gas stations have been looted and set on fire.
The trouble in Ferguson appears to be sending area residents to the gun shops. "These are people who are in fear of their lives," said Steven King, who owns Metro Shooting Supplies, a gun store and shooting range in Bridgeton, Missouri, about nine miles from Ferguson.
Metro Shooting Supplies has another location 35 miles away in Belleville, Illinois. Normally, King said, the shops do about the same amount in sales, but not this week.
According to King, the Bridgeton store on Wednesday did "eight times what our other store did. The day before that it was 10 times. To put it in perspective, the sales we're seeing now are like what we see around Christmas time."
King said his shop has sold shotguns, semi-automatic rifles and handguns for home defense and concealed carry. He said his customers have included families, single mothers, the elderly and other business owners. "They're getting prepared, and it's not that they're vigilantes or something. They wouldn't be doing this if they didn't feel it was a life-or-death situation," King said, adding that the store's gun training classes are almost totally booked for the next six weeks.
St. Louis gun stores Bull's Eye LLC and Mid America Arms told the St. Louis Post-Dispatch that their sales have also gone up this week. Both stores refused to talk to HuffPost.
The protests have taken place in Ferguson every day since 18-year-old Michael Brown was killed. Police have said that Brown, who was unarmed, was shot after assaulting the officer, whose name has not been released.
But Dorian Johnson, 22, who was with Brown when the shooting happened, recalls the moment differently. Johnson told local news outlet KSDK-TV that the officer shot Brown while he was running away and then shot him again after Brown had put his hands in the air.
Since the shooting, Ferguson has devolved almost into a war zone. Dozens of people have been arrested. There have been reports of gunfire around town. A 19-year-old was shot by police Wednesday after allegedly pointing a gun at an officer; the teen is in critical condition. A woman was shot in the head during an alleged drive-by shooting early Wednesday morning. Police have urged protesters to assemble only during daylight hours. Authorities even asked the Federal Aviation Administration to institute a no-fly zone over Ferguson after police helicopters were allegedly fired at.
"There's lots of nervousness here," said Walsh, who has owned Ruby's Guns since 2007. "There's chaos and havoc in the streets, and it's making people really anxious."

Calling all HuffPost superfans!
Sign up for membership to become a founding member and help shape HuffPost's next chapter