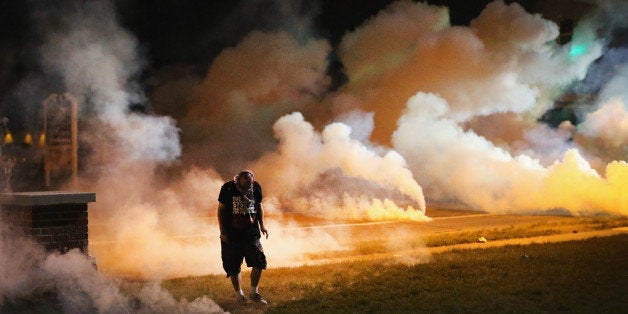 Several press freedom groups have released statements to condemn authorities in Ferguson, Missouri for attacking journalists and violating press freedom.
The media organizations drew particular attention to the assault and arrests of two reporters Wednesday night, the Huffington Post's Ryan Reilly and the Washington Post's Wesley Lowery. Organization spokespeople argued that the right to photograph or record the ongoing protests surrounding the killing of Michael Brown is a First Amendment right.
The American Society of News Editors (ASNE) said Thursday that it is "especially disturbed by the events taking place this week in Ferguson" and called on the US Department of Justice to take action.
"From the beginning of this situation, the police have made conscious decisions to restrict information and images coming from Ferguson," ASNE President David Boardman said, adding that he believes that police attempts to silence the media and violate press freedom will be unsuccessful.
"For every reporter they arrest, every image they block, every citizen they censor, another will still write, photograph and speak," he said.
The Committee to Protect Journalists condemned the intimidation methods being used against journalists, including tear gas and rubber bullets.
"We are concerned by the detention and harassment of reporters trying to cover the news in Ferguson," CPJ's deputy director Robert Mahoney said. "Journalists have a right to work freely on the streets of any American city, and authorities in Ferguson have a duty to ensure that they can do so there too."
The Reporters Committee for Freedom of the Press called the actions that took place Wednesday night "unthinkable."
"The unwarranted arrest of reporters from The Washington Post and Huffington Post in Ferguson, Mo., last night is outrageous and unacceptable in a nation that cherishes a free press," Reporters Committee for Freedom of the Press executive director Bruce D. Brown said.
The National Association of Hispanic Journalists added that the situation in Ferguson is "unacceptable."
"The constitution protects journalists to do their job without government or police interference," , NAHJ president Mekahlo Medina said. "This is unacceptable and as journalists and Americans, we deserve better. NAHJ stands with NABJ is calling authorities to investigate what appears to be first amendment violations and hold accountable officers involved in the incident."
National Press Photographers Association (NPPA) said that the actions of police officials are "creating a climate of fear and distrust" among journalists.
"I write to express our strong objections to the actions of your police officers for the unwarranted arrest and detention of Ryan Reilly and Wesley Lowery," General Counsel Mickey H. Osterreicher said, "as well as your department's complete lack of understanding and respect for the First Amendment as it applies to newsgathering."
The National Association of Black Journalists "strongly" condemned the arrest of both Reilly and Lowery on Wednesday.
"Journalists have a constitutionally protected right to work without the government interference," NABJ President Bob Butler said. "We call on-- and fully expect-- the authorities to investigate what appears to be a violation of the First Amendment and to hold the officers involved to account, if necessary."
Related
Popular in the Community