FERGUSON, Mo. -- The judge who allegedly turned Ferguson's municipal court into a city cash cow resigned Monday, and the Missouri Supreme Court ordered a new jurist to take over the city caseload.
The Supreme Court of Missouri said in a statement that it was assigning Judge Roy L. Richter to take over Ferguson Municipal Judge Ronald Brockmeyer's court "to help restore public trust and confidence."
Last week, the U.S. Department of Justice issued a damning Ferguson Police Department report, detailing how the judge collaborated with Ferguson officials to increase city revenue. Ferguson's finance director reported to the city council in 2011 that the judge had been "successful in significantly increasing court collections" and even more fees were being planned.
Supreme Court Chief Justice Mary R. Russell said in a statement that replacing Ferguson's judge was warranted as the court reviews the need for broader reforms in municipal courts, which she noted handle two-thirds of all state court cases.
"Though these are not courts of record, they are the first -- and sometimes the only -- impression Missourians have of their court system," Russell said. "Although we recognize the local control our statutes give these uniquely local entities, we must not sacrifice individual rights and society's collective commitment to justice."
Richter will handle all pending and future municipal court cases in circuit court.
Brockmeyer said he was not resigning from a municipal judgeship he holds in nearby Breckenridge Hills. The mayor of that city did not immediately return a request for comment. Brockmeyer, a divorce and criminal defense attorney, also serves as a part-time prosecutor in three nearby municipalities -- an arrangement common to the St. Louis region.
Brockmeyer's law partner, Bert Fulk, defended the judge against what he called "irrelevant and ad hominem attacks" in a statement to local media on Monday.
Citing pending legal action, Fulk did not directly address allegations in the Justice Department report. He said Brockmeyer is a Vietnam War veteran who received the Bronze Star and Purple Heart.
Fulk also claimed that Brockmeyer was "not involved in the day-to-day operations of law enforcement or even the Ferguson Municipal Court." Quoting the Justice Department report, he suggested that Ferguson Municipal Court Clerk Mary Ann Twitty, who was fired last week over racist emails, was far more influential.
"Mr. Brockmeyer recognizes that the Department of Justice report, as well as recent media reports, regardless of their accuracy or validity, have diminished the public's confidence in the Ferguson Municipal Court," wrote Fulk.
The Guardian had reported last week that Brockmeyer owed $170,000 in unpaid taxes.
The mayor of nearby Vinita Park, where Brockmeyer serves as prosecutor, told HuffPost that nothing in the Justice Department report raised concerns. Many other officials in the cities near Ferguson signaled no rush to make changes . Reform advocates who said Ferguson is one of many small municipalities in St. Louis County that routinely violate the rights of residents said the judicial moves are a good start.
"I hope that it marks the beginning of a long process," said Brendan Roediger, a civil rights lawyer and St. Louis University Law Scool professor who is involved in a lawsuit against Ferguson and a neighboring municipality. Roediger said Brockmeyer "was never the worst municipal court judge" in the St. Louis region, where similar conflicts exist in many courtrooms.
Brockmeyer is the fourth Ferguson official named in the Justice Department report to resign or be removed from his job. In addition to Twitty, two police department officials resigned last week, including one who supervised Darren Wilson, the officer who killed 18-year-old Michael Brown in August. The Justice Department did not charge Wilson in the shooting, and said evidence supported his claim of self-defense.
Meanwhile, the Ferguson City Council met briefly in public on Monday night before going into closed session, which was expected to last most of the evening. A notice said the council was discussing legal actions and personnel issues, among other matters.
Before You Go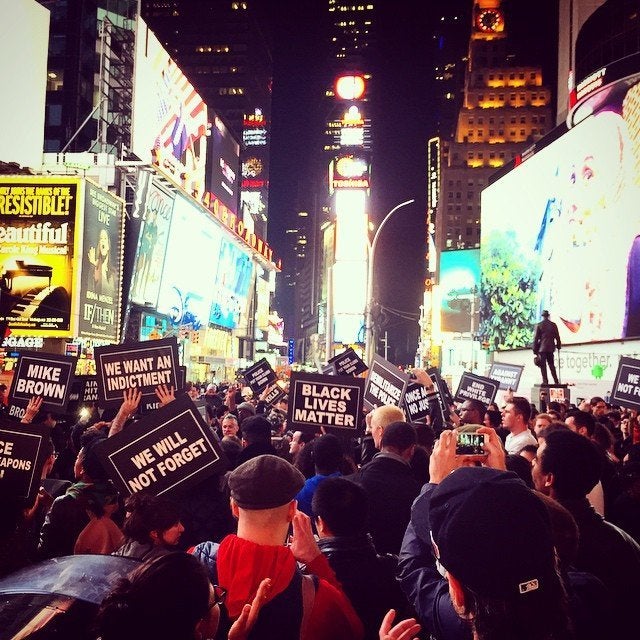 Ferguson Protests Around the Country
Popular in the Community