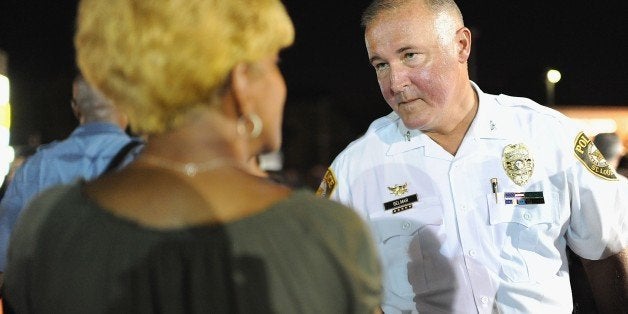 The St. Louis County police chief on Monday denied an Associated Press report that his department requested flight restrictions to keep media helicopters away from Ferguson, Missouri, protests following the police killing of 18-year-old Michael Brown in August.
St. Louis County Police Chief Jon Belmar said at a news conference that the Federal Aviation Administration imposed temporary airspace restrictions above the Ferguson after a police helicopter came under fire from gunshots and laser pointers on Aug. 10. Belmar said police received a 911 call reporting shots fired at at helicopter, but he acknowledged no damage was found, according to St. Louis Public Radio reporter Rachel Lippman.
Belmar disputed the AP story, based on recordings the news service obtained under the Freedom of Information Act, which say an FAA manager reported St. Louis County Police officials had "finally admitted" the purpose of an airspace restriction was "to keep the media out." Another FAA official said the police "didn't want media in there," according to the AP story.
Belmar suggested the recordings obtained by AP may have been "informal conversations" that were "taken out of context."
Protests erupted in Ferguson following the Aug. 9 killing of Brown, who was unarmed. The FAA's initial flight restrictions included a 3.4-mile radius around Ferguson up to 5,000 feet. The altitude limit was lowered to 3,000 feet on Aug. 12, according to the AP story, but St. Louis television stations weren't told about the change. The FAA no-fly notice said that the area was only open to police and to planes going to and from the nearby Lambert-St. Louis International Airport, according to the AP.
Belmar said Monday that the police helicopter was struck by a laser, which can temporarily blind a pilot. The FBI reports that there were 3,960 laser in 2013, an average of 11 per day. A law signed by President Barack Obama in 2012 makes pointing a laser at an aircraft a federal felony offense, punishable by a fine of to $250,000 and five years in prison. The FBI in the past has offered thousands of dollars for tips that lead to successful prosecutions of people who aim lasers at airplanes and helicopters.
In a recording released by the department, a pilot can be heard reporting a "laser strike on the aircraft."
"We had intelligence that came in regarding laser and rifles aimed at the aircraft," Belmar said at the press conference.
Calling all HuffPost superfans!
Sign up for membership to become a founding member and help shape HuffPost's next chapter
BEFORE YOU GO