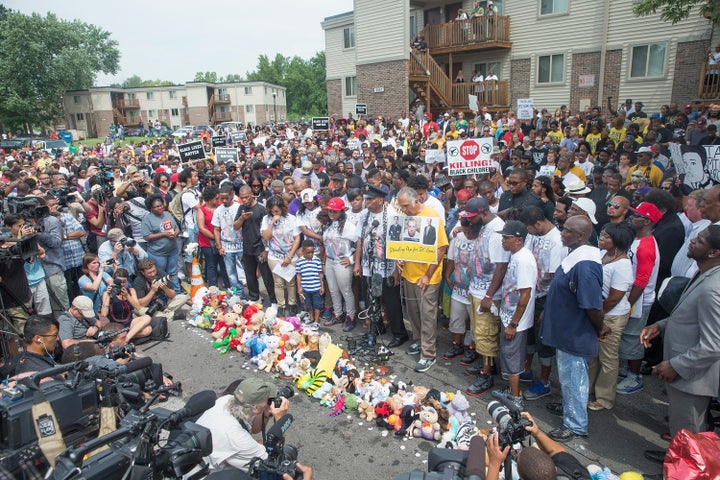 FERGUSON, Mo. -- Hundreds of people gathered in the middle of a quiet street in this suburb of St. Louis to pay respect to Michael Brown, the 18-year-old whose shooting death sparked what some consider a new civil rights movement and a significant change in the way the country discusses race and policing.
Brown, who was unarmed, was shot and killed by Darren Wilson, then a Ferguson police officer, shortly after he stole a pack of cigarillos from a nearby convenience store. A grand jury in St. Louis County did not indict Wilson, and a federal investigation into the shooting found no viable civil rights charges against the officer. But a separate investigation found that the mostly white Ferguson Police Department was a place where officials felt comfortable exchanging racist emails and where the government and court officials put an emphasis on bringing in revenue to pad the city's coffers at the expense of its black residents.
Under the leadership of St. Louis County Police Lt. Jerry Lohr, protests outside the Ferguson Police Department on Saturday night remained nonviolent. Officials flooded the area outside with light, closed the street to traffic and had a limited number of police officers keep watch over the crowd. When some protesters brought over the head of a pig they had roasted, on whose body someone had written "Darren Wilson," Lohr talked with them about pig roasting methods and his memories of roasting pigs with his family.
Earlier that evening, St. Louis County Police Chief Jon Belmar -- who oversaw much of the aggressive police response to even peaceful, daytime protests back in August -- wandered around West Florissant, the street where much of the unrest took place last year, and shook hands and took photos.
Later in the evening, after protests outside of the police department on the other side of town had quieted down, a non-fatal shooting took place on West Florissant around midnight. Police said Sunday that they had taken a 17-year-old into custody who had attended protests with a gun in his backpack.
"This was supposed to be an event for Mike Brown when people come together," said 31-year-old Eric Walls, who witnessed the shooting. "We suppose to be having an understanding. We suppose to be making something better out of the situation, not something worse."
On Sunday, the anniversary of Brown's death, police officers in normal uniforms stood nearby as demonstrators gathered at the spot where Brown was killed on Canfield Drive and made their way to Greater St. Mark's Church, where several speakers addressed the changes that took place since last August. While protesters walked to the church, a driveby shooting took place in a nearby neighborhood.
After the shooting, police were on the lookout for a green four-door Pontiac Grand Prix, but pulled over a green two-door car instead. Officers drew their weapons and approached the vehicle. Ronea Green, a 19-year-old from St. Louis County, was in the passenger seat.
"I was shaking, but I stayed calmed. Because if I didn't stay calm I could be dead laying in the street right now," Green told The Huffington Post shortly after the incident. "They still shouldn't have came at us like that. It was bad."
At the church, speakers talked about supporting black businesses and the movement and performed songs and poems. 
"I'm not sitting down," said Brown's father, Michael Brown Sr. "I'm going to stay standing up. This movement going to be -- it's going to be a good movement."
Calling all HuffPost superfans!
Sign up for membership to become a founding member and help shape HuffPost's next chapter