The city of St. Louis' police chief condemned the heavy-handed tactics being used by officers responding to the protests in Ferguson, Missouri, a significant departure since the city works closely with the departments there.
The protests have been going on each night since a Ferguson police officer shot Michael Brown, an unarmed African-American teenager, on Saturday. Community members have spoken out against what they see as an unjustified killing and the police department's refusal to release the officer's identity or more details about the shooting. The St. Louis County Police Department was brought in to investigate.
In an interview with the St. Louis Post-Dispatch on Thursday, St. Louis Metropolitan Police Department Chief Sam Dotson said, if he were in charge, he would not have employed military-style policing such as what has transpired over the past few days. He also stressed that the city's police force will not assist the county's efforts.
"My gut told me what I was seeing were not tactics that I would use in the city and I would never put officers in situations that I would not do myself," he said.
The two forces often work together, but in this case, Dotson explained, "My personal side was concerned about the things I saw transpiring in Ferguson."
Police officers in Ferguson have regularly come out in full riot gear, throwing tear gas and firing rubber bullets at protesters.
"There is never an excuse for violence against police or for those who would use this tragedy as a cover for vandalism and looting," Obama said. "There's also no excuse for police to use excessive force against peaceful protests or to throw protesters in jail for lawfully exercising their First Amendment rights."
Throughout the week, military veterans have also slammed the militarized tactics and excessive amounts of military-style weapons and equipment used by police. Many have said the SWAT officers, like those who arrested The Huffington Post's Ryan Reilly and The Washington Post's Wesley Lowery Wednesday evening, are more heavily armed and outfitted than they themselves were while fighting in wars in Iraq and Afghanistan.
Another reason Dotson did not want the city and county police to collaborate was because of the history of racial profiling by county police. In an email to a St. Louis alderman who brought up concerns of racial profiling, he wrote: "I agree and removed our tactical assistance. We did not send tactical resources to Ferguson on Tuesday or Wednesday. Our only assistance was that of four traffic officers to help divert traffic and keep both pedestrians and motorists safe. On Thursday we will have no officers assisting Ferguson."
In a press conference Thursday, Gov. Jay Nixon (D) announced that the Missouri Highway Patrol, instead of the St. Louis County Police Department, would now be in charge of security in Ferguson.
See updates on the situation in Ferguson below:
Before You Go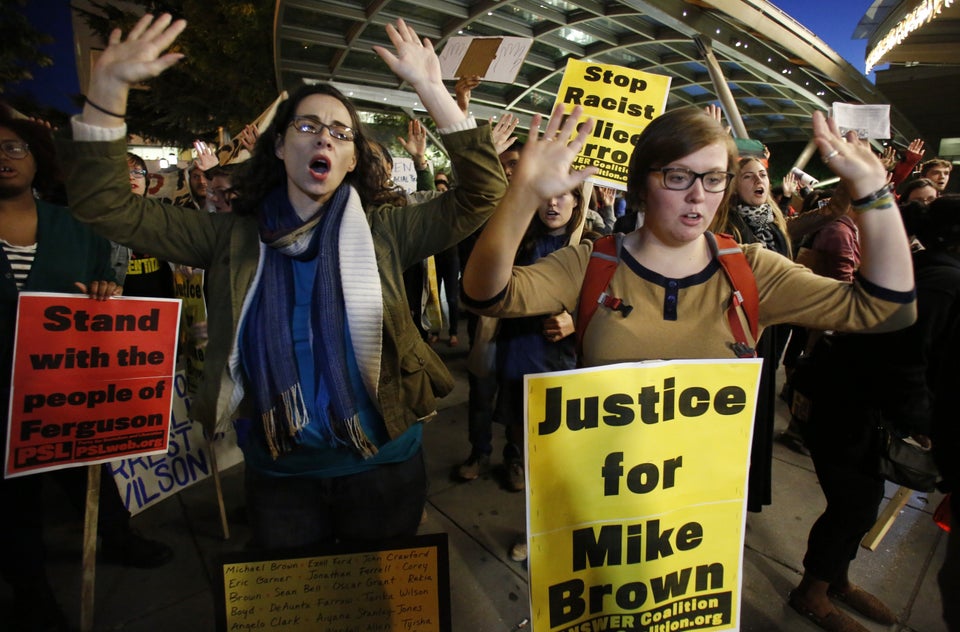 Ferguson
Popular in the Community