ST. LOUIS, Mo. ― Nearly two years ago, a grand jury declined to indict a police officer who shot and killed 18-year-old Michael Brown, sparking widespread unrest. But the scars of the tragedy can be seen far beyond West Florissant Ave., the center of most of the damage sustained on the cold night of Nov. 24, 2014.
The events in Ferguson, which drew enormous focus to issues of race and policing in the United States, remain a major factor for politicians running for statewide office in Missouri in 2016. The state, which hasn't voted for a Democratic presidential nominee since 1996, is likely to go for Republican presidential nominee Donald Trump, who has proclaimed himself the "law and order" candidate. So Democrats hoping to be elected to statewide office have to find Trump voters willing to split the ticket. (Most Republicans running statewide have condemned Donald Trump's comments advocating sexual assault, but have stopped short of withdrawing their support.)
"In almost every county in Missouri, if you blocked traffic with a sign that says 'Black Lives Matter,' your ass would get run over with no police investigation into the crime," said Chris King, managing editor of The St. Louis American. "Realistically, it's a very dispiriting state for progressives or for black people that are trying to protect their lives and trying to organize their government to be more equitable in the enforcement of justice relative to race."
Attorney General Chris Koster, the Democratic nominee for Missouri governor, received an endorsement from the Missouri Fraternal Order of Police and has spent his career in law enforcement. Koster, who was a Republican until 2007, promised that when he's governor, officers will "have the back of law enforcement officers at every level, in every county in this state, unquestioned."
But even Koster has come under fire for his handling of Ferguson, accused of wanting the officer who shot Michael Brown, Darren Wilson, fired. Koster told The Huffington Post that the allegation was "completely untrue," and said discussions simply revolved around the timing of Willson's departure, since it was clear he would not work as an officer in Ferguson again.
Koster, who is running against former Navy Seal and political outsider Eric Greitens, noted that "Trump has a lot of support among police," but said his bid for governor is helped by the fact that he comes from the law enforcement community. Koster also said he has spent more time in Ferguson than any other statewide official, and criticized current Gov. Jay Nixon's response to the unrest there.
"I think that being present was one of the biggest challenges that the administration missed," Koster said. "No matter what kind of tragedy it is, whether it's a hurricane or a tornado or even a moment of racial unrest, the governor has got to be there."
Antonio French, a St. Louis alderman who was a constant presence in Ferguson during the unrest and is now running for St. Louis mayor, said the belief that Gov. Nixon wasn't aggressive enough is widely held.
"Across the state of Missouri, I think the predominate opinion is that the governor did not crack down enough on protests, and I think that's unfortunately an attitude that has taken hold," French said in an interview on the floor of the Board of Aldermen's room at City Hall. "What folks really have to understand is that the frustration is justified. There is a need for reform and to change how we do policing in our urban communities."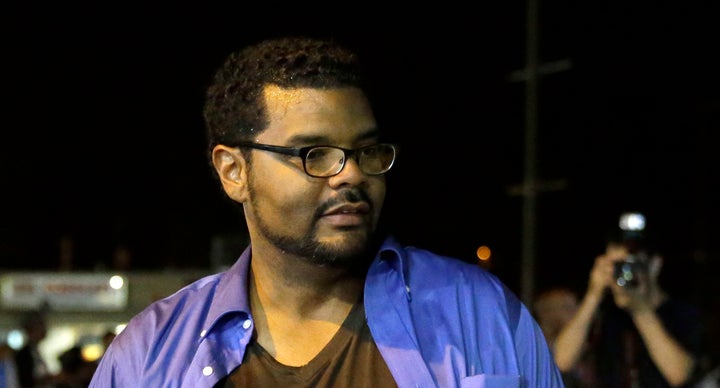 Too many people, French said, "feel like the answer is just to let the police loose and crush this rebellion. And that's dangerous, when that's the predominate thought. Because that attitude will only make things worse."
Koster said in his interview that he thought some of the discussion about Ferguson in the Republican primary was unhelpful and played into racial tensions.
"I think in the Republican primary, there was a lot of talk that was coded language, that was in a coded way derogatory of the African-American community," he said. "They talked a lot about lawlessness in Ferguson, and I thought it was an attempt to create a bit of a divide. Ferguson is done. We know what the path forward is, and we should work together to walk that path."
Koster was critical of the choices many officers made during the Ferguson unrest, without being critical of members of law enforcement themselves.
"The sight of rifles down on citizens who were no more than 15 or 20 feet in front of the muzzle of a rifle is not a decision that anyone in law enforcement would ever make again," Koster said.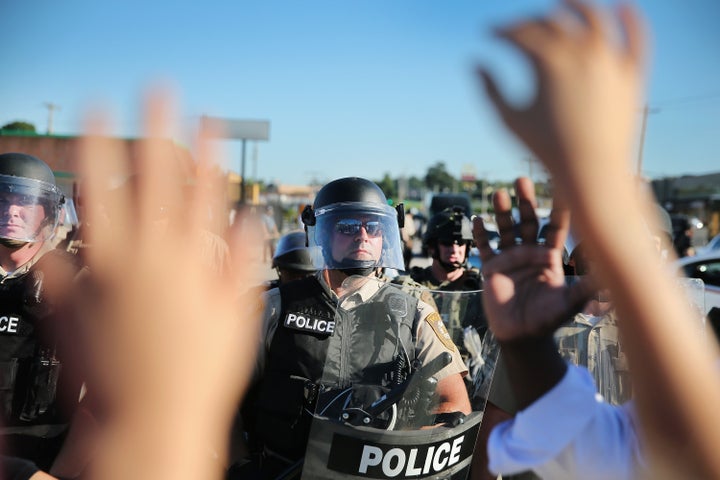 Still, he said the Nixon administration failed to properly support Chief Jon Belmar, who led the original law enforcement response to the protests. (Nixon put the Missouri Highway Patrol in control of the police response in Ferguson the day after Belmar's St. Louis County Police Department pointed sniper rifles at peaceful protesters and arrested French, Washington Post reporter Wesley Lowery and this reporter on Aug. 13.)
Secretary of State Jason Kander ― who assembled a rifle while blindfolded in a recent campaign ad ― is running to replace incumbent Sen. Roy Blunt (R). In an interview after he met with members of the St. Louis branch of the U.S. Black Chamber of Commerce, Kander hit Blunt for what he said was an inadequate response to the unrest in Ferguson in 2014.
"The fact that Sen. Blunt has spent such a small amount of time in North St. Louis County in the last two years, it's not just a knock on him politically," Kander said. "It genuinely makes me question why someone would want to be the senator for his state when something like that happens, and their objective seems to be to ignore it."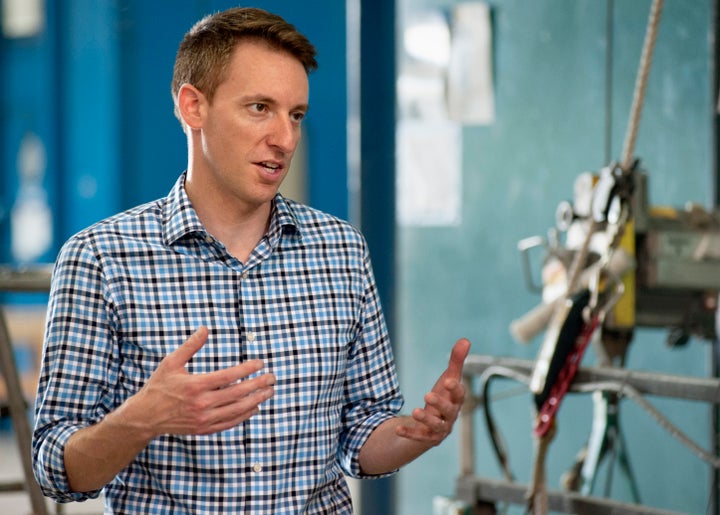 Kander is emphasizing the work he did to raise money from the business community to help Ferguson businesses recover from the unrest.
"While it's good that there's a national conversation about race going on, we still had 72 businesses that were damaged or destroyed in Jennings, Dellwood and Ferguson," Kander said.
Kander, who spoke about issues of generational wealth during his meeting with black business leaders, said his discussions in Ferguson have given him a better understanding of the community.
"There are a lot of people who are in public service because at a very early age they felt let down by people in public office, and they grew up in a way that was very difficult," Kander said. "I'm not one of those people, it's not my perspective, and it's important for me to recognize that the first time I ever really felt that way, I was in Afghanistan with the Army and spending time in vehicles with no armor because of a political decision somebody made. But there's a lot of people in my state whose earliest memories include that emotion of feeling let down by people who were supposed to provide, or at least create, an environment of opportunity. So acknowledging that perspective is really important."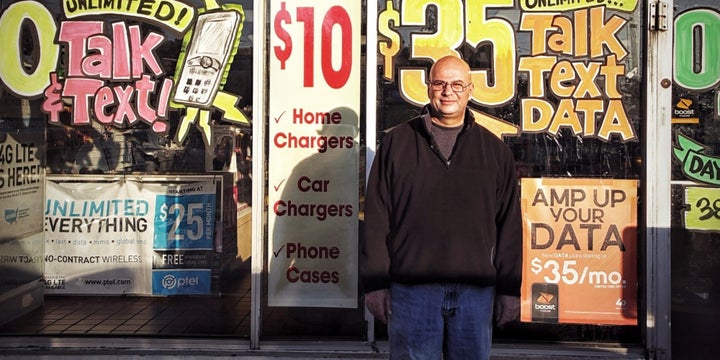 Sonny Dayan, the owner of STL Cordless in Ferguson, said he's seen a bit of a rightward swing from some people he knows in the wake of Ferguson. Back in August 2014, Dayan spoke with HuffPost about the support he'd received from the community after his business was broken into. He later talked about his decision not to board up his store in expectation of violence around the grand jury decision of whether to indict Wilson in Brown's death.
"It was a terrible incident, but we're stronger as a community," Dayan said this week. Dayan was born in Israel and came to the United States 30 years ago. He said he's concerned about some of Trump's foreign policies, but declined to say how he's voting.
"I wish there was somebody else, to be honest with you," he said. But he added that as a naturalized citizen, he appreciates the country's political system: The situation is only "temporary," no matter who gets elected.
Dayan said his business isn't as strong as it was before the unrest, although he feels "there is hope; the sun is coming." But it's still been tough dealing with the fallout of an event that impacted the state and nation.
"I have kind of mixed feelings about it, because I'm proud of the neighborhood that's associated most with the change, because I'm proud of the change," Dayan said. "It's a mixed-feeling situation."
Before You Go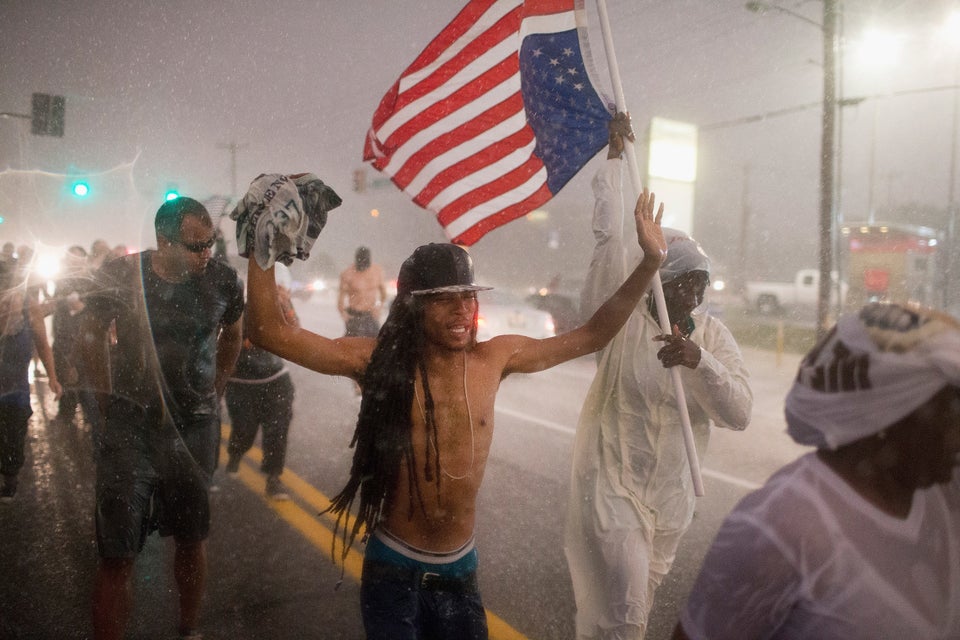 Ferguson Protests 2015
Popular in the Community