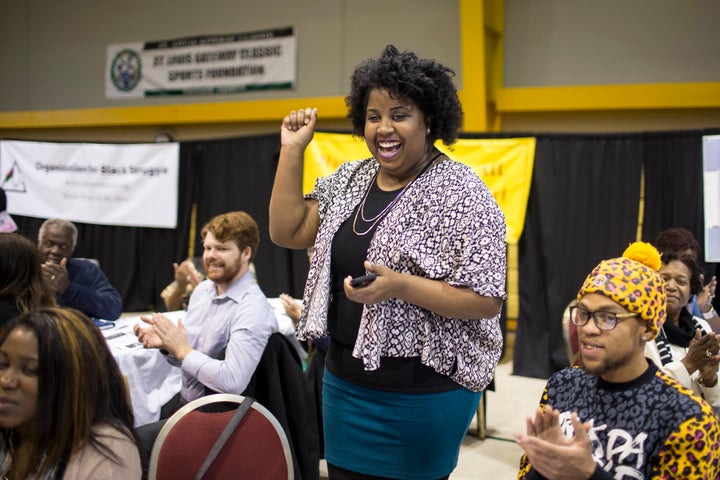 ST. LOUIS ― An activist who protested the 2014 police shooting of a teenager in nearby Ferguson is mobilizing voters against a Missouri voter ID measure that opponents say could disenfranchise blacks, Latinos, disabled people, students and the elderly.
While most of America is focused on the top of the ticket in Tuesday's election, 26-year-old community organizer Kayla Reed is trying to get Missouri voters to look lower down the ballot, where a constitutional amendment known as Amendment 6 would require voters to show a photo ID or other proof of identification before they will be allowed to vote.
"The bottom of that ballot impacts our communities directly and quicker," Reed said. "We want to put value in the bottom of the ballot, especially for people who are often left out of the conversation."
Missouri has 220,000 valid voters who don't have a state-issued photo ID, according to a 2014 estimate by the Missouri secretary of state. An additional 130,000 voters have IDs that are expired.
Reed hosted a "Black Vote Brunch" on Saturday with more than 200 people, spreading the word about the amendment to fellow organizers, community members and local politicians. Reed also has been using the hashtag "#donttouchmyvote," which she described as a social media conversation on the never-ending struggle for the right to vote, even after the 1965 Voting Rights Act was passed during the civil rights movement.
"There's always been an attack to limit people's voice," Reed said.
"This is really a response to an attack on black people. Which is really what our Republican statehouse has continued to do since Ferguson," she added. "So we're just trying to keep the momentum up with innovative ways around those issues."
Reed has had help from Washington-based civil rights group Advancement Project for the past month, with activists on the ground in Missouri helping mobilize voters and support Reed and other local organizers.
Judith Browne Dianis, executive director of Advancement Project's national office, said Missouri's measure is "trying to silence black people."
"African Americans have come too far from the days of the Missouri Compromise and the Dred Scott decision to be told when to vote and when not to," Dianis said in a statement to HuffPost. "We will support the fight against Amendment 6, and we will continue fighting for an affirmative national right to vote."
North Carolina recently lost its attempt to reinstate a restrictive voter ID law. An appeals court struck down the law as  racially discriminatory ― a ruling left undisturbed by a deadlocked Supreme Court in August.
While the presidential election is capturing most of the attention, Reed stressed it's important for voters to tune in to the not-so-flashy propositions on the ballot.
"This election has been devastating to the hopes and morality of people of color with both presidential options, honestly," Reed said. "So, we wanted to really focus on local issues and a way to re-engage people in a healing and fun environment while also doing political education."
Calling all HuffPost superfans!
Sign up for membership to become a founding member and help shape HuffPost's next chapter