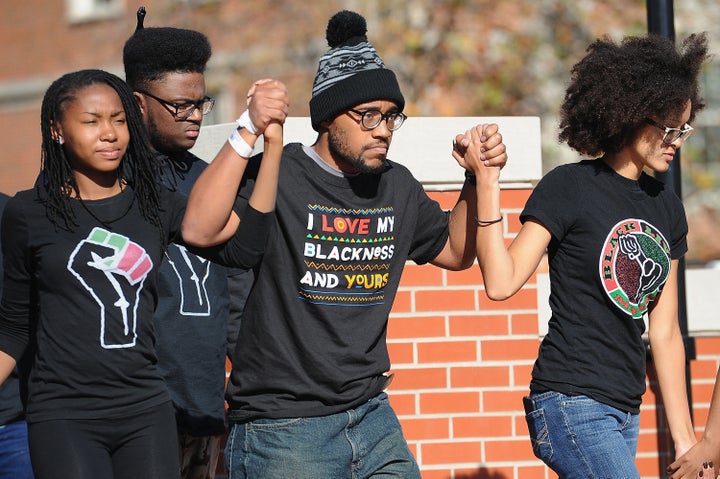 One state -- Missouri -- stands out as the site of two of the most pivotal moments in the resurgent national discussion on race: the unrest in Ferguson and the protests at the University of Missouri.
That Missouri is at the heart of the country's recent racial tensions is no coincidence.
Although other states face similar challenges, Missouri's status as a border state between the North and South makes it one of the country's most fertile breeding grounds for racial strife. The state suffers from some of the worst racial pathologies of both regions.
At the same time, that environment spawned a vibrant tradition of African-American activism, which contributed to the rise of a contemporary civil rights movement that got its start in Missouri. Now African-American-led efforts to address longstanding racial grievances elsewhere in the country have taken their cues from the Show-Me State.
A Border State -- For Better, Or Worse
Colin Gordon, a historian at the University of Iowa and author of Mapping Decline: St. Louis and the Fate of the American City, characterized Missouri as a kind of unfortunate sweet spot for racial resentment. On the one hand, Gordon said, Missouri has a tradition of anti-black racism and white supremacism more typical of a former slave state. On the other hand, it has levels of housing segregation, and its attendant social ills, more characteristic of Northern states.
It is not surprising, Gordon noted, that Baltimore, a city in a similar border state, was the site of another one of the country's most explosive incidents of race-based unrest.
"It is the border states where race relations are at their tensest," he said. "That is particularly true of Missouri, though, because it is a funny sort of state -- a couple of big cities and then the Ozarks."
Clarence Lang, who chairs the African-American studies department at the University of Kansas and authored Grassroots at the Gateway: Class Politics and Black Freedom Struggle in St. Louis, 1936 to 1975, offers a largely similar analysis of the confluence of factors that have made Missouri especially racially volatile.
But Lang emphasized that Missouri's St. Louis-based civil rights tradition has also laid the roots for positive change in the state.
"There is definitely a long tradition of protests and resistance among African-Americans in St. Louis and Missouri that recent events are bringing to light," Lang said.
"There is definitely a long tradition of protests and resistance among African Americans in St. Louis and Missouri that recent events are bringing to light."
Here too, Missouri's history as a border state is key.
Historically, Lang said, the white leadership in St. Louis was keen for the city not to be seen as a proverbial Birmingham, Alabama. They "muted" civil rights agitation by working with the black elite to maintain what Lang calls a "public performance of harmony."
They would make "various kinds of outlets for conversation as a way of forestalling change, suppressing racial grievances and managing the city's image," he said.
Black activists in the city and surrounding areas often had to take on mainstream black leaders in order to agitate for action against discrimination in a variety of fields. Lang believes that this history has made many younger African-American Missourians wise to cosmetic changes and conciliatory rhetoric that fail to address fundamental inequalities. That experience, he said, may account for the impatience and assertiveness of present-day African-American activists in Missouri.
"Reconciliation and dialogue absent solutions for the underlying problems is inadequate, and people are finally, really pointing that out," Lang concluded. "St. Louis is a place where people have always battled that."
Racial Segregation In The Show-Me State
The unrest in Ferguson in August 2014 is rooted in Missouri's particularly acute levels of racial segregation. Missouri's African-American population is heavily concentrated in the metropolitan areas of St. Louis and Kansas City, both of which are, in themselves, deeply segregated.
An interactive demographic map of the greater St. Louis area developed by Gordon also reveals the extent of the racial segregation across St. Louis County, where Ferguson is located. The darker the red areas, the larger the share of the population is black, with the deepest shade indicating a black population of 90 percent or more. The municipality of Ferguson is outlined in brighter red toward the top.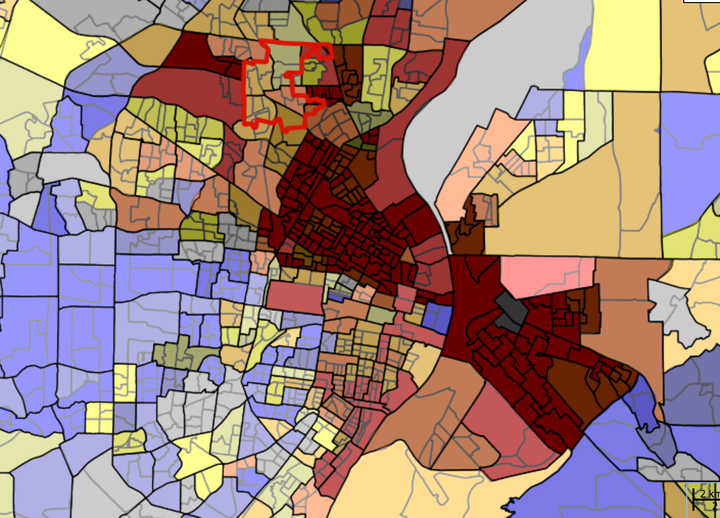 Poverty is concentrated in the predominantly black areas. If we use the interactive tool to substitute poverty rate for percentage of black population, the red parts of the maps closely parallel one another.
(The blue color signifies the lowest concentration of African-American residents in the first map, and the lowest concentration of poverty rates in the second map. Green represents a median.)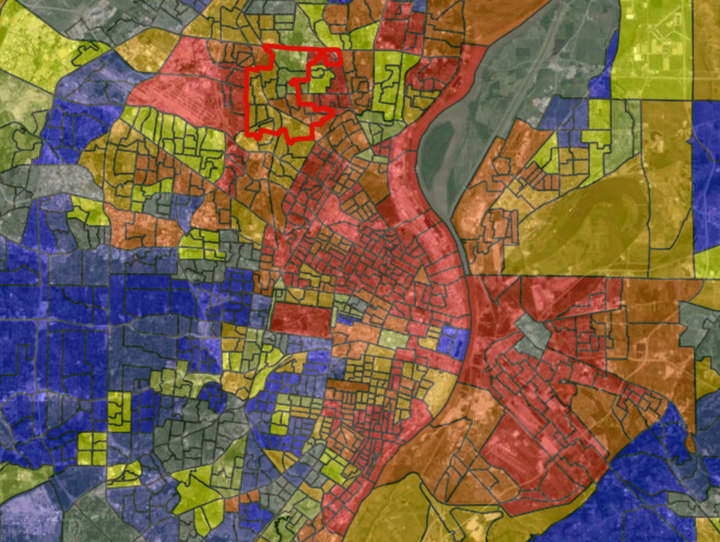 The St. Louis area's racial and economic segregation is the result of decades of discriminatory housing practices and unregulated suburban development. The arrival of African-Americans in St. Louis relatively early during the Great Migration -- the early- and mid-20th-century movement of African-Americans away from the rural South to Northern, Western and Midwestern cities -- allowed the white power structure to restrict housing access more blatantly than in many other cities, according to Gordon.
Subsequently, the completely unregulated and disorganized nature of the suburban development boom in St. Louis proved especially conducive to maintaining segregation. Developments would pop up in cornfields and incorporate in an uncoordinated manner. As a result, St. Louis County's population is spread across 90 municipalities and 10 unincorporated census tracts. Perhaps most absurdly, the county's Champ village is home to just 13 people.
"You get this very uneven pattern of residential development with a lot of exclusionary suburbs, and a lot of inner suburbs like Ferguson with small lots and apartment buildings," Gordon said.
"The old patterns of segregation that existed in the city get replicated in St. Louis County."
By the time black St. Louis residents received the right to move to the suburbs, the county's smaller, denser and less desirable towns and neighborhoods were the only ones available to them.
To make matters worse, white residents have left "inner suburbs like Ferguson" as black families have begun moving in. From 1990 to 2010, the white population of Ferguson, for example, shrank from over 16,000 to about 6,200, even as African-Americans went from one-quarter to two-thirds of the town's residents.
"The old patterns of segregation that existed in the city get replicated in St. Louis County," Gordon said.
The pernicious effects of racial and socioeconomic segregation are apparent in Ferguson and other predominantly black communities in St. Louis County.
It dramatically limits, for instance, the opportunities for black children in the county to get a decent education, since U.S. schools are funded by local property taxes.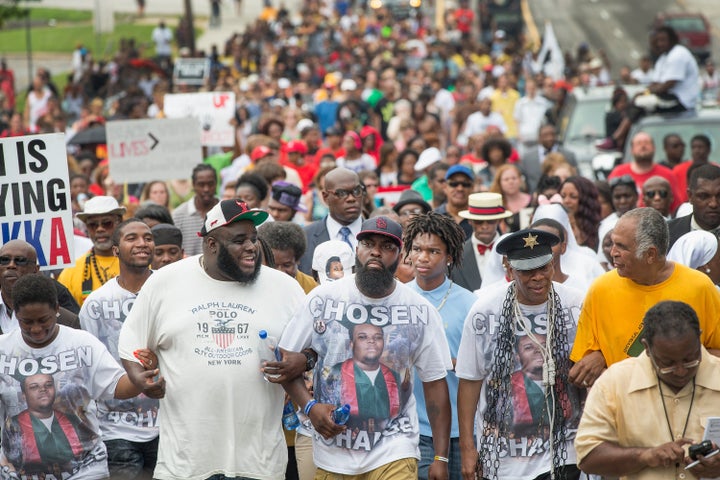 Normandy school district, where Michael Brown graduated from high school just eight days before being shot to death by a police officer in August 2014, has a poverty rate of 37.6 percent. The quality of education in the Normandy school district was so poor that the state revoked its accreditation in 2013.
The whiter and more affluent Ladue school district a few miles to the west had a poverty rate of 4.9 percent and much better academic results. Just 62 percent of students in the Normandy district graduated in four years in 2014, compared with nearly 99 percent of students in Ladue.
Meanwhile, St. Louis is now among the country's most impoverished and crime-ridden cities. In 2014, it had the highest murder rate per capita of any city in the country -- surpassing Detroit, which was No. 1 the previous year.
Racism continues to play a role in preventing the kind of integration policies that might at least achieve more equitable education outcomes. As Nikole Hannah-Jones thoroughly documented in ProPublica, vociferous opposition by local white communities has undermined multiple court-ordered efforts to integrate Missouri's school systems.
The small tax base of many towns in St. Louis County was also one of the driving factors behind what the Justice Department called the Ferguson government's view of "some residents, especially those who live in Ferguson's predominantly African-American neighborhoods, less as constituents to be protected than as potential offenders and sources of revenue." Anger over the town's racially discriminatory use of fines and arrests to generate revenue helped fuel the civil unrest that erupted after Brown's death.
"One of the things that does make the St. Louis area a bit unique is the fragmentation of that region in terms of the broad number of municipalities and the kinds of pressures that that has created for raising revenue," the University of Kansas' Lang said. "The economic, political and social fragmentation in that region has fed a certain kind of intense racial and social conflict that is at the root of what happened in Ferguson."
Gordon sees the effects of Missouri's peculiar blend of racism and segregation in the controversy at Mizzou.
The entrenched racial segregation in the St. Louis and Kansas City areas feeds pre-existing white hostility toward African-Americans across the state in a way that manifests itself on campus, Gordon said.
"When you have this deep-seated pattern of housing segregation that becomes linked in people's minds to public safety and home values, the notion of African-American occupancy as a threat is much more deeply rooted in Missouri," he said. "What that spills over into, which you see in the Mizzou campus, is that African-Americans are dangerous outsiders -- not full citizens in that sense -- and that plays into the way police behave, into the way students behave."
"Growing up in Missouri, it's almost expected sometimes."
Gordon acknowledges that Mizzou is not a demographic microcosm of the state, but nonetheless insists that it is a place where statewide tensions can rise to the surface.
"You have a state in which the population is very segregated, race relations are on the nasty end of the spectrum -- what happens when you lift a bunch of 18-year-olds and put them all in one place?" Gordon said. "It is not the same dynamic as a neighborhood, or a city, but everyone is coming to that campus with a certain experience or baggage having grown up in Missouri -- black or white."
Protests have rocked the University of Missouri's flagship Columbia campus since October in response to several racist incidents that black students say embodied a pervasive culture of racism at Mizzou. The University of Missouri system President Tim Wolfe and Chancellor R. Bowen Loftin both stepped down on Nov. 9, amid increasing pressure over their handling of the students' complaints. The Mizzou football team's announcement on Nov. 8 that they would boycott playing until Wolfe resigned proved critical.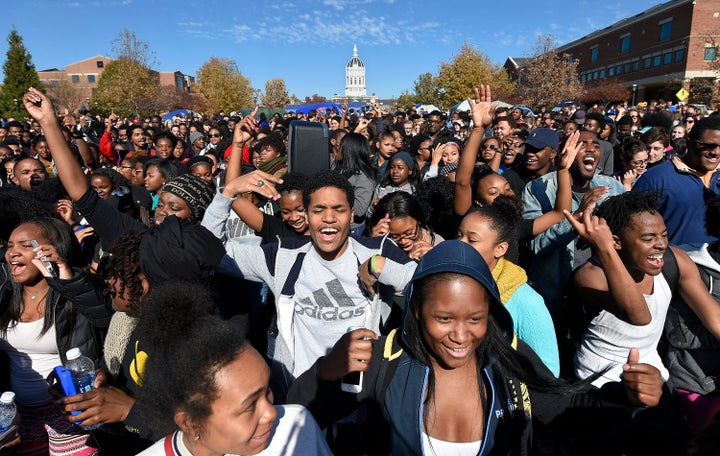 Black students' descriptions of the racially hostile climate at Mizzou are consistent with Gordon's characterization.
Johnathan, 21, a second-year student at Mizzou from Hazelwood, Missouri -- a town in St. Louis County near Ferguson -- said someone had yelled, "Go home, nigger," at him during his first week on campus. He also heard a roommate use the offensive word in his presence twice.
"Growing up in Missouri, it's almost expected sometimes," Johnathan said. (He asked to be identified by his first name only out of concern for his safety.)
Cheyenne Collins, 20, a second-year health sciences major who hails from Springfield, Missouri, also said she anticipated racism on campus before arriving.
"I came here knowing that we're not going to be equal in everything," she said.
However, just as racial hostility on the Mizzou campus is a feature of the state's larger dynamics, so too is the enthusiasm with which African-American students challenge university norms.
The proximity of Mizzou to Ferguson allowed graduate student Jonathan Butler to drive back and forth from the university campus to the Ferguson protests in August 2014.
Butler, a leader of the Mizzou demonstrations whose weeklong hunger strike played a crucial role in the university president's resignation, has said that the mass actions in Ferguson inspired his current activism.
He described the Mizzou protests as a product of the "post-Ferguson effect."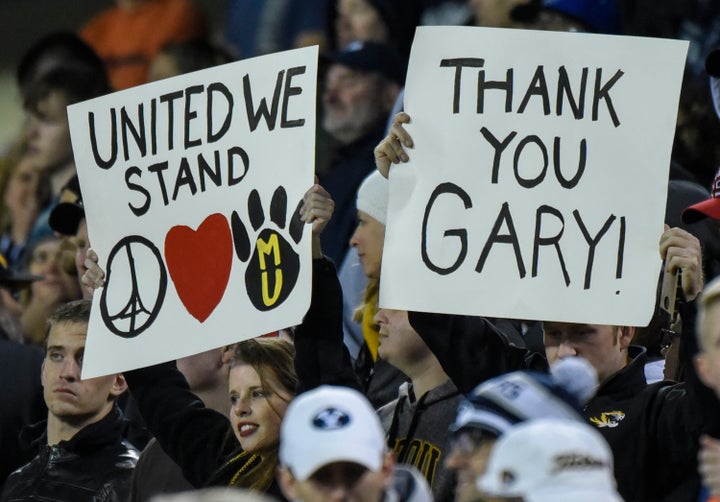 As Goes Missouri, So Goes The Nation?
Lang argues that a consequence of border states' overlapping racial histories is that they are often at the vanguard of national racial trends, including positive ones.
"You can make an argument that these border states have been bellwethers for where the nation as a whole may be headed," Lang said. "Missouri, for example, has been a laboratory for all the dynamics of race and conflict that we see nationally coming together in one petri dish, and it becomes this microcosm."
As a slave state that remained in the Union during the Civil War, Missouri was given more leeway by the North on racial matters after the war. Missouri was able to end Reconstruction, rolling back the civil rights advances imposed by the federal government, sooner than other former slave states.
But it was also one of the first segregated states to begin desegregating schools and other institutions. Many landmark civil rights judgments against housing segregation, educational segregation and employment discrimination all came out of Missouri, Lang noted. A 1969 rent strike in St. Louis public housing brought fair, affordable housing to the fore of the national civil rights agenda.
"There are all these moments where St. Louis in particular has set a precedent across the nation," Lang said.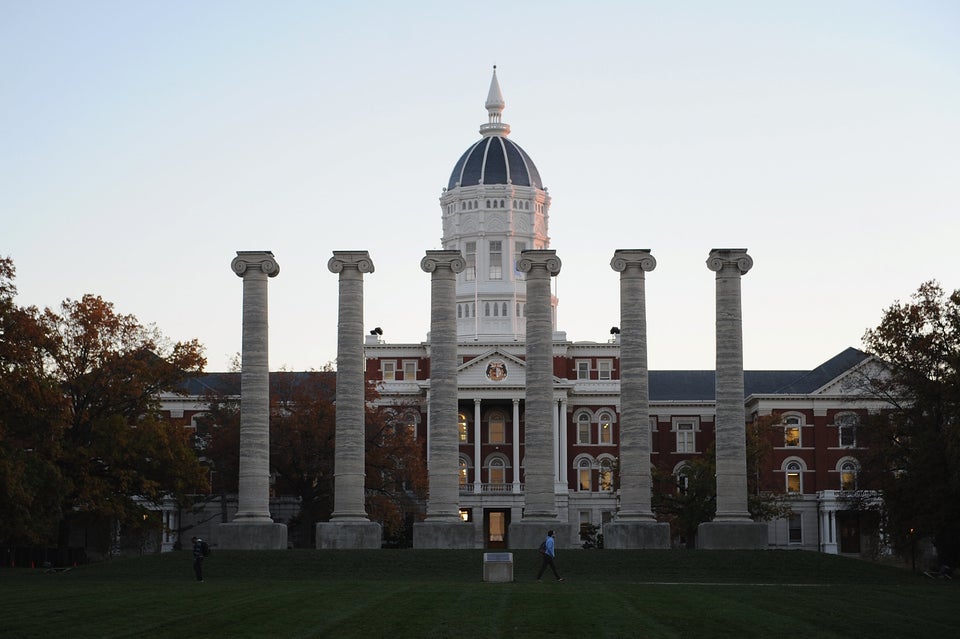 The Deeper Issues At Mizzou
Popular in the Community