WASHINGTON -- Lawyers representing the city of Ferguson, Missouri, are considering settling a federal civil rights lawsuit alleging widespread constitutional abuses in its municipal court system, which -- along with the other municipal courts in St. Louis County -- came under heavy scrutiny following the death of Michael Brown in August 2014.
A filing on Monday indicated that lawyers representing Ferguson and the civil rights attorneys representing poor defendants held in Ferguson's jail had "been engaged in meaningful settlement discussions" over the case.
The lawsuit was filed by ArchCity Defenders, as well as nonprofit Equal Justice Under Law and the Saint Louis University School of Law, on behalf of 11 poor individuals who had been held in Ferguson's jail.
A lawyer for ArchCity Defenders, a local organization, which has been heavily critical of the practices of municipal courts in St. Louis County, asked a federal judge to extend the deadline to argue for making it a class action. Lawyers for both sides did not immediately respond to request for comment.
Ferguson, a suburb of St. Louis, operated a municipal court that regularly violated the rights of black citizens to fill the city's coffers, according to the Department of Justice's Civil Rights Division. The report, released earlier this year, said that many officers and officials "appear to see some residents, especially those who live in Ferguson's predominately African-American neighborhoods, less as constituents to be protected than as potential offenders and sources of revenue."
The report found that the city, police and court officials have "worked in concert to maximize revenue at every stage of the enforcement process" for several years, and that black citizens were disproportionately ticketed.
In August, the Ferguson City Council appeared to reject the DOJ's first proposal to change and reform Ferguson's practices.
Monday's filing was the first indication that the city of Ferguson had entered into negotiations over the lawsuit, which is separate from the justice department probe. The lawsuit at issue alleged it was the practice of the city to "confine impoverished people who cannot afford their release in grotesque, dangerous, and inhumane conditions."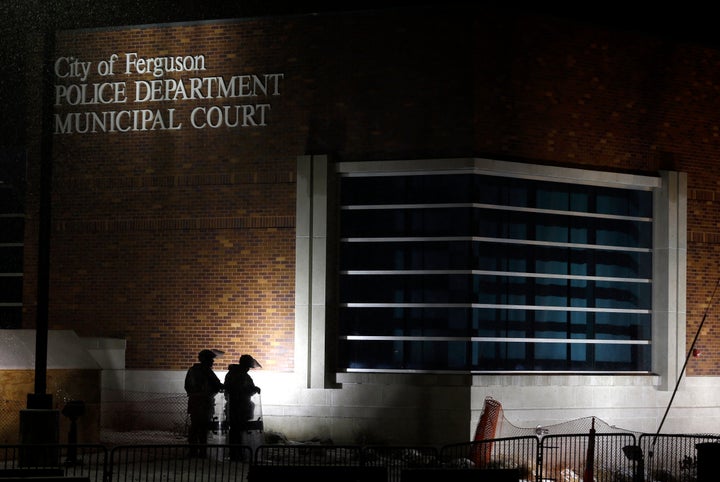 kept in overcrowded cells; they are denied toothbrushes, toothpaste, and soap; they are subjected to the constant stench of excrement and refuse in their congested cells; they are surrounded by walls smeared with mucus and blood; they are kept in the same clothes for days and weeks without access to laundry or clean underwear; they step on top of other inmates, whose bodies cover nearly the entire uncleaned cell floor, in order to access a single shared toilet that the City does not clean; they develop untreated illnesses and infections in open wounds that spread to other inmates; they endure days and weeks without being allowed to use the moldy shower; their filthy bodies huddle in cold temperatures with a single thin blanket even as they beg guards for warm blankets; they are not given adequate hygiene products for menstruation; they are routinely denied vital medical care and prescription medication, even when their families beg to be allowed to bring medication to the jail; they are provided food so insufficient and lacking in nutrition that inmates lose significant amounts of weight; they suffer from dehydration out of fear of drinking foul smelling water that comes from an apparatus on top of the toilet; and they must listen to the screams of other inmates languishing from unattended medical issues as they sit in their cells without access to books, legal materials, television, or natural light.
The city of Jennings, which is near Ferguson, has already agreed to settle a federal civil rights lawsuit that was filed at the same time the lawsuit against Ferguson was filed. Another nearby town, the tiny municipality of Velda City, agreed to end its cash-only fixed bail system that kept the poor imprisoned over low-level charges. Yet another town in St. Louis County, St. Ann, is also under a federal court order to release those they arrest as soon as practicable after booking unless they appear before a judge within 24 hours.
UPDATE: 10 p.m. -- Thomas Harvey, of ArchCity Defenders, said in an email that his organization is working on details of the settlement with Ferguson and that both sides had agreed to ask for a deadline extension. He added that there was nothing to report publicly at this time.
Ryan J. Reilly reported from Washington, Mariah Stewart reported from St. Louis.
Popular in the Community