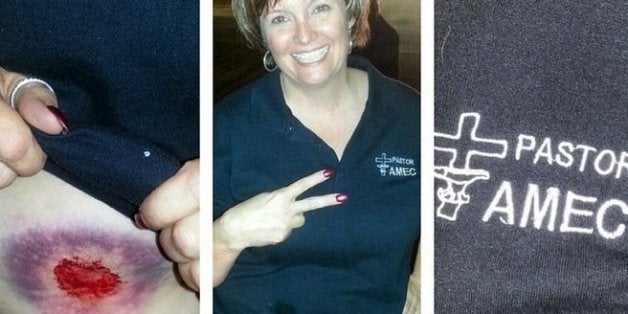 A pastor said she was shot with a rubber bullet on Wednesday during a protest in Ferguson, Missouri, as clashes with police continued over the fatal shooting of unarmed teen Michael Brown.
Renita Lamkin, an African Methodist Episcopal church pastor, told The Huffington Post that she was "standing in the middle of the street, with people behind me, and the police were in front of me." Lamkin said she was attempting to mediate between police and protesters the demonstration and told the police, "They're moving, they're leaving."
"And then there was a pop!" she said, as a rubber bullet struck her stomach.
Tensions with police have mounted since Brown's death on Saturday as crowds of protestors have demanded accountability and answers. The teen was walking with a friend on the street to his grandmother's house when he was pulled over by an officer. St. Louis police have said the shooting happened after Brown got into an altercation with the officer, whose name has not been released. As protests continue, with many residents saying the shooting was racially charged, images of tear gas, rubber bullets and tanks have horrified Americans watching the news unfold.
A widely circulated Instagram of Lamkin's injuries shows a large, bloody bruise. She said she was hit while standing, because her motto is, "Pray on your feet!"
Jon Swaine, a reporter with The Guardian, witnessed Lamkin protesting while "calmly repeating, 'Jesus, Jesus, Jesus.'"
A Vine post said, "This pastor was shot with a 60 cal rubber bullet but she's still here fighting the good fight and protecting others!"
Tef Poe, a St. Louis-based recording artist recording many scenes of protest, wrote:
For all of those that claim this is a joke or think we are being irrational this lady is a pastor she was praying while they shot her .. We were outside waiting for the release of Antonio French and the armored vehicles showed up ! Tell me why this is acceptable? How is this right ? Mike Brown is more than a trending topic people are out here fighting for his legacy! We will have justice Ferguson Police Department your days are numbered I promise you this!!!!! hands up don't shoot !
Lamkin said her main goal was for "everybody to go home. The police and the people." She added, "We're not here to fight the police. We're here to fight the system."
After his release, French shared a picture of Lamkin on Twitter.
Lamkin's son, rapper and recording artist Darren Jackson, shared a photo of her protesting on Instagram, commenting, "Praying for my mom. Wishing I could be there with you on the front lines."
Lamkin said the best way for people of peace to heal the community's wounds is to "love people, love people. Listen to them."
"All people want is to be validated, to know their lives have value. People just want their voices to be heard," she said. "The people are hurting, and they need to be heard. And if you don't give people the opportunity to be heard, they'll take the opportunity to be heard."
Live updates on Ferguson:
Support HuffPost
The Stakes Have Never Been Higher
Related
Before You Go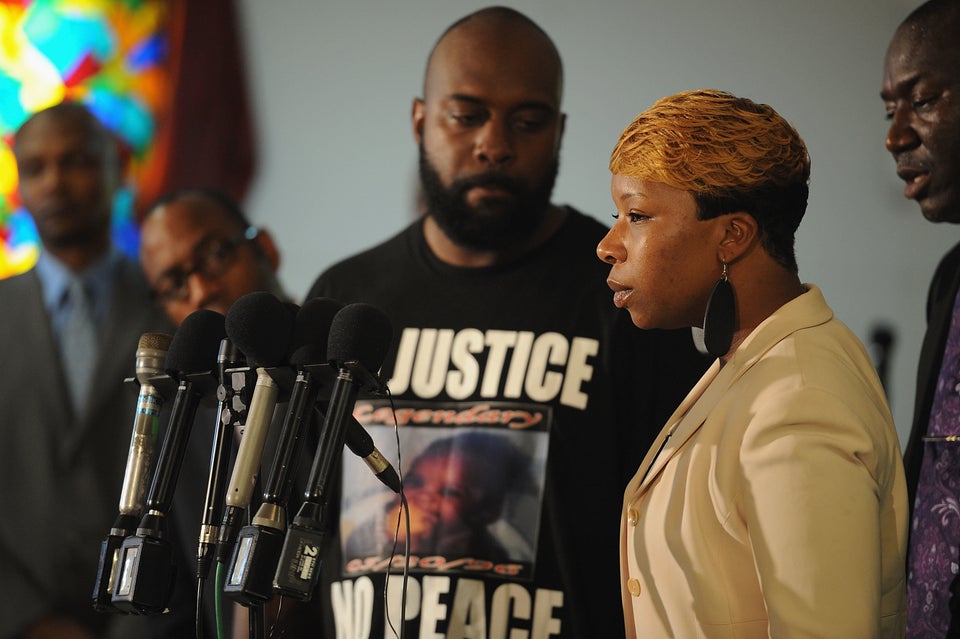 Michael Brown Protests In Missouri
Popular in the Community