FERGUSON, Mo. -- With news cameras trained to the scene, about two dozen police officers helped church groups distribute food on Saturday just down the road from where Michael Brown was shot to death.
But what was supposed to be a simple photo-op instead became a window into the still-fractured relationship between police, residents and protesters in Ferguson. Police will need to do far more than pose for the cameras, it became clear, to be greeted with a welcome.
"We're here to try to operate with the community and show we're people, just like they are," said Lt. Jerry Lohr of the St. Louis County Police Department. He said the goal was to "mend any distrust."
Clergy United, a group of area pastors that sprung up in the wake of Brown's death, organized the event. That group brought in the police as well as Crisis Aid International and St. Louis' Life Church to help pass out food to residents who have been unable to shop or get around because of disruptions.
Saint Louis County officers have been a major presence at the nightly protests since Brown's death. But the Ferguson Police Department, which employs the officer who shot the teenager, was nowhere to be seen as officers tossed 1,100 plastic bags full of food from a truck into waiting vans in the muggy evening heat.
"They were told not to," said Ferguson Mayor James Knowles III, though he declined to say by whom or why. "You need to ask Captain Johnson, it's his command."
Knowles was referring to the Missouri State Highway Patrol officer who took command of policing the protests after looting and a militarized police presence attracted national headlines. A spokesman for the state Department of Public Safety did not immediately return a request for comment.
If Johnson told the Ferguson police not to come, he may have had his reasons -- as a line of hundreds of marchers who arrived during the middle of the food handout soon proved.
Chanting "Hands up, don't shoot!" and "We are Mike Brown," they walked down from the main site of the protests on West Florissant Street to the place where Brown was shot.
Ronnell Burns, whose wife owns a beauty salon in Ferguson, helped organize the march. He said the police food drive was a good idea.
"We just want justice for the one that killed him," said Burns.
Others at the nearby apartments were less forgiving. On Aug. 9, Brown's body lay in the street for four agonizing hours as they watched on. Since then, the street has turned into a constant site for marches and pilgrimages to the large impromptu shrine on the spot where Brown was shot.
"After all this happened, it's like putting a band-aid on a gaping hole," said Matt Jennings, who was visiting. "I guess they trying to clean up what's been in the news, you know? That's about all."
Video by Emily Kassie of the Huffington Post.
Before You Go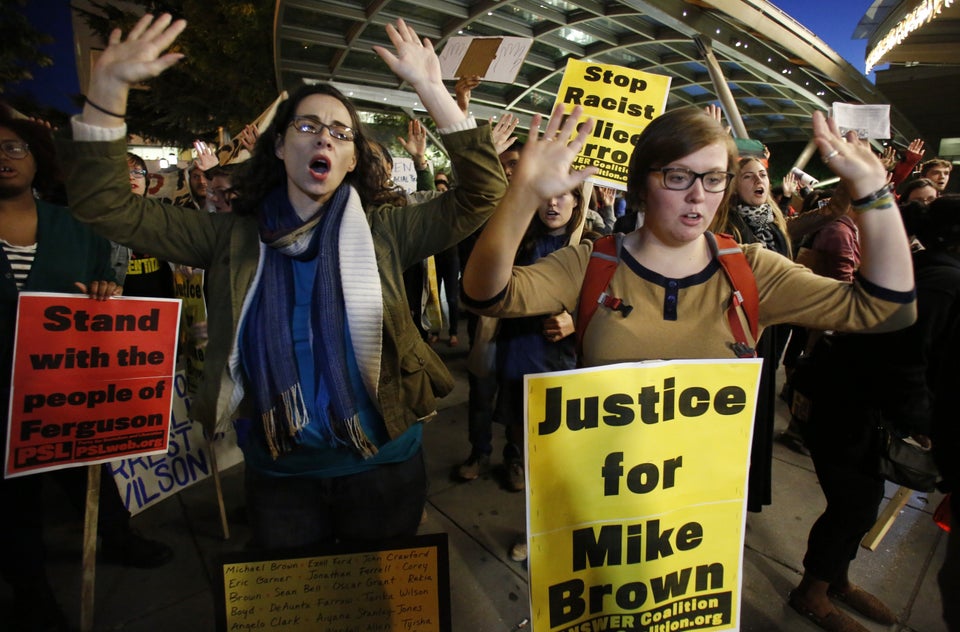 Ferguson
Popular in the Community