By Julia Edwards and Lawrence Hurley
WASHINGTON, Nov 26 (Reuters) - U.S. Attorney General Eric Holder told civil rights activists the Justice Department would aggressively investigate police practices in Ferguson, Missouri, after a grand jury declined to indict a white officer who shot dead an unarmed black teenager, two of the activists said on Wednesday.
In a phone call late on Monday, Holder, the country's top law enforcer, said the Justice Department was "moving strongly" in its investigation of police patterns and practices, said Barbara Arnwine, executive director of the Lawyers' Committee for Civil Rights Under Law, who was on the call.
Laura Murphy, director of the American Civil Liberties Union's Washington legislative office, who was also on the call, said Holder is "very conscious of it needing to move quickly."
A Justice Department spokesman on Wednesday confirmed a call took place.
Police have arrested more than 400 people nationwide in two nights of protests that erupted after St. Louis County Prosecuting Attorney Robert McCulloch announced on Monday the decision to not indict officer Darren Wilson in the fatal Aug. 9 shooting of 18-year-old Michael Brown.
Should the Justice Department conclude that Ferguson police systematically violated citizens' rights, it can take action under a 1994 federal law that prohibits officers from engaging in a "pattern or practice" that deprives people of their constitutional rights.
The law gives the Justice Department considerable leverage in requiring police departments to institute reforms, such as installing an independent monitor or adopting new training policies. Police departments facing such claims usually enter into a settlement with the Justice Department. A settlement may be enforced by a federal judge if the two parties agree.

The shooting has highlighted the often-tense nature of U.S. race relations and the strains between black communities and police. With the grand jury having acted as it did, protesters and civil rights activists have urged the federal government to get involved.
U.S. Representative Emanuel Cleaver, a Missouri Democrat in the Congressional Black Caucus, said he hoped the federal investigation into Ferguson police tactics would end in a disbanding of the force and a handover of police responsibility to St. Louis County.
A northern suburb of St. Louis, Ferguson's 21,000 population is mixed, with 63 percent of the residents African-American and 34 percent white, according to 2010 U.S. Census data. To some in Ferguson, the fatal shooting symbolizes how African-Americans are treated unfairly in a town still run by a Caucasian minority.
A 2013 state attorney general's report found more than 85 percent of motorists pulled over in the city are African-American, and the arrest rate among blacks is twice the rate among white residents.
The first African-American attorney general and one of U.S. President Barack Obama's longest-serving advisers, Holder has said little in public about either the probe of the police department or a separate investigation of officer Wilson.
In a statement late on Monday he said the inquiry into Wilson's actions in the shooting was at a "mature stage."
To win a criminal conviction on civil rights charges, federal prosecutors would need to prove that Wilson intended to violate Brown's rights when he fatally shot him. Former prosecutors said such charges are unlikely and hard to prove.
The small size of the Ferguson Police Department might make its absorption into St. Louis County a viable option, said Robert Driscoll, a former Justice Department lawyer now in private practice. "That would kind of be an elegant solution. If I was at DOJ, that would save me a lot of trouble," Driscoll said.
As angry demonstrators took to the streets of Ferguson to protest the decision on Monday night, activists on the call with Holder urged him to quickly announce reforms to the Ferguson Police Department to bring calm.
"Something good needs to come out of Ferguson," Arnwine said. "It would be wonderful if people were able to see some hope."
Similar federal investigations into police practices in Detroit and in Albuquerque, New Mexico, have led to measures to address the use of force and detention practices and unreasonable use of deadly force.
Typically, investigations into patterns and practices take a little over a year on average, said Michael Selmi, a former lawyer for the Justice Department's Civil Rights Division. But he said the small size of Ferguson's police force may allow for a faster review.
Holder has made civil rights a priority from his first days in office nearly six years ago. He provoked controversy almost immediately when he said in a speech that in matters of race, America had acted as a "nation of cowards." (Reporting by Julia Edwards and Lawrence Hurley; Additional reporting by David Lawder; Writing by Howard Goller; Editing by Bernard Orr)

Before You Go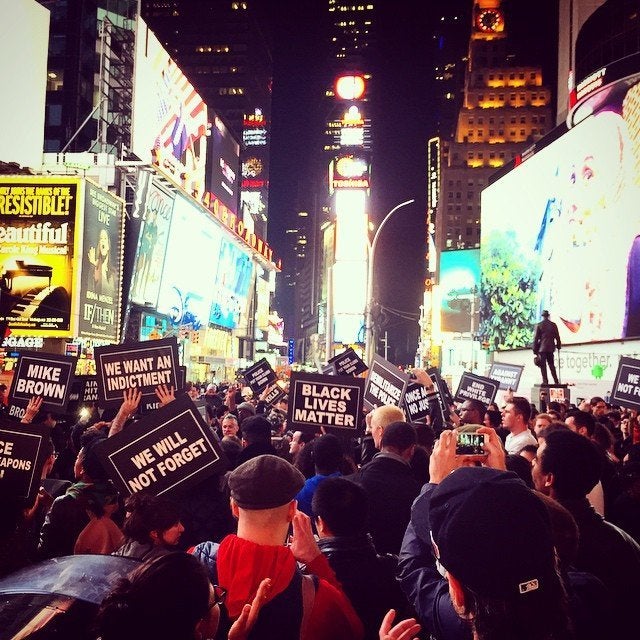 Ferguson Protests Around the Country
Popular in the Community