A Navy veteran who lost his job as a cybersecurity contractor for the federal government after he was arrested by a troubled Ferguson police officer is suing the St. Louis suburb, claiming multiple violations of his constitutional rights.
The lawsuit, filed by lawyers with the Missouri-based civil rights group ArchCity Defenders, alleges the Ferguson officer unlawfully arrested Fred Watson, 37, five years ago after Watson finished playing basketball with friends. Watson alleges the Ferguson officer and city prosecutors put him through "pure hell" since Aug. 1, 2012, because Watson declined to provide his Social Security number to the hot-headed cop, who detained him as he was sitting inside his parked car cooling off.
The officer who arrested Watson, Eddie Boyd III, had resigned from the St. Louis Metropolitan Police Department under a cloud of suspicion and was hired onto Ferguson's troubled police force, which came under national scrutiny following the police killing of teenager Michael Brown nearly three years ago. Watson's lawsuit was filed late Monday night, just before the statue of limitations expired.
"The last five years have been pure hell," Watson, described in the suit as a proud father, said in a statement. "This situation not only has had me question my life, but my faith and my being. There have been no signs of justice. I haven't seen anybody owning up to wrongdoing. The fight is still about protecting the City, not about providing justice to its citizens. In my opinion, there's been no legal ramification for those responsible for this."
Ferguson continues to prosecute Watson for the charges initiated by Boyd to this day. Watson was given seven traffic tickets, alleging he failed to have a license, registration, insurance, emissions sticker, had illegally tinted windows and wasn't wearing a seatbelt. Watson said he had his driving documents in his car, which didn't have illegally tinted windows, and wasn't wearing a seatbelt because he wasn't moving. Later, when Watson tried to file a complaint against Boyd, the officer charged him with making a false declaration and failing to comply with a police order.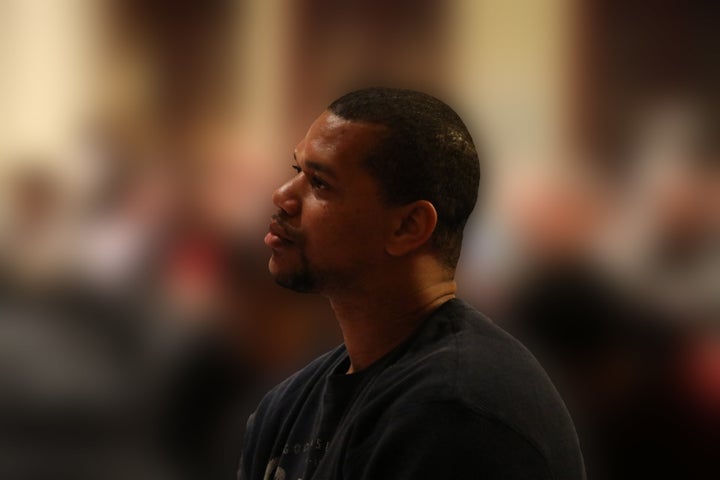 Watson's story was highlighted in the Justice Department's 2015 report on a pattern of constitutional abuses by Ferguson Police Department and municipal court, although he wasn't named at the time. From the report:
While the record demonstrates a pattern of stops that are improper from the beginning, it also exposes encounters that start as constitutionally defensible but quickly cross the line. For example, in the summer of 2012, an officer detained a 32-year-old African-American man who was sitting in his car cooling off after playing basketball. The officer arguably had grounds to stop and question the man, since his windows appeared more deeply tinted than permitted under Ferguson's code. Without cause, the officer went on to accuse the man of being a pedophile, prohibit the man from using his cell phone, order the man out of his car for a pat-down despite having no reason to believe he was armed, and ask to search his car. When the man refused, citing his constitutional rights, the officer reportedly pointed a gun at his head, and arrested him. The officer charged the man with eight different counts, including making a false declaration for initially providing the short form of his first name (e.g., "Mike" instead of "Michael") and an address that, although legitimate, differed from the one on his license. The officer also charged the man both with having an expired operator's license, and with having no operator's license in possession. The man told us he lost his job as a contractor with the federal government as a result of the charges.
It's not only the arrest that Watson says damaged his life, it's the lengths that Ferguson officials went to in order to cover up Boyd's conduct. The suit accuses Ferguson of "malicious and unethical prosecution" of Watson's case. Ferguson prosecutor Stephanie Karr, who came under fire for her handling of municipal court prosecutions following the Ferguson unrest, also is mentioned in Watson's lawsuit. The suit says the Justice Department report noted that, under Karr, a Ferguson officer was allowed to testify in a case without opposing counsel being informed the officer "had previously been found untruthful during an official FPD investigation." The suit alleges that Boyd was that officer. 
Blake Strode, an attorney with ArchCity Defenders, said Watson's story "highlights the rampant injustice in our criminal legal system" and the limitations of reforms that have been imposed since the killing of Michael Brown.
"For five years, the City of Ferguson has pursued baseless charges against him. It did so knowing that the police officer who arrested him has a long record of police misconduct. It pursued these charges even after the entire nation focused its attention on the systemic civil rights violations in Ferguson's police department and municipal court. Despite having replaced the municipal judge, police chief, city manager, and prosecuting attorney, the City of Ferguson continues its relentless attack on Mr. Watson to this day," Strode said. "Mr. Watson does not need promises of change; he needs to be made whole." 
Watson's lawsuit alleges that his arrest violated his rights under the Constitution's Fourth Amendment and 14th Amendment, and that retaliation by Boyd violated his First Amendment rights. The suit alleges Boyd "sought to protect himself from civil and/or criminal liability for the unlawful treatment of Mr. Watson as described in this Complaint by initiating the falsified charges against Plaintiff Watson." The suit also alleges that Ferguson has "ratified" its officers' "malfeasance" by "prosecuting alleged violations of Ferguson ordinances against people who have engaged in lawful and/or constitutionally protected activity" when they knew or should have known the charges were unmerited.
As the three-year anniversary of Brown's Aug. 9 death approaches, the process of reforming the city's policing practices continues. The family of Michael Brown settled with the city of Ferguson in June for $1.5 million, while many other lawsuits against the city (including a class-action lawsuit filed by alleged victims of Ferguson's policing practices) are dragging on. 
Former Ferguson Police Chief Tom Jackson, meanwhile, has written a book that pushes back on the Justice Department investigation of his policing practices. He wrote that there were some "legitimate citizen complaints about abusive or racist language from a senior Ferguson officer," who he said was "a rotten apple" and a "bad-tempered bully who routinely cut corners as he pursued his own outdated brand of street justice." Jackson claimed he tried to get rid of him "from day one" but was delayed by union rules. "We had finished cleaning house long before the summer of 2014, a fact that the DOJ report did not acknowledge," Jackson claimed. 
"If the budget director asks me something innocuous like 'Are you sure that's all you got?' it's not because he's pressuring me to come up with more, he's just trying to make his budget work," Jackson wrote in his book. "In fact, when he did ask, my practice was just to tell him to put in whatever number he wanted, while making the point that we did not run our police department to generate money."
Jackson wrote he thought the report revealed how "out of touch the Department's investigators are with the workings of the real world." He said he treated the budget as a nuisance and a chore. 
"There's nothing sinister or greedy or racist about the city bean counter talking to department heads about ways to get his budget to square up," Jackson wrote.
Read Watson's lawsuit below: 
REAL LIFE. REAL NEWS. REAL VOICES.
Help us tell more of the stories that matter from voices that too often remain unheard.