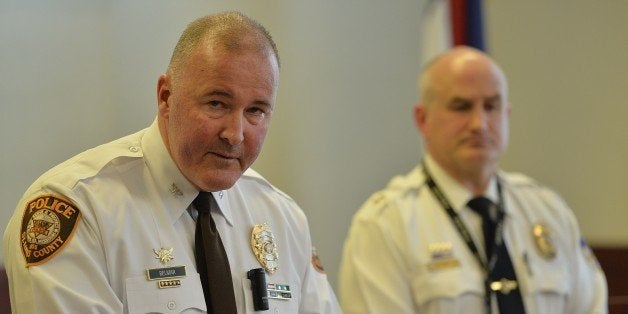 (Updates with police chief's press conference)
By Nick Carey and Jim Young
FERGUSON, Mo., March 13 (Reuters) - Investigators are following dozens of leads in the hunt for whoever shot and wounded two police officers in Ferguson, Missouri, during a protest rally this week, the head of the St. Louis County police said on Friday.
But Police Chief Jon Belmar said that detectives are working around the clock and would not rest until they have resolved the case, which has caused tensions to spike in the St. Louis suburb after weeks of relative calm.
Ferguson, a city with its legacy of racial rancor, has become the focal point of a national debate over race and policing since the killing of an unarmed black teenager by a white officer last summer.
"I cannot tell you at this point that an arrest is imminent. There is certainly nobody in custody," said Belmar, who leads the force in the Missouri county where Ferguson is located.
It was still unclear what kind of handgun was used in the wounding of the officers, the chief said at a news conference, and whether the officers had been deliberately targeted in the attack during a volatile rally early Thursday morning.
Belmar would not be drawn on any possible connection between the shooter or shooters and the demonstration.
"It's kind of really hard to speculate what kind of nexus that may or may not have existed regarding the shooters and any individuals who would have been out there for whatever reason," Belmar said.
Even so, authorities had "a pretty good idea" where the gunshots that wounded the two officers had originated, but Belmar declined to provide specifics or details about any other evidence that may have been gathered.
In Thursday's shooting, a 41-year-old St. Louis County police officer suffered a shoulder wound and a 32-year-old colleague from the nearby Webster Groves Police Department sustained a facial wound that left a bullet lodged near his ear. Both were treated and released by a local hospital.
The shooting of the officers came less than three months after the killing of two New York City patrolmen by a troubled man who said he was seeking to avenge the deaths of Brown and an unarmed black man in New York who was killed by police.
The vacuum of news on the manhunt has kept the focus on efforts by community leaders to ratchet down tensions in Ferguson, where a majority of residents are African-American and most of the police are white.
"We can find these criminals who committed this heinous act," said Benjamin Crump, attorney for the family of Michael Brown, a black teenager killed by a white police officer in August, an event that made Ferguson a national symbol of strained relations between police and African-Americans.
"This can be an opportunity," Crump told CNN. "The community and the police can come together."
Activists have pressed for more reforms to address what a Justice Department report this week called a "toxic environment" for the city's black residents.
Protesters, condemning the wounding of the officers, held a candle-light prayer vigil for peace in Ferguson late Thursday. About 100 people then held a boisterous but peaceful protest outside the police station in light rain.
The crowd blocked traffic at times, but there were no arrests and the demonstration passed without incident.
(Additional reporting by Jeff Mason in Los Angeles, Suzannah Gonzales in Chicago, David Bailey in Minneapolis; Writing by Daniel Wallis and Frank McGurty; Editing by James Dalgleish and Ken Wills)
Calling all HuffPost superfans!
Sign up for membership to become a founding member and help shape HuffPost's next chapter
BEFORE YOU GO
PHOTO GALLERY
Cop Killers