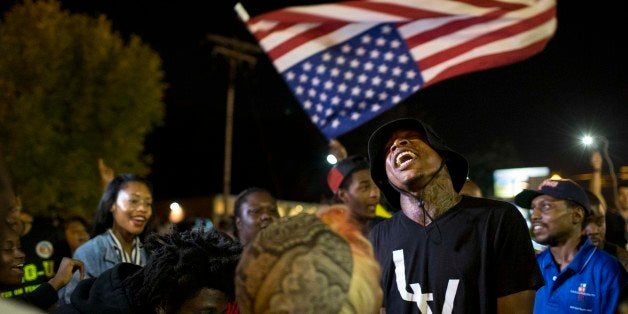 FERGUSON, Mo. -- Nearly two months after police officer Darren Wilson gunned down unarmed teenager Michael Brown in this St. Louis suburb, protesters calling for Wilson's prosecution are still regularly being locked up by police, even when they are just standing on a public sidewalk in the middle of the day.
St. Louis County Police Chief Jon Belmar said this week that a miscommunication led to the arrest of peaceful protesters during daytime hours during the height of the demonstrations in mid-August. But now that the Ferguson Police Department is back in charge of day-to-day operations -- and as much of the national media has disappeared -- police seem to be continuing a policy of "catch and release" that demonstrators believe is designed to discourage protests.
Here are the stories of four of the individuals who were arrested over the weekend.
Not many children hear that their parents are proud of them after spending a night in jail. But that's what Latchison, a Florissant resident who was arrested Sunday evening and held overnight, was told.
"When I got home my father sat me down and told me how proud he was of me. At first he was not with this whole protesting thing. But he gave [himself] time to really assess the situation," Latchison said. "So something good did come out of this arrest."
Eventually her parents relented to her being at the protests, and she has been protesting every day since. Latchison was surprised she was arrested Sunday because she felt she was not breaking the law.
"On Sunday, the vibe was so good. We were chanting, there were drums being played, and we were unified. We were marching up and down the sidewalk and then decided to be in the street. The cops felt a certain way about us going into the streets. So all of a sudden cops started rushing toward us and pushing us, telling us to get on the sidewalk, and a lot of us wouldn't get back. It was a tussle back and forth. We finally went back toward the sidewalk," she said.
"Once we were on the sidewalk again, the cops rushed another part of the crowd. I seen an officer pushing a woman and I said, 'Yo man, chill.' And he pointed at me and said, 'You, come here.' Then he grabbed me from my right shoulder and tossed me to the ground," she said.
Two other officers helped carry her to the police van.
A live stream captured Latchison being taken into custody on Sunday.
Sneed, a St. Louis resident, was also arrested for the first time Sunday night. He says his adrenaline was pumping so hard that he didn't feel the thrust of a billy club hitting his chest.
"I was holding everybody back on the sidewalk and I noticed the cops were looking for some kind of signal. I guess the signal was given because the black cop that was in front of me did a hand motion and then immediately grabbed me. I guess I was pissing him off and he had already focused his target on me," Sneed said.
"When he grabbed me, my first initial reaction was to pull my arms away and break the hold he had on me. In fact, he hit me with a billy club in the middle of my chest. I remember my back becoming so heavy that I didn't have a choice but to go down toward the ground."
Sneed said officers had difficulties cuffing him, even though he said he was being compliant.
"At one point when they had me lying in the street, one officer said, 'Oh, shit. I can't put these handcuffs on him.' I wasn't even resisting arrest. I wanted to live. I didn't want them to kill me for resisted arrest so the entire time my hands were in a position for them to properly put the handcuffs on me."
Sneed said even though he's never been in trouble with the law, he's always expected he would be arrested because he's black.
"As a black man, it's a shame that I expected to see a cell someday. Getting arrested by them is not worse than being oppressed by them. But I'll get arrested every night if that means by the end of this something changes," he said.
Halliburton works as a pizza delivery man. But he has live-streamed protests, he affiliates himself with the group Anonymous and he controls the @AnonCopWatch Twitter account. He said that's why he thinks police targeted him on Saturday afternoon, when he was standing on a sidewalk across the street from the Ferguson Police Department.
His arrest, and the events leading up to it, were captured from multiple angles. He is seen telling an officer that he is allowed to stand on the public sidewalk, but an officer tells people they need to be constantly moving and cannot stand still.
"Keep moving, or you're subject to arrest," an officer said just before Halliburton was taken into custody. Halliburton said he had a right to be on the sidewalk, and was arrested for loitering and failure to obey since he was still recording. His arrest took place around 2:30 p.m. Saturday, and he wasn't released until 1 a.m. Sunday.
Halliburton said he felt "obligated" to be out on the streets after meeting Leslie McSpadden, Brown's mother.
"I'm a live-streamer, so when the police ask us to do something I comply with every move because if I'm in jail I can't get the word out about what's going on out there," Halliburton said. "I believe I was targeted for being a live-streamer. They said everyone has to keep moving. I don't even think it was a second from when the cops said that from when they arrested me."
"Jail support was notified immediately, but they were blocked at every turn when it came to posting my bond. They were told I had no bond. At about 9 p.m. they changed my bond to $300. By that time a police officer had been shot and there was no one to take my bond, so I just had to sit and wait. Then finally around 1 a.m. they got a call from the chief to let me go. I had no paperwork. Jail support brought me back to my car," he said.
Jackson, who lives in the neighboring city of Florissant, also said he was standing on the sidewalk when he was arrested Sunday. Other protesters said he received the worst treatment of those they saw on Sunday night. He said an officer spat in his face.
"I got bruises and lacerations, but I don't care about that because an officer spit in my face. That's just inhumane. It's the worst thing you can do to a human and these are the people that are protecting and serving. People we pay are spitting in our face like we're dogs," Jackson said.
Jackson says he is "aggressive" with his chanting but did nothing to warrant his arrest.
"I was standing on the sidewalk by the light post and an officer flanked me. I was thrown to the ground and all the other officers rushed in. They carried me by arms and legs, completely elevating me off the ground. I didn't resist; I had my hands behind my head the whole time. I felt like they were just going to start beating me," Jackson said.
"When we got over to the paddy wagon I looked back and said to the officers, 'So you guys are men?' They then took my head and slammed it onto the gated corner of the paddy wagon. When they put me in the back of the vehicle, I kept chanting. I held my face up to the back grate/window so that people could still hear me and that's when an officer came by and spit in my face," he said.
Before You Go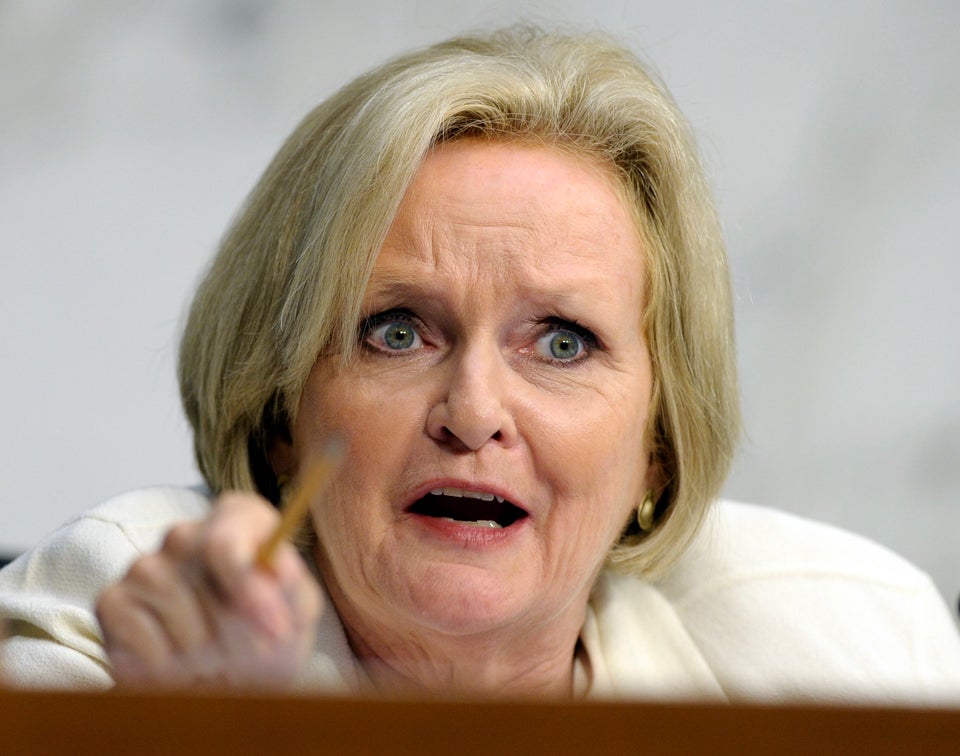 Politicians React To Ferguson