ST. LOUIS -- "Run! Run for your lives!" the man in the orange jacket yelled, flailing his arms in the air as he made his way down a street in Clayton, Missouri, followed by dozens of people holding signs and chanting. "The protesters are coming!"
Stephen Houldsworth, a 50-year-old resident of downtown St. Louis, didn't actually fear the demonstrators calling for charges against Darren Wilson, the Ferguson police officer who shot and killed 18-year-old Michael Brown on Aug. 9. He supports their cause and calls the judicial system in St. Louis County "completely out of control." He also thinks many residents of the St. Louis region have "over-the-top fear" about what will happen once the grand jury seated in Clayton decides whether to indict Wilson in Brown's death.
"Have you looked at the comments on any of the newspapers? People think the protesters are here to kill babies and eat virgins and do whatever," Houldsworth, a Boston native who has been in the St. Louis area for 18 years, said in an interview.
So when an organizer asked for volunteers to play the role of "scared white people" at what was called a "Carnival of Injustice" demonstration in the St. Louis County capital of Clayton on Monday, Houldsworth enthusiastically volunteered.
"I'm scared! Lock your doors!" he yelled as he moved ahead of the protesters. "Stay inside!"
The greater St. Louis region is, no doubt, on edge. People around Ferguson are stocking up on guns, factions of the Ku Klux Klan are targeting protesters, and Missouri Gov. Jay Nixon (D) pre-emptively declared a state of emergency.
Along West Florissant Avenue in Ferguson, which was the center of demonstrations in August, nearly every business other than McDonald's and the Ferguson Burger Bar has been boarded up in anticipation of the grand jury announcement. Blocks away on Canfield Drive, there's a near constant stream of people coming to view the spot where Brown was killed and take photos of memorials to the teenager.
But as the national media once again descend on St. Louis, both protest organizers and top law enforcement officials are worried about overreaction. Both sides want to be prepared for anything to happen.
Protest organizers are developing plans to try to keep demonstrations under control while discouraging police from enacting collective punishment on groups of peaceful protesters due to the actions of a few, as the police routinely did in August.
Protests in recent days have been clearly coordinated. On Sunday, dozens of demonstrators staged a "die-in" that temporarily shut down traffic along an upscale street lined with restaurants and theaters in University City, which is about a 20-minute drive from Ferguson and located just outside St. Louis city limits. Individuals playing police officers pointed their index fingers at other demonstrators and yelled "BAM" as they pretended to shoot those protesters, who quickly fell to the ground. Other demonstrators then outlined their bodies in chalk. Soon the group moved down the road, yelling such chants as "Indict that cop!" and "Mike Brown means we got to fight back!"
Police officers allowed the demonstration to continue, redirecting traffic and escorting protesters as they marched toward the campus of Washington University in St. Louis, where the protest ended as snowfall grew heavier. In Clayton on Monday, the situation was similar: Officers allowed demonstrators to temporarily close down intersections, and no arrests were made.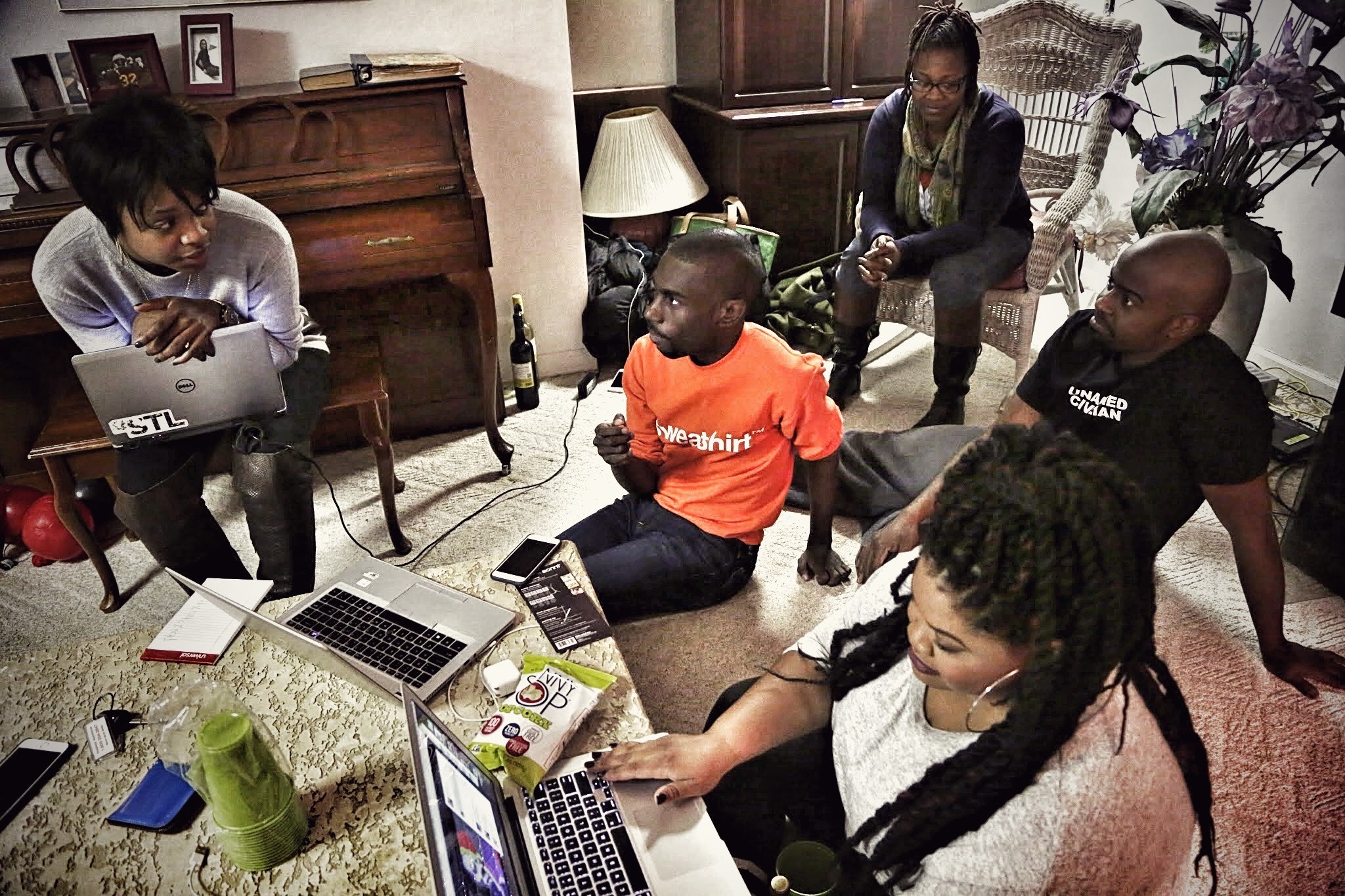 Demonstration organizers on Saturday night made plans for protests after the grand jury decision in the Michael Brown case. (Photo: Emily Kassie/The Huffington Post)
On Saturday night, a handful of organizers who have been involved since shortly after Brown's death gathered at the home of Brittany Packnett, executive director of Teach for America's St. Louis office and a former congressional staffer for Rep. Lacy Clay (D-Mo.). Over pizza, wings and wine, they discussed plans for the day the grand jury's decision is announced, with an emphasis on keeping things as organized as possible to prevent violence. The concern is that without a formal plan, some people in a crowd could engage provocatively with the police or turn to causing destruction.
"Think about the Ferguson protests when there was no school. It was like everybody and their cousin was outside," said DeRay McKesson at the meeting.
McKesson, another Teach for America alum who currently works for the Minneapolis public school system and runs a newsletter about the Ferguson demonstrations, said he didn't want a repeat of what happened in the Shaw neighborhood of St. Louis following the death of Vonderrick Myers -- who was killed in St. Louis in early October after he drew a weapon and fired at an officer, according to police. "We started walking through some random neighborhood. These kids are throwing rocks at the houses. It was just a mess," McKesson said.
He added that those who threw the rocks were young demonstrators who had not been involved in previous protests, but said he did not witness them causing any actual damage.
Organizers want to avoid giving police a reason or an excuse to deploy the aggressive tactics they used against protesters and journalists back in August. The actions of officers in military-style armored vehicles then drew international attention and spawned multiple federal investigations.
Yet in a series of interviews with television stations, radio programs and newspapers in St. Louis over the past several days, the three top law enforcement officials charged with overseeing the police response to local demonstrations -- St. Louis County Police Chief Jon Belmar, St. Louis Police Chief Sam Dotson and Missouri State Highway Patrol Capt. Ron Johnson -- have sent somewhat mixed messages about how much their approach to protests has changed this time around.
"Listen, man, we didn't do this perfect, and we're going to try to do a better job next time," Belmar said in a Sunday interview with radio host and former NFL player Demetrious Johnson on HOT 104.1, a St. Louis hip-hop station. "The fact of the matter is that we were fortunate that we didn't have a loss of life anywhere."
In another interview, Belmar suggested that the new training his officers have received "really doesn't" mean there was any sort of deficiency in August, even as his own office -- as well as the U.S. Justice Department -- investigates this past summer's actions. His comments insisting that no peaceful protesters were teargassed in August have also upset many protest leaders.
Even as his department stocks up on riot gear, Belmar indicated that he's worried about an overreaction to the grand jury decision in the St. Louis region.
"It feels almost like Y2K to us," Belmar said in another interview on local station KMOX. "We do want to assure the public this isn't going to be Armageddon. ... We're not preparing for war. We're preparing for peaceful assembly."
Before You Go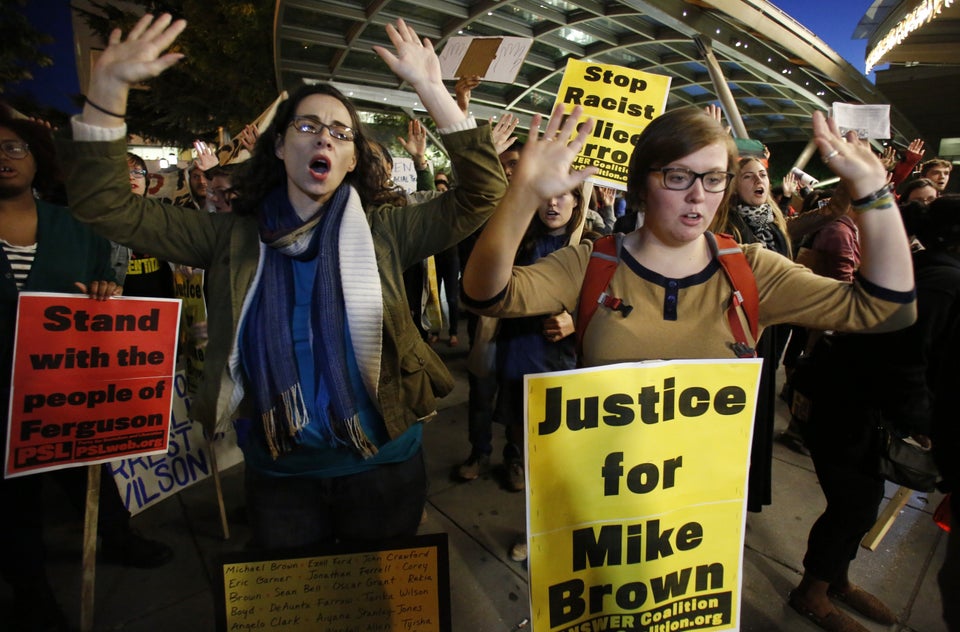 Ferguson
Popular in the Community