ST. LOUIS -- Two demonstrators who met while protesting in Ferguson, Missouri, following the Aug. 9 death of Michael Brown are getting married.
Alexis Templeton, 20, and Brittany Ferrell, 25, two of the co-founders of Millennial Activists United, first met in August at protests for police accountability after Brown was killed by former Ferguson police officer Darren Wilson. The two are also both plaintiffs in a federal court case against law enforcement agencies over their heavy-handed response to demonstrations.
After getting to know each other at the protests, the two started dating. On Tuesday afternoon, Templeton formally proposed to Ferrell at City Hall, where the couple then picked up a marriage license.
A number of activists and members of the media showed up to watch the proposal. Ferrell told the crowd that she had suggested to Ferrell on Monday that they get engaged. They will hold a formal ceremony soon, she added; they have not yet set a date, but their certificate, which still needs signatures from witnesses and an ordained minister in order to become binding, expires in 30 days.
With so many protesters active on social media, the proceedings were well-documented on Twitter, Vine and via livestream. Several people showed up after seeing the news on Twitter, including St. Louis City Counselor Winston Calvert. After the couple signed their marriage license, people chanted, "Black love matters" inside the city hall office.
"She'd made me happy for 130 days, and I want to make her happy for the rest of her life," Templeton told the crowd.
Templeton's sister, Bre, who is 23, said she didn't know Templeton was interested in Ferrell until mid-September.
"Alex came up and sat with my son and she fed him," she said. "She was like, 'Dude, I got a crush.' I was like, 'OK, that's cool.' And she was like, 'No, I got a crush on a girl.' I asked her how she felt about it and she said good. I asked her if she wanted to talk about it and she said no." Alexis laughed as Bre recalled the conversation.
Jamell Spann, a 21-year-old also from Ferguson, played the role of best man during the proposal.
"You are looking at two people that stood shoulder to shoulder, faced rubber bullets, tear gas and discrimination. ... To be a black woman in America is an unfathomably deep struggle to go through day in and day out. And being a lesbian black woman in America -- you just see how each level compounds," Spann said. "These two women represent the idea of freedom. They represent the idea of love and that black lives matter and have power and passion. It comes full circle; it's like watching poetry write itself."
Rae, 23, a bartender from St. Louis who declined to give her last name, said she came to City Hall because she saw a tweet from Ferrell's account and thought there was going to be a demonstration. A number of police officers seemed to be under the same impression, standing near the building's entrance and in the lobby as the group gathered inside.
"I was in the mindset that we were going to shut shit down. I walked in and seen a small group of people and thought I was early," she said. She soon saw DeRay McKesson, another prominent protester, and asked him what was happening.
"He said we weren't shutting anything down. I told him about Brittany tweeting be here at 2 p.m., and he told me she and Alexis were getting married today," she said. "I got excited and I hugged him and my entire demeanor changed."
Some images from today below: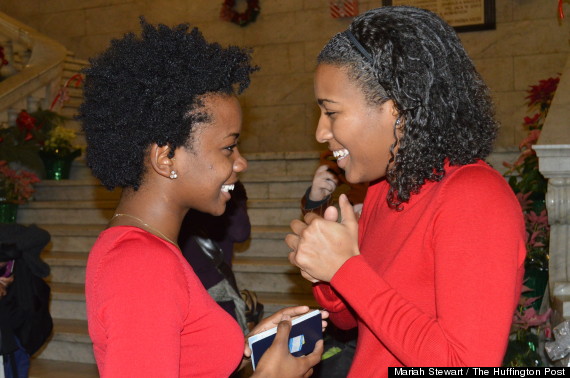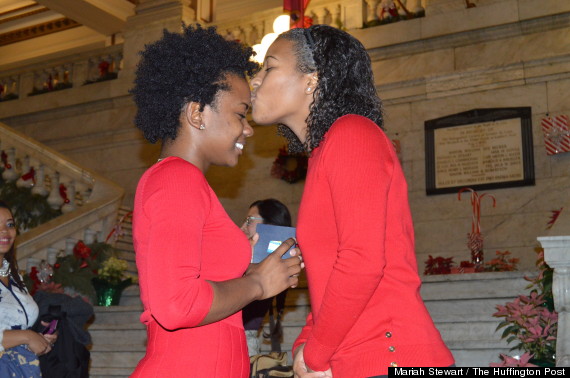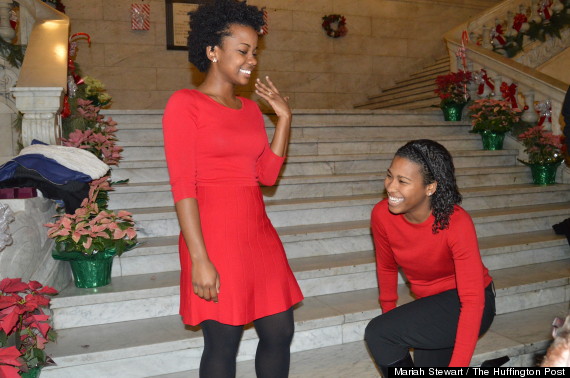 Additional reporting by Ryan J. Reilly in Washington, D.C.
Before You Go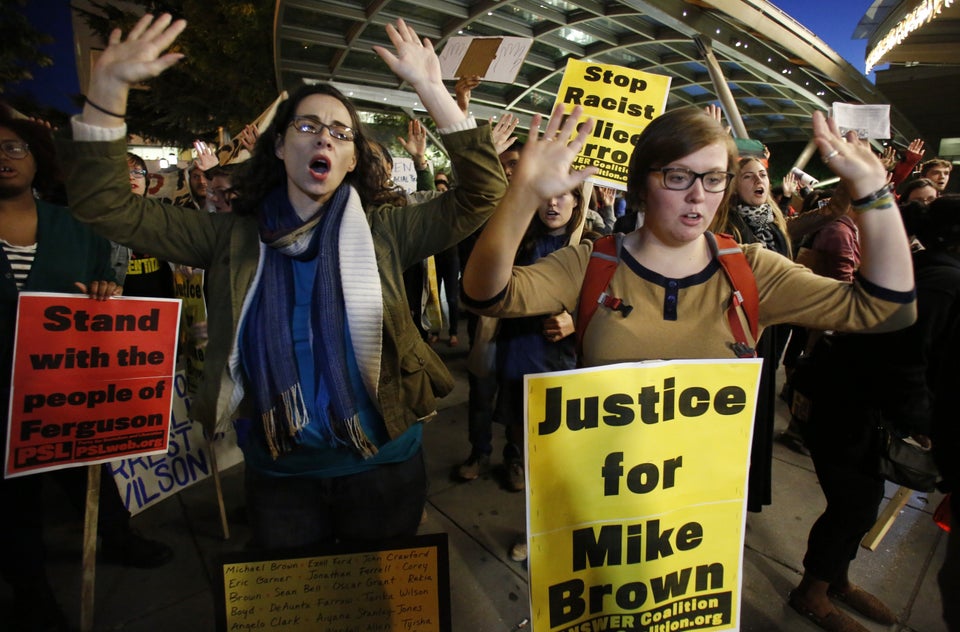 Ferguson
Popular in the Community