ST. LOUIS -- The city of Ferguson, Missouri, has a new police chief and a fresh deal with the Justice Department meant to eliminate the abusive policing practices that drove unrest following the death of 18-year-old Michael Brown in August 2014. Yet the St. Louis suburb is still prosecuting demonstrators arrested on questionable charges during those months of protests.
There was the case against Rev. Osagyefo Sekou, who was arrested while on his knees praying outside the Ferguson Police Department just over a month after Brown's death. In February, a jury found Sekou not guilty of a failure-to-obey charge in less than 20 minutes. There was the decision by one of Ferguson's part-time prosecutors to wait until the trial was set to begin before dropping charges against six individuals arrested during a vigil a half-year after Brown's death. There was the partially successful prosecution of a freelance journalist found guilty of failure to comply with a police order while she stood on a sidewalk covering another protest.
In a St. Louis County courtroom last week, a part-time prosecutor was trying to convict protester Keith Rose on a failure-to-comply charge for an arrest that took place two days after Brown's death. J. Patrick Chassaing -- who, along with Ferguson's part-time chief prosecutor Stephanie Karr, works for a law firm that profits off the county's fractured network of small municipalities -- spent much of Rose's trial focused on the defendant's social media posts and attacking his political views.
Chassaing repeatedly referred to Rose as an "anarchist" and even read three different dictionary definitions of the term to Rose on cross-examination.
"When you say you're an anarchist … you're an anarchist. You're not going to obey the law," Chassaing said to St. Louis County Circuit Judge Joseph Dueker in reference to the defendant's tweets. The prosecutor maintained that the social media posts showed Rose's "state of mind."
Dueker, who had also overseen Sekou's trial, dismissed several of Chassaing's attempts to submit certain tweets and Facebook posts as evidence. "I'll determine [whether] these tweets do go to his state of mind," the judge said.
[Ferguson's prosecutors] can do whatever they want and then they bill the city for what they did.

Keith Rose, who was arrested in a protest two days after Mike Brown's death
In another case against a protester arrested on the same day as Rose was, Chassaing argued that the simple fact of Mike Lhotak's arrest was sufficient evidence of his guilt on a failure-to-comply charge. At a hearing Tuesday on the Justice Department's consent decree with Ferguson, U.S. District Judge Catherine Perry said it would be unconstitutional for a prosecutor to make such an argument and encouraged Ferguson officials to look into the matter.
Both Rose and Lhotak are now waiting for the judge's verdict to arrive in the mail. While many protesters arrested in Ferguson agreed to plea deals in order to avoid a strung-out series of court dates, Rose told The Huffington Post that he's glad he and several other protesters went to trial because "it holds the city accountable."
Ferguson's prosecutors "can do whatever they want and then they bill the city for what they did," Rose contended. "Then the city is left holding the bill for these cases that aren't in anyone's best interest," he said.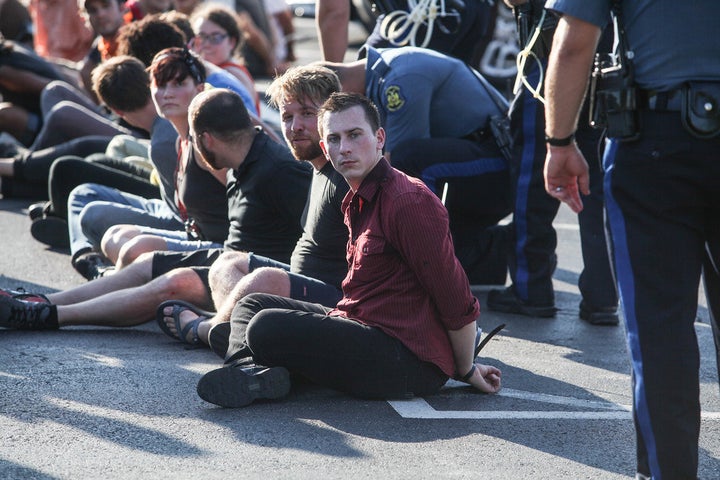 Indeed, there's something of a perverse incentive for the city's part-time prosecutors to drag out questionable cases. Those who represent Ferguson can bill for hours that go beyond the retainer paid to the city prosecutor. In January, Ferguson paid $6,270 to Curtis, Heinz, Garrett & O'Keefe -- the firm where both Chassaing and Karr work -- for prosecuting cases against protesters, according to Stephen Deere of the St. Louis Post-Dispatch.
Successful prosecutions could also potentially help shield the city from civil right lawsuits filed by those who were wrongfully arrested during the Ferguson protests.
As long as she is here, I don't understand how any change is going to take place.

Ferguson Commission member Felicia Pulliam, speaking of the city prosecutor
For the past several months, Karr has faced public scrutiny of her work as city prosecutor. The Justice Department's report on Ferguson police specifically mentions Karr prosecuting a father with two counts of parental neglect in December 2014 for letting his children urinate in a bush. The report also cited an email exchange that Karr had with the court clerk in which the prosecutor admitted that she made defendants pay tickets if their attorneys went into "constitutional stuff." 
During a sitdown interview with HuffPost last month, Ferguson Mayor James Knowles said he's staying out of municipal court matters, noting that the Justice Department report criticized him for getting involved in a case.
"As far as the prosecutor's discretion, for the past 18 months we've been told to stay out of matters of the court. So now you're asking me to stick my nose in the prosecutorial discretion. That's up to the prosecutor," Knowles said.
Referring to Karr, the mayor said, "I would hope that the prosecutor exercise discretion in what she's prosecuting. But that's still the privy of the prosecutor."
Local advocate Felicia Pulliam, who served on the Ferguson Commission created by Missouri's governor, described Karr as "a huge part of the problem" and said her influence could impede change in the city government. "As long as she is here, I don't understand how any change is going to take place," Pulliam said.
But the excessive prosecution problem isn't even confined to the city prosecutor and her part-time attorneys.
Many who were arrested in Ferguson -- including reporters from HuffPost and The Washington Post -- have been prosecuted by the St. Louis County Counselor's office, even though county officials have conceded they lack the jurisdiction to pursue alleged wrongdoing that took place in Ferguson. Many are facing charges under a potentially unconstitutional ordinance that makes it unlawful to interfere with a police officer "in any manner whatsoever." Municipal court records indicate that several individuals who were arrested on such charges many months ago now have warrants out for their arrest for failure to appear in court and answer these problematic cases.
Editor's note: Ryan J. Reilly, who contributed to this story, is facing charges in St. Louis County Municipal Court in connection with his arrest in Ferguson on Aug. 13, 2014.
REAL LIFE. REAL NEWS. REAL VOICES.
Help us tell more of the stories that matter from voices that too often remain unheard.
BEFORE YOU GO
PHOTO GALLERY
Ferguson Photos by Scott Olson