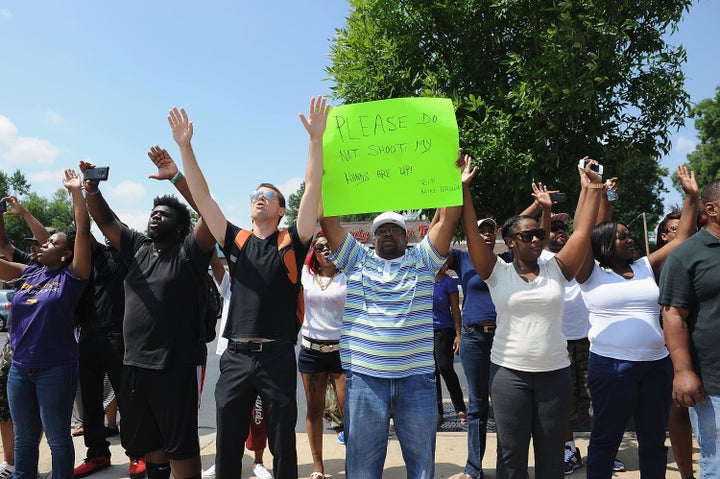 ST. LOUIS -- Officials in St. Louis County have issued warrants for the arrest of at least 47 individuals charged in connection with the August 2014 protests in Ferguson, Missouri, a Huffington Post review of court records has found. But the law that county officials are using to prosecute those protesters -- some of whom were originally arrested while standing on the sidewalk -- should have come off the books in 1987, when the Supreme Court struck down a similar ordinance as unconstitutional.
It gets worse: Because St. Louis County doesn't notify people in person that they've been charged with municipal violations -- it simply mails letters to their last known address -- many of the protesters likely never learned they had been charged and will have missed their court dates. Now they could wind up in jail the next time they encounter a police officer.
In the nearly 22 months since a white police officer shot and killed Michael Brown, an unarmed black teenager, St. Louis County has changed -- a bit. Municipal courts, many of which served as major revenue generators for small municipal governments, have come under closer scrutiny and face a new state law that limits the amount of money the cities can collect. Ferguson reached a deal with the Justice Department to help bring an end to unconstitutional abuses that plagued its police department and municipal court. The city's police force is now led by the first permanent African-American chief in its history. And Stephanie Karr, a Ferguson official who aggressively pursued questionable cases against protesters in Ferguson Municipal Court, recently resigned her post.
But the county's decision to issue arrest warrants for dozens of protesters charged under a law that's probably unconstitutional shows that it still has a long way to go.
During and after the 2014 protests sparked by Brown's death, St. Louis County arrested a number of people under Missouri's "failure to disperse" law, which forbids knowingly failing or refusing to obey a lawful command to leave an unlawful assembly or riot. Over the course of 12 days that August, at least 125 people were arrested on that charge, according to records provided by St. Louis County authorities at the time.
Many of the situations in which protesters were arrested, however, did not meet the legal standard for an unlawful assembly or a riot. Officers threatened to arrest individuals who stood peacefully on sidewalks during daytime hours, a federal judge found in October 2014 in a case that challenged the practices used by law enforcement agencies in Ferguson. The judge said that policymakers knew that such people couldn't lawfully be arrested and that the policy "was being used against peaceful citizens," but officials "did not stop the practice." Law enforcement agencies, including the St. Louis County Police Department, lost that case, leading to an injunction against unlawful arrests and putting taxpayers on the hook for more than $152,000 in attorney fees.
It was an expensive lesson -- though not one fully learned. Instead of backing down from those protester cases, St. Louis County officials pursued a perverse response.
Like Karr, the former Ferguson prosecutor and city attorney, officials in the St. Louis County Counselor's Office play two sometimes-conflicting roles: They protect the local government from lawsuits, but also prosecute low-level cases in the equivalent of traffic court. That creates an incentive to bring low-level charges against people who might sue the county -- charges that the county can then drop when plaintiffs agree not to sue.
The failure-to-disperse law was no longer going to work for that purpose. So the county changed its strategy. Last summer, just before the statute of limitations was set to expire, it issued new charges against at least 95 protesters under its "interference" statute, which makes it unlawful to "interfere in any manner with a police officer or other employee of the County in the performance of his official duties or to obstruct him in any manner whatsoever while performing any duty."
The county also charged two reporters -- The Washington Post's Wesley Lowery and The Huffington Post's Ryan J. Reilly, one of the authors of this story -- with trespassing and interference in connection with their arrests inside a McDonald's in Ferguson. The county dropped those charges last month -- after Lowery and Reilly promised not to sue. Officials in the St. Louis County Counselor's Office have made similar agreements to drop charges in exchange for commitments not to sue in at least two other cases.
The interference law, which is the target of an ongoing lawsuit, is almost certainly unconstitutional. It is strikingly similar to a ordinance struck down by the Supreme Court in 1987, when the high court ruled that the freedom to verbally oppose or challenge police action without risking arrest "is one of the principal characteristics by which we distinguish a free nation from a police state."
Other courts have enforced this precedent. Nevada's Supreme Court, for example, recently ruled that Carson City's interference ordinance was too broad and therefore unconstitutional, and a federal judge struck down a similar Columbia, South Carolina, ordinance in 2013.
The interference statute isn't the only problem with St. Louis County's strategy. It's also charging many of the protesters in the wrong court.
People arrested in Ferguson should have been charged in the city's own municipal court. But the county is prosecuting many of them in the St. Louis County Municipal Court, which has jurisdiction only over ordinance violations committed in unincorporated parts of the county.
St. Louis County has argued that the lawyers in the County Counselor's Office have "special skills or training that are needed to provide services during an emergency or disaster" and can therefore bring charges they would not normally bring -- even months after an emergency ends. Part-time judges like Craig Concannon -- who was appointed by St. Louis County Executive Steve Stenger after donating over $20,000 to Stenger's campaign -- have bought that argument.
Despite these constitutional and jurisdictional problems, St. Louis County officials have pressed forward -- first with the interference charges, and now with arrest warrants. One of those protesters, Rashaad Davis, was the subject of an award-winning photo taken just before his arrest as he backed away from heavily armed officers, who had their weapons pointed at him (see another angle on that moment above). Authorities alleged in a court document that he "interfered" with the police officers who took him into custody when he repeatedly "failed to comply with officers' lawful commands to dispurse [sic] from the area." A college student who caught her own arrest on video as officers unlawfully told her to "keep moving" along a sidewalk in Ferguson during daylight hours is also still facing charges.
St. Louis County officials are reluctant to answer questions about their legal strategy. St. Louis County Counselor Peter Krane, who said he would get back in touch with a HuffPost reporter who called more than a week ago, has not responded to several additional inquiries about the ongoing cases.
And the St. Louis County Municipal Court, which seems to operate more like an executive branch office than an independent judicial agency, made a HuffPost reporter submit written public-records requests in order to review filings in court cases. Court records are typically open for public examination. Court officials also made it difficult to access court dockets for individuals arrested on interference charges and withheld the full dockets in some cases, obscuring what actually happened in court.
As with other overly broad interference laws that give police too much discretion, the St. Louis County ordinance will likely be struck down eventually. But Maggie Ellinger-Locke, a lawyer suing on behalf of individuals charged under that ordinance, said arguments in the case, which the county has already been dragging out, will not take place until Sept. 1. That will allow the county, she said, to "continue enforcing their unconstitutional ordinance through summer" while facing "no penalty for their significant delay."
In the meantime, Ferguson protesters who have warrants out for their arrest and are worried they may be jailed have another option: They can pay St. Louis County to recall the warrants.
Mariah Stewart reported from St. Louis. Ryan J. Reilly reported from Washington.
Support HuffPost
The Stakes Have Never Been Higher
Before You Go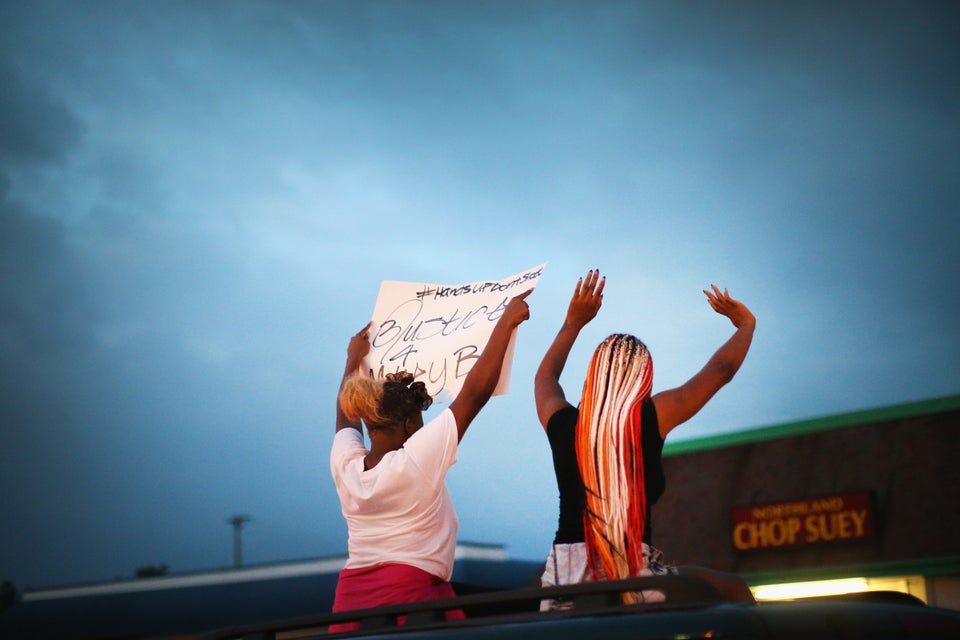 Ferguson Photos by Scott Olson
Popular in the Community