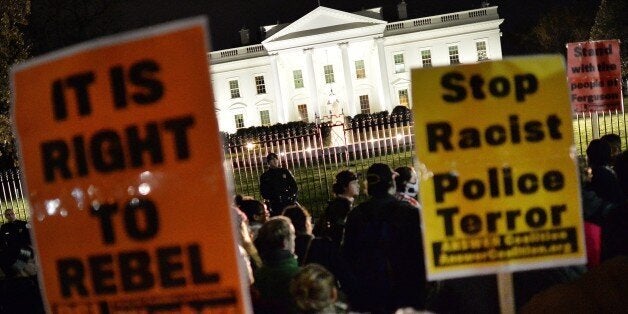 WASHINGTON -- Brooke Jones kept her kid out of school Tuesday. The news coming out of Ferguson, Missouri, was too important. A better lesson, she thought, would be for her daughter, January, to absorb the moment. So instead of class, the two talked about how a police officer who had shot and killed an 18-year-old unarmed boy wasn't going to be punished.
Jones, 27, hadn't broached the topic with her daughter until that day, even though the shooting took place back in August. January is only 5. And Jones wasn't sure whether she could possibly understand the magnitude of what had happened.
But as they talked, "her eyes glossed over," Jones said. "She didn't cry. But she was quiet for a few minutes."
It was at once gratifying and saddening for Jones to know her daughter was envisioning officer Darren Wilson and Michael Brown. "I felt like I needed to explain it to her. And she gets it."
Later that afternoon, the two ventured outside their home in Baltimore. They walked through a large crowd of protesters demonstrating against the grand jury's decision not to indict officer Darren Wilson in the killing of Michael Brown. They made their way to Penn Station and boarded a MARC train bound for Washington, D.C. Once there, they went in search of an even bigger protest. They found one quickly, near Union Station, and began marching along with the crowd. As the numbers swelled and the chants grew louder, Jones and her daughter showed no signs of fatigue. It would take them an hour and a half to get back home, provided the streets were passable and the trains weren't delayed. But as the clock hit 9 p.m., they kept walking.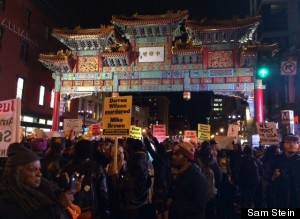 A protest in Washington, D.C., stops in Chinatown on Tuesday night
"Honestly, I want her to know that injustices do happen, especially to black people," said Jones, who is black. "But also that just because you're white does not mean you are against us. Look at this crowd. It has all types of people here."
The scene on the streets of the nation's capital Tuesday night mirrored the one unfolding in other major U.S. cities. Thousands of people have marched the past two nights in response to the events in Ferguson, expressing their frustrations with a criminal justice system they view as morally crooked.
Peppered through the crowd in D.C. on Tuesday were parents who, like Jones, brought their young children with them to bear witness to history.
"Even at this early age, they are asking us about Ferguson," said Eli Miles, 37, a consultant who had brought his 8-year-old son. "I felt it was important for them to see this cycle of energy -- to see a peaceful protest for something that matters."
"This will change their lives," he said.
Some parents had difficulty explaining why this particular case has taken on such significance. Michael Brown is not the first African American child to be killed by a white cop. He won't be the last. The circumstances of his case are grisly: he was unarmed, he was shot at 12 times and his body was left in the street. But there are gray areas too, which may explain the grand jury's refusal to indict.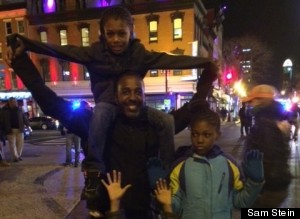 William Vaughn with two of his children.
What motivated many in the D.C. crowd on Tuesday night was the sense that the outcome was so utterly predictable. They didn't come to protest because they were shocked. They were there, with their children, because of a brewing belief that only a multi-generational response could rip up the tired script.
"They need to learn," said William Vaughn, 50, who had brought along his four children, ages 12, 10, 8 and 6. "They need to learn about their rights -- that if they don't care, we'll keep voting for the people who are not doing us any justice."
Vaughn had already put his children to bed earlier that evening when he went to check on his car outside and noticed demonstrators walking nearby. He woke his children up and they joined the crowd.
"Hands up. Don't shoot!" Vaughn's 6-year-old son chanted, throwing both his hands in the air.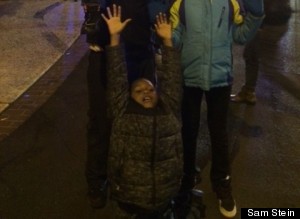 Lauren Haysbert, 25, got her four children dressed to go out as soon as the sounds of the protest wafted into her home in Northwest D.C. Along with her cousin Zaneta, they quickly caught up with the crowd, which was only three blocks away.
The march came to a stop in Chinatown, in front of the Verizon Center, where the Wizards were playing. Gawkers stood at the edge of the stadium and stared down at the protesters from full-length windows. The game blared on a massive screen along the building's western wall. A few people looked up to watch point guard John Wall drive through the lane, but the vast majority had their sights set the other way.
Across the street, the protest had reached the stairs of the Smithsonian American Art Museum, with its Doric columns and white marble facade. One speech was followed by another before the crowd quieted down, save for the amateur cameramen egging on protesters for a good quote. The rest locked arms and began singing "We Shall Overcome."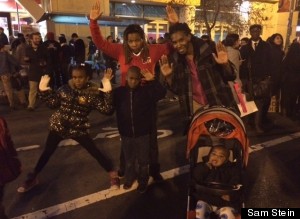 Lauren Haysbert, top right, with her cousin, top middle, and three of her children.
"I just brought them out because it is now part of their history," Haysbert said after the song had finished. Her youngest, a 2 year old, rested quietly in his stroller.
Children's minds are delicate, and perhaps the gory image of a teenager's killing is not the ideal thing to plant in them. But for parents like Vaughn, Haysbert and others, the Ferguson protest on Tuesday was too important to miss. It was something that years from now, their kids would triumphantly tell friends, colleagues and children of their own that they attended.
Elizabeth Pace, 37, brought two of her kids on Tuesday: a teenager and her younger daughter, who is almost 5.
"I have a child older than Michael Brown," Pace said. "It could have been any one of us."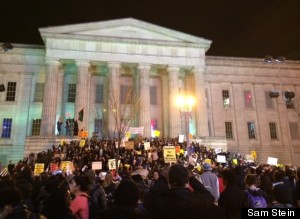 The Ferguson protest stops at the Smithsonian.
"Unless laws are changed it will keep happening," she added. "That's why we have to demonstrate. That's why we have to continue the movement. I'm just sick of it. Our young men and women keep dying."
As Pace talked, her daughter lay down on the street, head resting on a stuffed black lab, seemingly oblivious to the surrounding crowd.
"It is important to have her here," Pace said. "I want to show her not only what we have gone through, but also what we will have to go through in the future."
Below is a timeline of the events in Ferguson:
Popular in the Community