Police violence broke out again in Ferguson, Missouri, Wednesday night, as the streets filled with tear gas, rubber bullets, heavily-armed SWAT teams and mine-resistant vehicles on the fourth night of unrest since Michael Brown, an unarmed African American teenager, was shot to death by police on Aug. 9.
Mostly peaceful protesters in the St. Louis suburb, symbolically holding their hands in the air, were met with tear gas and smoke bombs fired so regularly that several reporters on scene noted it was hard to breathe. "Shit, shit," shouted msnbc.com's Trymaine Lee, as his network attempted to reach him amid an onslaught late in the evening. Stun grenades were fired, and police wearing camouflage fatigues and riot gear formed lines in the streets. A device deployed by police goes off in the street as police and protesters clash Wednesday, Aug. 13, 2014, in Ferguson, Mo. Authorities in the St. Louis suburb where an unarmed black teen was shot and killed by a police officer have used tear gas to try to disperse protesters after flaming projectiles were thrown from the crowd. (AP Photo/Jeff Roberson)
A group of at least 70 heavily armed SWAT officers with armored vehicles responded to an apparently peaceful protest Wednesday afternoon and ordered the crowd to disperse, HuffPost's Ryan J. Reilly reported. The sight of camouflaged officers training automatic weapons at unarmed civilians focused unprecedented attention on the increasing militarization of policing in America.
On Thursday afternoon, President Barack Obama addressed the situation in remarks from Martha's Vineyard, where he is on vacation. He also weighed in on the topic of heavy-handed police tactics. "There is never an excuse for violence against police or for those who would use this tragedy as a cover for vandalism and looting," Obama said. "There's also no excuse for police to use excessive force against peaceful protests or to throw protesters in jail for lawfully exercising their First Amendment rights."
He said he had asked the Department of Justice and the FBI to launch an investigation into Michael Brown's death.
Shortly before Obama's remarks, Missouri Gov. Jay Nixon announced that he would be instituting changes in the way the Ferguson protests are policed, saying that that there would be new, "operational shifts" among officers.
At least two reporters were assaulted and detained by police, and a St. Louis alderman was arrested for what police said was unlawful assembly. Local elected official Antonio French, who has been covering the protests on social media, was arrested and charged late Wednesday, his wife told local radio station KMOV. He was still in jail as of Thursday morning. The national reporters were released relatively quickly without charge.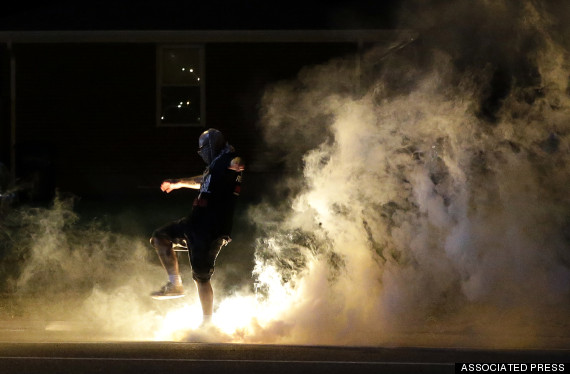 A protester kicks a smoke grenade that had been deployed by police back in the direction of police Wednesday, Aug. 13, 2014, in Ferguson, Mo. Protests in the St. Louis suburb rocked by racial unrest since a white police officer shot an unarmed black teenager to death turned violent Wednesday night, with people lobbing Molotov cocktails at police who responded with smoke bombs and tear gas to disperse the crowd. (AP Photo/Jeff Roberson)
Reilly and Washington Post reporter Wesley Lowery were detained by police after they surrounded and invaded a McDonalds where the two were working and ordered them to leave. Police slammed Lowery into a drink machine and pushed Reilly's head against the glass on the way out of the restaurant.
"They essentially acted as a military force. It was incredible," Reilly said.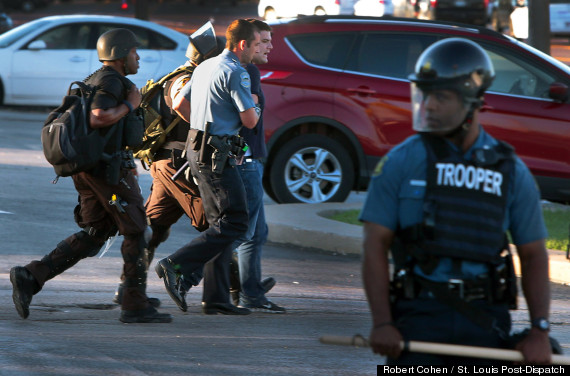 Huffington Post reporter Ryan J. Reilly is arrested when police officers suddenly closed a Ferguson McDonald's restaurant on West Florissant Avenue on Wednesday, Aug. 13, 2014. (Robert Cohen / St. Louis Post-Dispatch)
Tear gas and rubber bullets were fired in the proximity of a crew from the TV network Al Jazeera America. In a statement, the network said that "Al Jazeera is stunned by this egregious assault on freedom of the press that was clearly intended to have a chilling effect on our ability to cover this important story."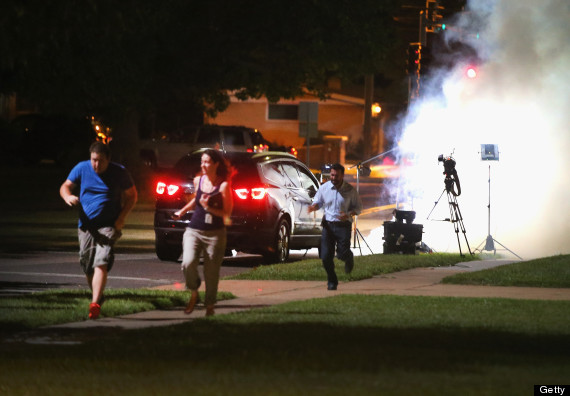 Ferguson McDonald's manager Keith Eyers, who has worked for the company for 34 years, was shaken after the clashes that unfolded Wednesday evening in front of him and his staff.
"It's just a terrible thing what happened," he said later. "It's a bad thing. It's just not good...It's a rough time but I really think the city will get through it and make it stronger."
Support for the arrested reporters came from quarters as diverse as the Department of Justice and Sen. Ted Cruz (R-Texas). "Just want to praise @WesleyLowery and [Ryan Reilly] for their dedication in bringing us the stories from Ferguson. God bless free press!!" tweeted Amanda Carpenter, a top aide to the senator.
Ferguson police chief Tom Jackson defended his officers' actions Wednesday. "There are complaints about the response from some people, but to me, nobody got hurt seriously, and I'm happy about that," he said, according to ABC News.
A small group of protesters gathered at the police station until the early morning, awaiting the release of friends. Five of them were arrested for not dispersing fast enough.
Nixon, after keeping silent throughout the evening, tweeted that he was "closely monitoring" the situation, and would visit St. Louis on Thursday. He also tweeted that the conflict in Ferguson "does not represent who we are. Must keep the peace, while safeguarding rights of citizens and the press." He released a statement, calling the situation "deeply troubling."
Katie Nelson contributed reporting.
Calling all HuffPost superfans!
Sign up for membership to become a founding member and help shape HuffPost's next chapter