WASHINGTON -- Law enforcement officials responding to demonstrations and unrest in Ferguson, Missouri, following the death of Michael Brown last August used a variety of inappropriate tactics and strategies that often exacerbated tensions, according to a report by policing experts that the Justice Department is releasing this week.
The assessment finds that deploying dogs for crowd control was "provocative," positioning snipers on top of armored vehicles during daytime protests "inflamed tensions," tear gas was "deployed inappropriately," and law enforcement used unconstitutional policing strategies that suppressed First Amendment rights. Such strategies "had the unintended consequence of escalating rather than diminishing tension," the report states.
The police response was also hampered by inconsistent leadership, a failure to understand the community, a reactive strategy for handling protests, poor communication, and complications caused by St. Louis County's extraordinarily fractured network of small law enforcement agencies, which a nationally recognized police research organization has criticized as "dysfunctional and unsustainable."
The "stress and pressure" that officers were under at the time -- working long hours as taunts, spit, rocks and bottles of urine were hurled in their direction -- may have resulted in their making "bad judgments" and engaging in uncharacteristic behavior, according to the report. Officers on the front lines "faced unprecedented levels of abuse," and minority officers in particular were targeted with "extreme verbal abuse."
Additionally, law enforcement's response to the unrest "seemed like a rudderless ship" to many officers because "direction for officers on arrests and engaging protesters seemed to change regularly," according to the report. Interviews with officers "consistently, and clearly, indicated there was confusion" about arrest procedures and guidelines, a situation that St. Louis County Police Chief Jon Belmar acknowledged in federal court last fall.
The "after-action" assessment conducted at the request of the Justice Department's Office of Community Oriented Policing Services (COPS) examines the police response to protests in Ferguson over a 17-day period in 2014: from Aug. 9, when then-Ferguson Police Office Darren Wilson killed Brown, through Aug. 25, when the 18-year-old was buried. The study began last September. The assessment team -- led by former Missouri police officer and criminal law professor David L. Carter -- conducted over 160 confidential interviews with law enforcement officials, protesters, clergy, business owners, community members and other stakeholders.
The report states that law enforcement agencies who responded to the situation in Ferguson "encountered an event unprecedented in recent times" that "became a defining moment in policing history." The large number of demonstrators and the widespread use of social media made the event particularly challenging. Ferguson should serve as "a vivid reminder that law enforcement agencies must continually analyze their policing practices in relation to the communities they serve," the report says.
While the report's key findings leaked out in late June, federal officials hope that this full, detailed examination will be helpful for other law enforcement agencies when dealing with mass demonstrations.
COPS Director Ron Davis -- who writes that the Ferguson demonstrations became "part of a national movement to reform our criminal justice system and represent a new civil rights movement" -- suggests that the report may aid law enforcement agencies in protecting the rights of demonstrators and maintaining public safety.
"The failure to learn from our experiences -- both our successes and setbacks -- increases the likelihood of repeating mistakes and contributes to loss of public trust," Davis writes in introducing the report. "Law enforcement must be prepared to respond to this new movement and to do so in a manner different from that of the civil rights movement of the 1950s and 1960s, when law enforcement was often used to disrupt demonstrations, oppress free speech, and deny constitutional rights."
The aggressive tactics used by law enforcement in Ferguson came under heavy criticism in the press and on social media. The assessment team -- which included a watch commander in the Dallas Police Department who graduated from West Point and served in the first Gulf War -- largely agreed with the widespread critique of the militarized police presence.
By positioning a sniper on top of an armored tactical vehicle, "law enforcement helped to further the sentiment that they were reacting in a militaristic manner," the report says. Initial police responses "appeared to galvanize a negative perspective and aggravate community concerns about police and the justice system in general." Community members, the report notes, "became angered at what they perceived to be a heavy-handed response by the police rather than the police being there to 'serve and protect.'"
One community member said that "riot gear, tear gas, five-second rule, tanks were all acts of aggression" that exacerbated the crowd's response. "Back to Selma all over again," the person said.
"It was clear the armored vehicles stirred the emotions of demonstrators -- they expressed fear, anger, and intimidation by the vehicles' mere presence," the report says. "Community members stated that the vehicles were 'acts of aggression' by the police."
The pointing of sniper rifles at crowds came under particular scrutiny. The report calls that "a particularly alarming behavior, especially if the rifle is pointed at the viewer." Law enforcement officials also did not seem to appreciate the "profound effect" that using dogs had, the report states.
Police were criticized for taking an "all or nothing" approach to their tactical response during the protests. The report notes that tactical equipment could be used in a "relatively limited manner" and ramped up if necessary, but "when an initial response is at a high level, options for gradual and measured escalation are more difficult."
Law enforcement "must be reasonable and flexible with their choice of tactics ... consider the historical context of the community served, and focus not only on what may be authorized pursuant to policy but also on what is right," the report states. "The assessment team concluded that the use of these military-like tactics, particularly the officers deployed with rifles, was not appropriate for the circumstances."
"While I understand that, we have to keep our people safe. Sometimes policing is not pretty," one police commander told investigators.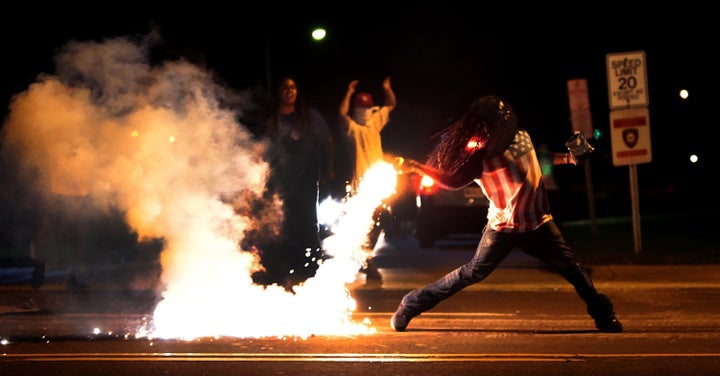 As the report notes, police were at a disadvantage from the beginning of the protests, as the "relationship between law enforcement and the communities of color in St. Louis County were extremely strained." Additionally, as there had been no riots there after Dr. Martin Luther King Jr. was killed in 1968 or after the Rodney King acquittals in 1992, the community "did not have any prior history with a similar critical incident on which to base the turn of events that resulted after Mr. Brown's death."
The fractured nature of law enforcement in St. Louis County was also problematic. Officers from over 50 different departments reported to the command post from Aug. 9 though Aug. 25. Some of those municipalities had officers who were not even certified, and the report says some of those agencies "may not have a focus on officers engaged in non-traffic law enforcement efforts" and may not have the skills to respond to such unrest.
While the report notes the successful strategy implemented under Missouri Highway Patrol Capt. Ron Johnson, it says that because of the time he spent on community engagement and doing media interviews, he was "less engaged in day-to-day, hour-to-hour incident command responsibilities and instead became the public face for the police response." The report notes that St. Louis County Police Department officers thought putting the highway patrol in charge "showed disrespect to them and their capabilities." St. Louis County Police Chief Belmar and then-Ferguson Police Chief Thomas Jackson were not consulted about the change in command, according to the report.
Johnson's decision to walk with the protesters along West Florissant Avenue "seemed to have a positive impact on community relations," according to the report, but his "perceived support for the demonstrators lowered morale among officers, including Missouri State Highway Patrol troopers."
Officers told the assessment team that "inconsistent orders and a constant barrage of criticism from the public and the media" left them with a sense of abandonment and a feeling that "public image trumped officer safety." Changes in policies were a constant source of tension.
"There was no plan in place for arresting people and no standard way to document arrests," one officer said. Another officer stated that fellow officers were "unclear who they could arrest." Yet another officer said that their standing orders "changed every day."
Investigators said problems came up because officers were operating for long periods of time in a stressful environment. The report points to the case of Ray Alberts, a former officer in nearby St. Ann who resigned after he was captured on video threatening Ferguson protesters; yelling, "I will fucking kill you"; and pointing a semi-automatic assault rifle at a videographer.
"Even a casual observer of the video can see that the officer looked flushed, hot, and frustrated," the report states. "The involved officer was excused from Ferguson duty once the incident became known to command, and he later expressed remorse for his actions. His behavior was said to be uncharacteristic of his many years' experience as an officer, yet he not only experienced the stigma of becoming an Internet 'item' but also ultimately resigned from his position. From the videographer's perspective, the fact that the officer was under stress does not excuse the verbal abuse the videographer received or the threat of being shot and having a rifle pointed at him."
Full disclosure: The Huffington Post's Ryan J. Reilly, who wrote this story, and The Washington Post's Wesley Lowery were arrested by officers with the St. Louis County Police Department on Aug. 13, 2014. Nearly a full year later, Reilly and Lowery were charged in St. Louis County Municipal Court with "trespassing" in the McDonald's where they were working and "interfering" with police officers who forced the restaurant to close as a peaceful, daytime protest took place down the street. Reilly and Lowery are fighting the charges.
Support HuffPost
The Stakes Have Never Been Higher
Popular in the Community