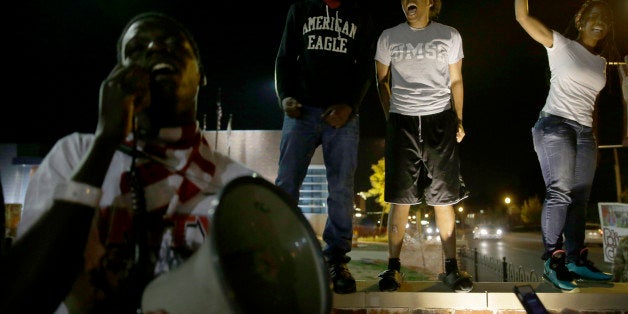 FERGUSON, Mo. -- Eight protesters were arrested in this St. Louis suburb Sunday night during a tense standoff between demonstrators and police outside the Ferguson Police Department, where activists once again demanded the arrest of an officer who shot and killed an unarmed teenager last month.
While most of the dozens of protesters remained peaceful, some tossed bottles at officers. Those taken into custody were charged with failing to disperse or with resisting arrest. They were processed and released without having to post bond after a strange negotiation in which police agreed to release them if protesters were quiet and remained on sidewalks.
That seemed to change last Tuesday, after a memorial for Brown was destroyed by a mysterious fire. Soon after that, a store in Ferguson was broken into and robbed, and another building was intentionally set on fire. A scuffle broke out on Thursday night after Police Chief Tom Jackson attempted to march with the crowd of protesters, and several people were arrested. A Ferguson officer was shot on Saturday, but police later said that did not appear to be connected to the demonstrations.
During protests on Sunday night outside the Ferguson Police Department, several officers were seen not wearing name plates, despite city policy that police should be identifiable, and Jackson's guarantee to the Justice Department that officers would be wearing identification. Democratic Committeewoman Patricia Byrnes, who has regularly attended the protests since Brown's death, confronted several police officers about their lack of name plates. Byrnes said an officer without a name tag was "removed from the line."
One thing that set Sunday's demonstrations apart was a negotiation process between police and the crowd. At around 11 p.m., one protester spoke to the police on behalf of the crowd, negotiating an agreement that if protesters could remain quiet -- apparently to comply with a noise ordinance -- and remain on sidewalks, then the arrested protesters would be released immediately. The protesters remained quiet for about an hour, after which they resumed demonstrating. The police released the arrested protesters early Monday morning.
Some protesters said they felt the negotiation was a tactic the police used so the crowd would lose momentum and dwindle.
Protester Molly Grieder, 28, did not approve of the negotiation, which she felt went against the spirit of protesting.
"When you're protesting, you don't negotiate with people," she said. Others referred to the tactic as "kidnapping," and said the police were holding protesters as "hostages."
"Negotiating hostages, it's insane!" Johnetta Elzie, a demonstrator who goes by @Nettaaaaaaaa on Twitter, told The Huffington Post. Elzie said protesters were told police would release those who had been arrested at 12:30 a.m. "So 12:30 came and went, nothing, so people broke the ordinance again," Elzie said.
"It was sort of hellish in the group because nobody understood who had the authority to negotiate for the protesters," another demonstrator, DeRay McKesson, told The Huffington Post. "The people who actually brokered the deal left. They were gone way before 12:30, so that pissed off everyone too."
McKesson said many protesters believed police only negotiated with demonstrators because a number of white people were involved in the protest and some were arrested.
"There were a ton of white people out there last night, and a lot of white people got arrested too, and they were like it never would have happened if it was just black people," McKesson said.
"To be honest, this is a new police tactic to me, and certainly one that is very troubling," said Lee Rowland, a staff attorney with ACLU's Speech, Privacy and Technology Project. "Police only have the authority to make an arrest when there is probable cause to believe that somebody has committed a crime, and here there are indications that instead they're using arrests as bargaining chips for crowd control, and that is inappropriate."
Legal observers told The St. Louis Post-Dispatch that the eight protesters appeared to be picked out of the crowd at random.
Many protesters said they felt the memorial burning had sparked the new conflicts. Kelly Robinson, a 27-year-old resident of nearby Florissant, said the protesters felt like they weren't being heard.
"A lot of our young people are frustrated and this is the way we know how to release our frustrations, because we know that it impacts [police officers] as well," Robinson said. "It's tension, because we know they're scared. They don't want to be bothered with this. They don't know how to handle us. Therefore, if the young people get out here and act a fool, maybe they'll be taken a little more serious."
"We're actually doing a community service by being out here tonight," said Charles Wade, 31. "Since we're here, police have to be out here, and if they're out here that means they're not in the streets messing with innocent people."
Alexis Templeton, who has been arrested several times during the protests, said last week that the memorial burning down "has sparked everything."
"I'm not tired, because Mike Brown's parents are tired, and I can't be tired, because they're tired. I'm here for them, so that I can be their strength," Templeton said. "Until they can go to sleep, I can't go to sleep."
St. Louis Alderman Antonio French, who has documented the protests on Twitter since Brown's death, told The Huffington Post during a night of protests last week that he fears "the fragile peace that we've had the past few weeks might be in danger."
"The Ferguson and St. Louis County government have blown the opportunity during these days of peace to heal wounds and make progress," French said. "They missed that opportunity, and unfortunately we find ourselves back here again."
This article has been updated to include additional comments.
Mariah Stewart reported from Ferguson, Missouri, and Ryan J. Reilly reported from Washington, D.C.
Before You Go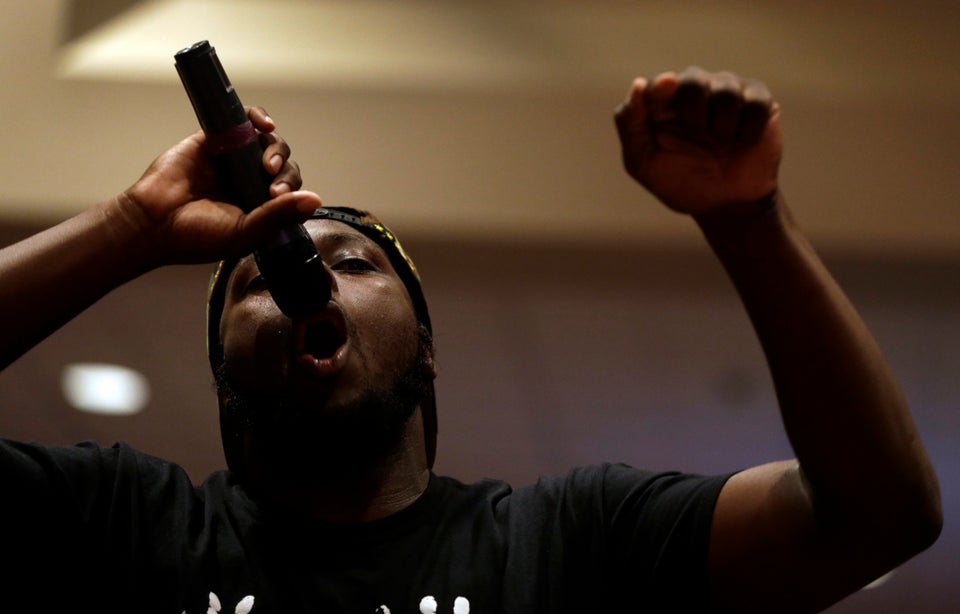 Ferguson City Council meeting