FERGUSON, Mo. -- The burned-out QuikTrip convenience store that became a symbol of racial unrest after a police officer killed an unarmed black teenager nearby almost a year ago will soon reopen as a community center focusing on job-training and placement for African-Americans.
The store, epicenter of the August 2014 protests that erupted after the killing of Michael Brown, 18, was looted, burned and spray-painted "R.I.P. Mike Brown" before civilians pitched in and cleaned up the site. As rioting along West Florissant Road intensified, heavily armed police with armored vehicles pointed rifles at protesters and fired tear gas and pepper balls into crowds.
The Urban League, a community-based civil rights group, last week held a groundbreaking ceremony at the site. Under a white tent sheltering dignitaries, Michael McMillan, president and CEO of the Urban League of Metropolitan St. Louis, said the organization aims to train and find employment for 500 young people in the region by the end of summer.
"From that 500, the numbers will grow in a circle of change and opportunity," said St. Louis County Executive Steve Stenger, who was recently elected. "Today is a very important day for moving forward in our community," he added.
The project's donors include QuikTrip, Starbucks and Enterprise Rent-A-Car.
Rasheen Aldridge, 21, the youngest member of the Ferguson Commission, a group appointed by the governor to help address racial injustice and police brutality in the region, said the burning of the QuikTrip in August attracted international media coverage to the St. Louis suburb.
"Who was talking about police brutality at this level before Ferguson -- it wasn't being talked about," Aldridge told HuffPost. "It took that unrest to happen for people to understand the reality of what it is to be an African-American man and woman."
McMillan said at the groundbreaking ceremony that young people told him in the days after Brown's death that "they were not being listened to and their voices were not heard." He added: "Every single one of those young people said they needed jobs and economic opportunity in this area."
Data collected by the Federal Reserve Bank of St. Louis shows unemployment among African-Americans in the St. Louis region at 9.5 percent, compared with 4.8 percent for whites.
No date has been set for the community center's completion.
Before You Go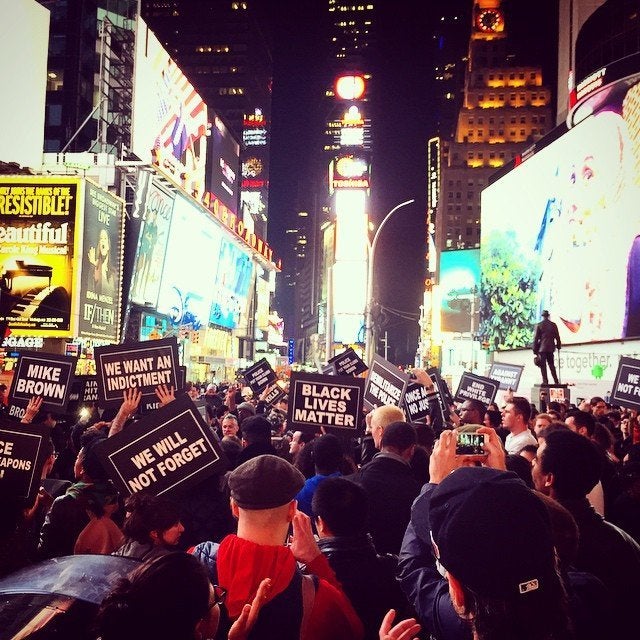 Ferguson Protests Around the Country
Popular in the Community