DELLWOOD, Mo. -- As 28 years of hard work burned before her eyes, Juanita Morris looked at her television in shock. Her business, Juanita's Fashion R Boutique, was set ablaze on Nov. 24, hours after a prosecutor announced that Officer Darren Wilson would not be indicted for the killing of 18-year-old Michael Brown in nearby Ferguson.
"I felt helpless. Even if I had came down there, it wasn't anything I could do. I wasn't mad, I was hurt," Morris told The Huffington Post in an interview this week. "When you work 28 years for a business, you don't want to lose it like that."
Juanita's Fashion R Boutique was one of several businesses that burned or were damaged the night after St. Louis County's top prosecutor announced that a grand jury would not indict Wilson in Brown's Aug. 9 death. Like Brown's death, the announcement incited several protests and riots.
But despite her losses, Morris plans to rebuild, thanks to an influx of online donations: As of Tuesday morning, a GoFundMe page for Morris' store had nearly met its $20,000 goal, with money coming from over 600 donors.
"It was unbelievable that many people cared," Morris said.
Other stores in Ferguson have also raised funding online after they were damaged in the unrest following the grand jury announcement. Cathy's Kitchen and J&C BBQ and Blues Restaurant, two other local businesses, had raised nearly $12,000 on the site as of Tuesday.
University of North Carolina student Eric Lee, 19, helped Morris set up her GoFundMe account. Home for Thanksgiving break, Lee said he watched businesses get destroyed on the news and wanted to help.
After reaching several disconnected telephones at shops that were damaged, Lee finally got in contact with Morris. Hesitant at first, Morris finally accepted Lee's help after his third phone call, she said. Lee was the first to contact her about helping her business after the boutique burned down, she added.
Lee went to Morris' home and stayed for over four hours, helping her set up the online fundraising page. Morris said she didn't know much about computers, and Lee and his friends helped her through the process.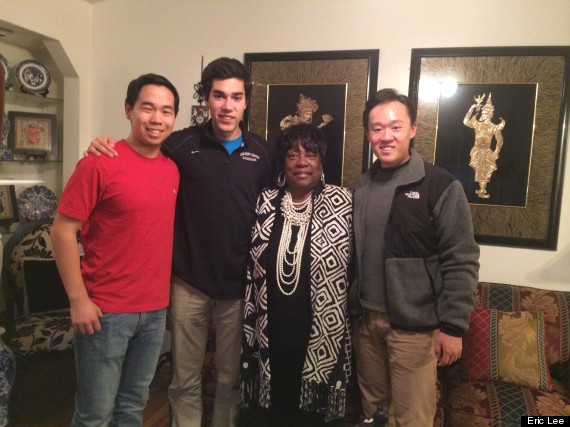 Eric Lee, a UNC student, and his friends helped Morris set up her GoFundMe page. From left to right: Jeffrey Lu, Alex Conway, Juanita Morris, Eric Lee.
"Now days everything people do for you, they want to get paid. It's hard to believe that people take and give as much time as he has given me into this. I will be forever grateful to him and his friend," Morris said.
The pink painted bricks that once made up Juanita's Fashion R Boutique were the result of triumph over hard circumstances. Morris said she always loved fashion, but didn't decide to make it into her career until an unfortunate turn of events.
"Twenty-eight years ago, three days before Christmas, I lost my job to a layoff. After I lost my job, I was trying to think what else I could do," she said.
When a friend suggested she turn her passion for clothing into a profession, Morris flew on a "borrowed plane ticket" to Chicago with only $135 to spare, she said. There, she attended a trade show, where she learned how to start her own boutique. Soon, Morris started holding fashion shows in her home.
"I started doing home shows. I did them for years, with the support of my husband and four boys. It was really successful, and that's how I built up my database and got customers, out of my basement," she said.
After outgrowing two business spaces, Morris finally settled at 9844 West Florissant. Morris said the 10 years she's been on West Florissant have been a "blessing," and she wants to encourage other business not to leave the area. "We're on a busy street, where thousands of cars come up and down. It's still a good area we can rebuild and make strong. We all need to unite together," she said.
Now, Morris hopes to find a temporary place to keep her business going. "I'm looking for a place I can lease for six months to a year, because I'm thinking it's going to take that long for them to allow us to rebuild," she said. She doesn't want to wait too long to reopen, she added, because she fears she may lose customers.
"I want to keep my customers that's been with me for 28 years. The money I get from GoFundMe will help me get started. I'm going to get started one purse, one suit, one customer at a time. And with people like Eric and everyone that's been helping me, we're going to make it."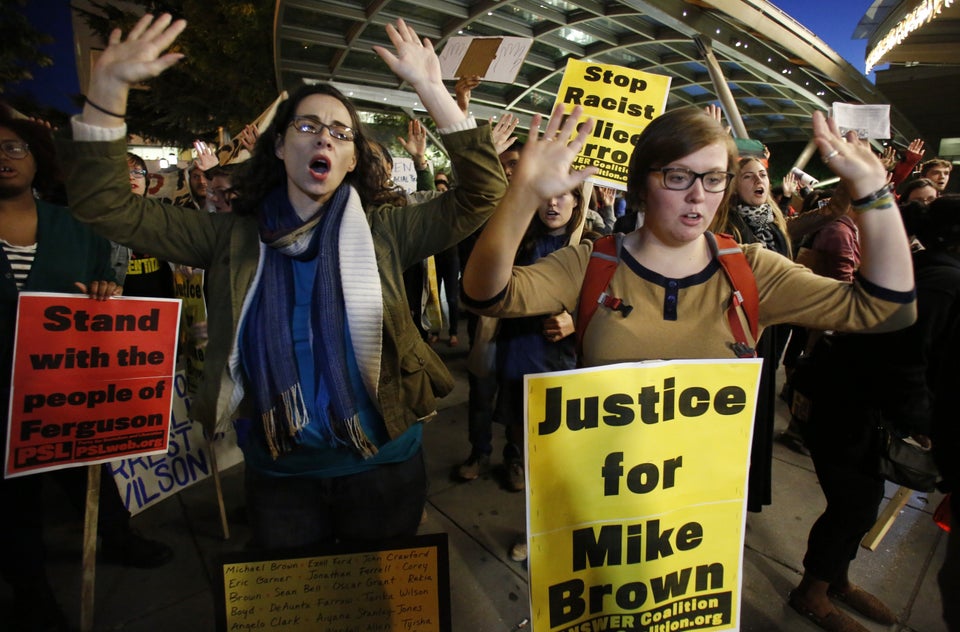 Ferguson