The showdown between St. Louis County and the two reporters who were charged with essentially doing their jobs in Ferguson, Missouri, last August began quietly enough on Monday. Court activity in the case was postponed until Oct. 5 as the lawyers maneuver.
It's too soon to say what that means for The Huffington Post's Ryan J. Reilly and The Washington Post's Wesley Lowery, but the prosecuting authority in their case, the St. Louis County Counselor, has clearly been busy.
And judging from the "hundreds" of court summonses that defense attorneys say were recently sent out, it appears that County Counselor Peter Krane is ready to argue that a lot of good arrests were made amid the turmoil in Ferguson last year.
Despite widespread complaints from media organizations that Reilly and Lowery in particular did nothing to merit the charges, Krane doesn't seem convinced.
"I'm not surprised that they would claim that they were not doing anything wrong," Krane said last week, according to St. Louis Public Radio. "But I looked at the police report, and I feel that they did do something wrong."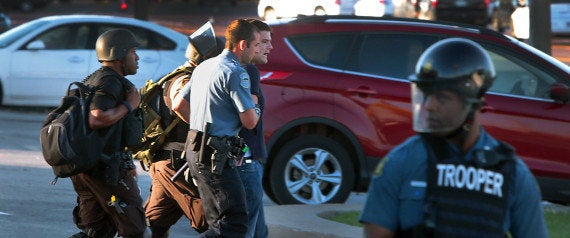 The reporters were each charged with trespassing on private property and interfering with a police officer during the performance of his duty. All this stems from an encounter at the Ferguson McDonald's on Aug. 13, 2014, when the journalists allegedly did not vacate the fast-food establishment as fast as the police wanted.
But the threat of jail time is likely only on paper. In real life, the alleged misdeeds under Missouri law barely rise to the level of "ordinance violations" -- think of the kind of broken-windows policing that has been a hot topic in New York and elsewhere. A St. Louis County reference guide calls these ordinances "regulations that commonly affect everyday life."
None of these quality-of-life offenses are being pursued by Robert McCulloch, St. Louis County's prosecuting attorney. A spokesman for the county confirmed to The Huffington Post that McCulloch referred all the nonviolent cases stemming from the Ferguson unrest to the county counselor's office.
"There were so many cases that came in," said Cordell Whitlock, director of communications for St. Louis County. "The workload was such that it had to be divvied up."
Last week, Krane had denied that McCulloch or the city of Ferguson turned down the prosecutions prior to the referral to his office. He said that the "charges came to my office and my office only for review."
The county counselor's office also defends the county and its agencies, like the police department, against lawsuits.
Whitlock said that most of these new cases against those once arrested are "probably not even that serious," and he suggested that Krane would be seeking community service in many of them.
It isn't clear if any offer of community service is on the table for Reilly and Lowery. Besides reducing potential punishment, any deal that the two reporters -- or any of the others arrested and now charged -- might strike with authorities could theoretically address their rights to bring related future cases, such as those alleging that the police violated their First Amendment rights.
Calling all HuffPost superfans!
Sign up for membership to become a founding member and help shape HuffPost's next chapter