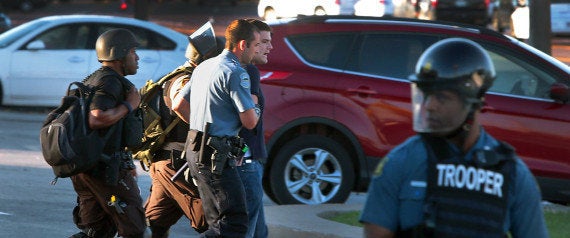 NEW YORK -- Since the shooting death of 18-year-old Michael Brown in 2014, the city of Ferguson, Missouri, has tried to take steps toward reforming abusive law enforcement practices. This week, the city made public a sweeping consent decree with the U.S. Department of Justice that aims to bring its police department and municipal practices in line with the Constitution.
But progress remains slow. St. Louis County, which includes Ferguson and has constitutional problems of its own, has yet to resolve a flashpoint of the Ferguson protests. It's still pressing forward with its prosecution of The Huffington Post's Ryan Reilly and The Washington Post's Wesley Lowery, who covered those protests.
Earlier this month, Craig J. Concannon, the municipal judge assigned to the reporters' case, denied their motions to dismiss the spurious charges against them -- trespassing on private property and interference with a police officer. The charges, which came out of nowhere nearly a year after the protests, stemmed from a rough encounter between St. Louis police and the reporters, who had made the Ferguson McDonald's their meeting place and newsroom-on-the-go.
Because the arrests and belated charges against Reilly and Lowery drew widespread media condemnation against St. Louis County, one would've expected Concannon to issue a thoughtful, well-reasoned decision -- not just to satisfy the court of public opinion, but also the next court that might review it.
Instead, Concannon issued this: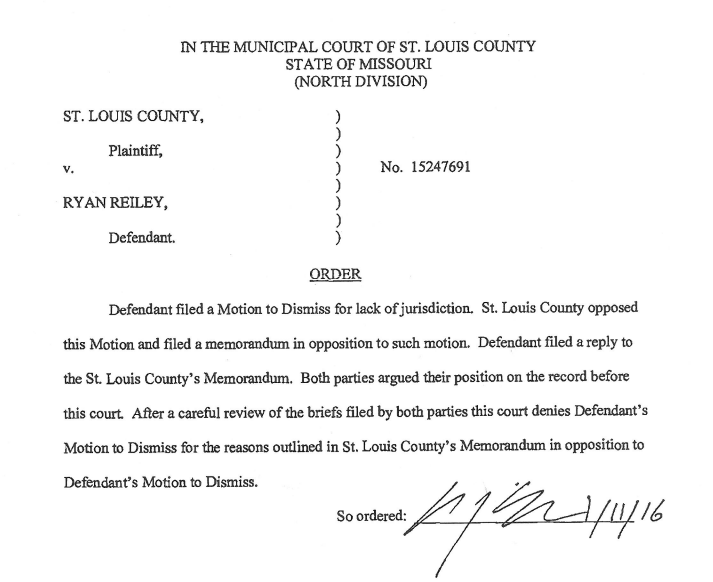 On its face, Concannon's order says nothing about Reilly's case or the legal arguments his lawyer offered for why it should be thrown out of court. For what it's worth, the order doesn't even spell his name correctly.
But it does make one noteworthy point: that the reporter's request to dismiss the case is denied "for the reasons outlined in St. Louis County's Memorandum in opposition."
In other words, the judge adopted wholesale the county's side. Nobody knows why he agreed with the county or why he disagreed with Reilly. All we know is that St. Louis County had the better argument just because.
To be sure, Concannon is likely not obligated under court rules to issue a full-blown opinion. But he did accept briefs from the reporters, then from the county, and then again from the reporters. In November, he scheduled a hearing and heard from the lawyers. You'd think such formalisms and use of judicial resources would lead to something more substantive.
But then again, the absence of anything more reminds us how insignificant this municipal case is in the first place. Reilly and Lowery aren't facing criminal charges. Their offenses, if one can call them that, barely rise to the level of "quality of life" violations -- the kinds of cases that, on most days, result in a slap on the wrist and a small fine for the worst of violators. Sometimes, when the case is weak or not worth pursuing, municipalities just drop the whole thing in an exercise of prosecutorial discretion.
But to hear Peter Krane, the St. Louis County prosecuting attorney, tell the story of what happened at the McDonald's, you'd think the reporters got what they deserved for their lawlessness during "an acute and unprecedented period of civil unrest" in Ferguson, as he put it in his brief opposing Reilly and Lowery's petition to dismiss the case.
The reporters' case is actually pretty simple: Krane did a bad job in bringing a prosecution in the first place. Not from a press freedom standpoint, mind you, but from a jurisdictional one.
Jurisdiction is the power to hear a case. Every court needs jurisdiction -- over people, cases, places. Without it, not even the Supreme Court will hear your pleas. Your case will be dismissed.
Krane doesn't have a case, the reporters' lawyers argued, because Concannon has no authority to hear it. And this all goes back to the McDonald's in Ferguson.
"It's not a power that St. Louis County has ever claimed it's possessed."
Under local law, the St. Louis County Municipal Court only has jurisdiction over violations occurring within the unincorporated areas of the county. But Ferguson is fully incorporated -- with its own charter, cops and court. It has its own set of ordinances. It follows, then, that the St. Louis County government lacks the authority to go after whatever may have gone down at the McDonald's. And its court lacks the jurisdiction to hear any such case.
That's precisely the argument that Brendan Roediger, a law professor at St. Louis University, made on behalf of a number of protesters who were charged with ordinance violations similar to those Reilly and Lowery are accused of, based on incidents that also occurred in Ferguson.
"It's not a power that St. Louis County has ever claimed it's possessed," Roediger told The Huffington Post. After he filed his motion, the county voluntarily dismissed the charges against three of his clients -- with no need for additional briefing, court appearances or undue delays.
(In a separate case arising from the events in Ferguson, Roediger is challenging the constitutionality of the county's interference ordinance itself, which he says is even broader than Ferguson's and virtually "makes all human behavior illegal.")
But the case of Reilly and Lowery seems stuck in a parallel universe. Krane is going through all the motions with them. He seems confident that St. Louis County could invoke its "emergency police powers" to arrest and charge the reporters in the manner that it did -- and that jurisdiction is proper and that he'll pursue the case to the fullest extent, because that's what low-level prosecutors do.
And then there's the judge, who, after the case was fully briefed, argued and submitted, sat on his one-page ruling from November to January for no apparent reason.
Justice delayed is common, particularly when the cases, the filings and the legal specifics are complex. But there is nothing inherently complex about this case. No matter how you look at it, the petty prosecution of Reilly and Lowery flies in the face of press freedoms and seems engineered to produce one result alone: to make an example of two reporters doing their jobs at a time when the people of Ferguson just wanted answers.
Popular in the Community