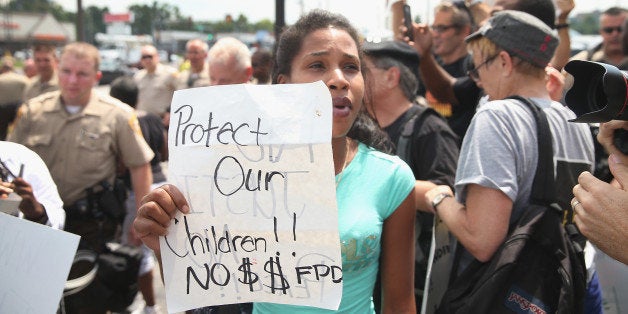 Since a white officer shot and killed an unarmed black teen in Ferguson, Missouri, more than a week ago, the small town has been rocked by contentious clashes, and its roots stretch much further beyond the events of Aug. 9.
The exact details of that night remain unclear, but the reason for the latest flare up is fairly understandable, experts say. Over a period of three years, Ferguson's poverty rate doubled, a devastating figure that inevitably leads to poorer education and health outcomes, and higher crime rates -- and a system incapable of effectively thwarting these outcomes, according to a recent Brookings study.
On Aug. 9, Officer Darren Wilson fatally shot Michael Brown, after police say he was injured in a scuffle with the teen. Witnesses say the teenager had his hands in the air as the officer fired multiple rounds.
The streets soon erupted in riots in the immediate aftermath and even peaceful protests didn't stand a chance. Tensions continued to pick up over the weekend after Missouri Gov. Jay Nixon imposed a curfew.
But even before Brown was shot and killed, Ferguson had already become a breeding ground for such senseless deaths to occur.
Taking a look at how the city plummeted so rapidly into suburban poverty is key to understanding why.
Between 2000 and 2010-2012, Ferguson's poor population doubled. By the end of that period, about one in four residents lived below the federal poverty line, according to the Brookings study.
For residents who had secured employment, inflation-adjusted average earnings fell by one-third. The number of households relying on federal Housing Choice Vouchers jumped from roughly 300 in 2000 to more than 800 by the end of the decade.
So what happens when a once predominantly white suburb evolves into a community heavily populated by minorities struggling to get by? The power structures need to adapt to the drastically changing demographic.
But in Ferguson, they haven't.
"Like Ferguson, many of these changing suburban communities are home to out-of-step power structures, where the leadership class, including the police force, does not reflect the rapid demographic changes that have reshaped these places," the study noted.
Ferguson's police chief and mayor are white. One of the six City Council members is black. The local school board has six white members and one Latino member.
But it isn't just a lack of representation in law enforcement that disempowers the community, it's also the fact that Ferguson still hasn't responded to its community needs for adequate resources. Without an efficient safety net system in place, residents will continue to struggle to connect with economic opportunities in order to climb out of poverty, and violence will continue to remain a consequence of an underserved population.
"Violence is the effect, not the cause of the concentrated poverty," Brittney Cooper, a teacher of Women's and Gender Studies and Africana Studies at Rutgers, wrote in Salon, "that locks that many poor people up together with no conceivable way out and no productive way to channel their rage at having an existence that is adjacent to the American dream."
Many of the relief organizations on the ground in St. Louis are struggling to meet the needs of their clients. Find out how you can support local aid organizations.

Since 1975, the St. Louis Area Food Bank has distributed food to people in need through its partner organizations and also works to educate the public about the solutions that will finally put an end to hunger. Find out how you can get involved here.

The Food Pantry at St. Stephens
Though the Food Pantry at St. Stephens has struggled to meet its clients' needs recently, it manages to distribute 160 to170 bags of food per month to people in need in the area. Find out how you can get involved here.

Our Lady of Perpetual Help Food Pantry

Relying completely on small donations of time and money, Our Lady of Perpetual Help Food Pantry provides people in need in North St. Louis with groceries and household items, bill payments, computer training and vision exams. Find out how you can get involved here.

TEAM's Food Pantry
Run 100 percent by volunteers, TEAM's Food Pantry provides food and non-food items to needy families in the Florissant/Hazelwood areas on a monthly basis. Find out how you can get involved here.

Support Ferguson by helping provide community building and mental health services through the United Way Ferguson Fund below.
Calling all HuffPost superfans!
Sign up for membership to become a founding member and help shape HuffPost's next chapter
BEFORE YOU GO
PHOTO GALLERY
Politicians React To Ferguson