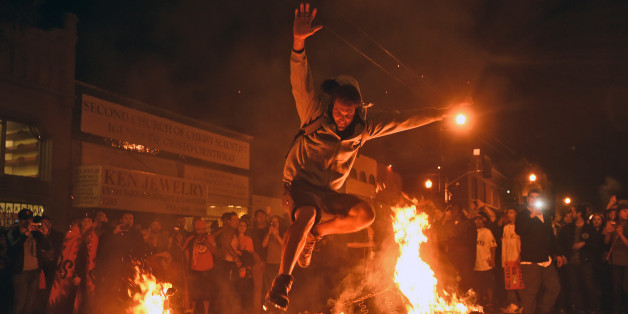 As the nation braces for protests following a Ferguson, Missouri grand jury's decision on whether to indict police officer Darren Wilson in the August shooting death of unarmed 18-year-old Michael Brown, leaders around the nation, including President Barack Obama, have urged calm. But regardless of what ends up happening, it's important to keep the response in perspective.
Twitter users took the opportunity on Monday to remind that civil unrest comes in all colors, shapes and sizes, and for all sorts of reasons (yes, including relatively bad ones). Sometimes, people seem to forget that the underlying issues are still what matter when tensions boil over, not the skin color of those who are organizing it.
After the San Francisco Giants won the World Series this year and in 2012, fans began rioting in the city. Below a picture of a fan destroying a bus in 2012:
To put upcoming events in #Ferguson in context: This is what San Francisco looked like after recent Giants' victory pic.twitter.com/0zAjZQ0xSO

— Karen Franklin (@kfranklinphd) November 24, 2014
SF Police car smashed in, officers had bottles thrown at them by out of control fans after World Series win #KTVU pic.twitter.com/YtbR3J34Qt

— taramoriarty (@taramoriarty1) October 30, 2014
Students also began rioting after Penn State fired football coach Joe Paterno in 2011.
Early images of the Ferguson riots.
Whoops, my bad. That's State College when the fired Joe Paterno, a football coach pic.twitter.com/SD8FxiwQuC

— Script Merch Lover (@TheWillardYears) November 25, 2014
And here's the scene on campus after the UConn men's basketball team made it to the Final Four this year.

UConn students destroyed even more after the men's team won it all in April.
University of Kentucky played UConn in the championship game. You better believe they also rioted after winning in the Final Four.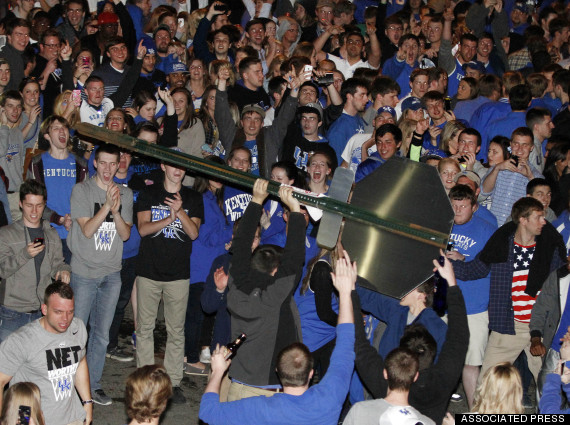 Kentucky students would riot again after their school lost the championship.
Fans in Vancouver rioted after their team lost the Stanley Cup in 2011.
Before whatever happens in Ferguson, remember this was Vancouver last time they won the hockey skatey trophy thingy pic.twitter.com/oLTPea3Xq1

— Mark Agee (@MarkAgee) November 24, 2014
There were also riots at a New Hampshire pumpkin festival in October. People aren't really sure why.
This is white people at a pumpkin festival, for no reason. So temper your hot takes about mob violence. pic.twitter.com/6U7oXF0eLK

— Mark Agee (@MarkAgee) November 24, 2014
CLARIFICATION: An earlier version of this story did not clearly reflect that a picture included of a San Francisco Giants fan attacking a bus was from 2012.
For more on the situation in Ferguson, stay up to date with our liveblog:
REAL LIFE. REAL NEWS. REAL VOICES.
Help us tell more of the stories that matter from voices that too often remain unheard.
BEFORE YOU GO
11/30/2014 3:28 PM EST
Wilson Resigned Over Safety Concerns, Lawyer Says
Reuters reports:
he white police officer who shot and killed an unarmed black teenager in Ferguson, Missouri, this summer, resigned from the force without any severance deal, the mayor of the St. Louis suburb said on Sunday.

The officer, Darren Wilson, announced his resignation late Saturday, saying he feared for his own safety and that of his fellow police officers after a grand jury decided not to indict him in the fatal Aug. 9 shooting of 18-year-old Michael Brown.
11/30/2014 7:27 AM EST
10 People Arrested During Portland's Ferguson Protest
PORTLAND, Ore (AP) — Authorities say 10 people have been arrested in Portland during a protest related to the Ferguson, Missouri, police shooting.
The city police bureau says the arrests came Saturday night "after a large group of protesters laid down in the street and refused lawful orders to clear the roadway."
Earlier, the gathering over the Missouri shooting death of a black man by a white police officer included a speech by the Rev. Jesse Jackson.
The Oregonian reports that Jackson urged nonviolence and said the resignation of the officer was "a step in the right direction," but that much remained to be done to achieve justice for the victim.
Police say that after Jackson left, some protesters marched around downtown and sporadically disrupted traffic.
Officials say some bottles were thrown at officers and a police car was damaged.
The nine adults and one juvenile arrested will face charges that include disorderly conduct.
11/29/2014 9:26 PM EST
Armed 'Oath Keepers' Plan To Protest
The NYT reports that armed members of the group "Oath Keepers" are in Ferguson to offer their help protecting businesses from damage.
From the NYT:
The volunteers, who are sometimes described as a citizen militia — but do not describe themselves that way — have taken up armed positions on rooftops here on recent nights....

But on Saturday, with the county police said to be threatening the Oath Keepers with arrest, the volunteers decided to abandon their posts and instead protest against the authorities. Late in the day on Saturday, a protest was being planned for that night.
Read more here.
11/29/2014 6:56 PM EST
Darren Wilson Resigns From Ferguson Police Department
Darren Wilson has resigned from Ferguson police department.
Read his resignation letter below, via St. Louis Post-Dispatch:
"I, Darren Wilson, hereby resign my commission as a police officer with the City of Ferguson effective immediately. I have been told that my continued employment may put the residents and police officers of the City of Ferguson at risk, which is a circumstance that I cannot allow. For obvious reasons, I wanted to wait until the grand jury made their decision before I officially made my decision to resign. It was my hope to continue in police work, but the safety of other police officers and the community are of paramount importance to me. It is my hope that my resignation will allow the community to heal. I would like to thank all of my supporters and fellow officers throughout this process."
11/27/2014 12:55 PM EST
Murals In Ferguson
The group that's out painting right now also did this mural. It's a block or so from the Ferguson PD pic.twitter.com/tqgIUhR8C0

— Jim Dalrymple II (@JimDalrympleII) November 27, 2014
11/27/2014 11:19 AM EST
Ferguson Library Stays Open Throughout The Protests
MSNBC's Steve Kornacki reports on Ferguson's public library, which has remained open throughout the protests.
Over 50 volunteers helped staff the library, which provided free lunches to children as schools remained closed. The library also offered help to businesses who suffered damage during the protests following the grand jury's decision.
"We have a dramatic setting right now but it is not different than what libraries do every day," library director Scott Bonner said.
--Mollie Reilly