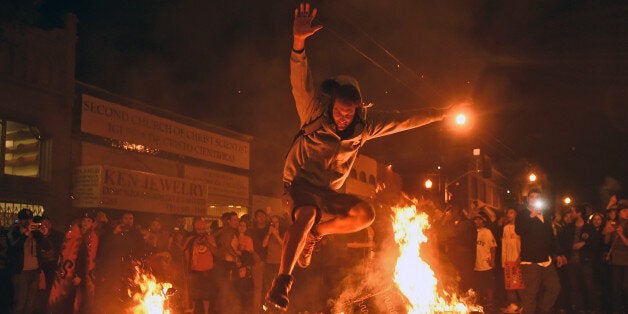 As the nation braces for protests following a Ferguson, Missouri grand jury's decision on whether to indict police officer Darren Wilson in the August shooting death of unarmed 18-year-old Michael Brown, leaders around the nation, including President Barack Obama, have urged calm. But regardless of what ends up happening, it's important to keep the response in perspective.
Twitter users took the opportunity on Monday to remind that civil unrest comes in all colors, shapes and sizes, and for all sorts of reasons (yes, including relatively bad ones). Sometimes, people seem to forget that the underlying issues are still what matter when tensions boil over, not the skin color of those who are organizing it.
After the San Francisco Giants won the World Series this year and in 2012, fans began rioting in the city. Below a picture of a fan destroying a bus in 2012:
Students also began rioting after Penn State fired football coach Joe Paterno in 2011.
And here's the scene on campus after the UConn men's basketball team made it to the Final Four this year.
UConn students
after the men's team won it all in April.
University of Kentucky played UConn in the championship game. You better believe they also rioted after winning in the Final Four.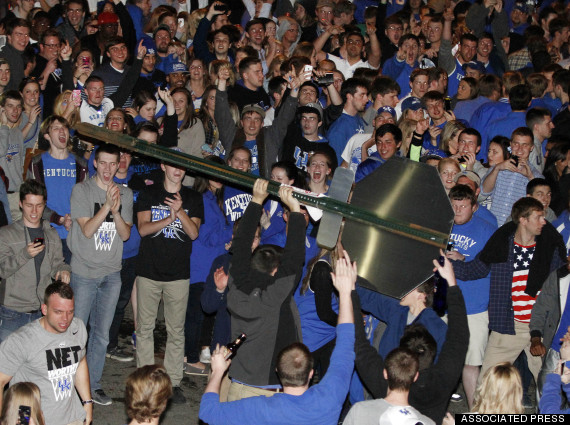 Kentucky students would riot again after their school lost the championship.
There were also riots at a New Hampshire pumpkin festival in October. People aren't really sure why.
CLARIFICATION: An earlier version of this story did not clearly reflect that a picture included of a San Francisco Giants fan attacking a bus was from 2012.
For more on the situation in Ferguson, stay up to date with our liveblog:
Calling all HuffPost superfans!
Sign up for membership to become a founding member and help shape HuffPost's next chapter