FERGUSON, Mo. -- Tensions were high here on the night of Aug. 19. A woman handing out water to demonstrators was maced. A police officer pointed his assault rifle at peaceful protesters and threatened to kill them. And just after midnight, the activist Taurean Russell was arrested and charged with failure to disperse.
Over the next three days, the authorities shuttled Russell around on a series of driving-related bench warrants, placing him behind bars in no fewer than three different jails.
The authorities say they kept Russell in jail because they had to. Russell believes they targeted him because he was organizing residents of this small St. Louis suburb. Either way, his experience highlights what some describe as a modern day version of the debtor's prison -- a criminal justice system that funds its operations by fining people for all sorts of violations and locking up those who are unwilling, or unable, to pay.
Russell, 30, has the build and commanding presence of the high school football coach he once was. A month ago he held a temp job as a day laborer in St. Louis. But that was before he heard about a police shooting in Ferguson on Twitter. Arriving at the street where the officer shot Michael Brown to death Aug. 9 early enough to see blood on the ground, he became deeply concerned.
"I don't want to be next," he says.
He started protesting every day. By Aug. 18, he had stopped showing up at his job to focus full time on organizing against police misconduct. The next day he was on Chris Hayes's MSNBC show, telling the host that around St. Louis, police disrespect black citizens "on a daily basis."
Later that night, Russell started walking down West Florissant Avenue with rapper Talib Kweli, who was there to see for himself the ongoing protests over Brown's death. Phillip Agnew, the executive director of the Florida-based activist group Dream Defenders, joined them.
Just before midnight, Agnew recalls, a crowd began to assemble. In the confusion he lost Russell, who was caught behind the police line.
What Russell claims happened next is difficult to verify. He says police pointed at him and shouted "get him." He was pushed to the ground, and a short, white police officer in blue called him a "n*gger."
The St. Louis Metropolitan Police Department is one of several in the area that uses blue uniforms. But without a name or identifying information, metro police spokeswoman Schron Y. Jackson told HuffPost in an email, it is "impossible to comment on whether or not the individual is a St. Louis Metropolitan Police Officer."
"I can tell you the behavior you described in your inquiry is not indicative of the standards of professionalism set forth by this organization," Jackson added.
Although Russell believes he was singled out for arrest, he acknowledges that the trip through area jails that followed was "not like an isolated incident." With 91 separate municipalities, it is possible to pass through eight different ones in a four-mile drive. Many of these small cities came about because of white residents' desire to live away from blacks, a historical pattern that is part of the reason St. Louis is the ninth-most segregated metropolitan area in America today.
The first time he went to pay off a traffic ticket, Russell recalls, "it was the longest line I've ever seen. You would have thought Jay Z was in town giving out tickets."
"It was nothing but black people," he says.
Russell is open about the litany of bench warrants he had for driving-related offenses. He says his troubles started in 2004, when he was 20. A police officer in Maryland Heights, Missouri, accused him of lacking insurance because, he claims, he failed to furnish proof that he had it quickly enough. The problems mounted as his license was suspended and he missed court dates. In the decade that followed, he says he was charged with driving with a suspended license in the cities of St. Louis and Florissant.
Along the way, he says, judges refused to take his limited income into account when assessing fines against him. He lost his job as a football coach at a city high school because he had an outstanding warrant. At 20, when one judge gave him an $800 fine, he remembers, he replied that he simply did not have the money.
"They were like, 'That's not my problem,'" he says.
After his arrest in Ferguson, Russell was held for several hours in the St. Louis County jail in Clayton. He was sent to Maryland Heights later that morning on his warrant there, and remained there for over a day, until the afternoon of Aug. 21. Captain Scott Will of the Maryland Heights Police Department confirmed that Russell was held for a driving offense.
Like Ferguson, Maryland Heights makes a large percentage of its revenue -- 9.3 percent of its general fund -- off of municipal court fines and fees. And as in Ferguson, blacks account for a disproportionate share of traffic stops there -- 27 percent of stops compared to 12 percent of the city's population.
Aware of Russell's activism, a local group called Missourians Organizing for Reform and Empowerment (MORE) was frantically trying to pay off more than $2,000 worth of outstanding bonds in three cities. Being arrested in one triggers the option for other municipalities to hold someone on an outstanding warrant. The activists succeeded with Florissant, which did not move to actually book Russell. But then they had to deal with St. Louis city.
"I understand a traffic violation isn't necessarily the end of the world," said Maggie Crane, a spokeswoman for the city, "but nonetheless if you have somebody in custody and don't pass them to all the municipalities that need him, then you're not doing your job."
"He's the one who had outstanding warrants," she said.
So Russell was shuttled to St. Louis that afternoon. After hours of processing, a jail employee handed him stale chips, a bad sandwich and juice. It was only after jail officials realized that Russell had initially been arrested in the Ferguson protests that the process was "magically" sped along, Russell says. He believes they were afraid of a political backlash.
Finally, a half hour after midnight on Aug. 22, Russell was freed. Intentionally or not, the police and jails had effectively blocked him from participating in three nights of protest. On Friday morning he saw his son, and by the afternoon he was speaking at a press conference about police brutality.
Russell's 48 hours in jail might have been nothing more than standard operating procedure around St. Louis, but Arielle Klagsbrun, an activist with MORE, calls it "suspicious."
Klagsbrun points out that most people don't have a motivated jail support team behind them, and their sagas often have a sadder end. They can be held in jail for as long as a month until they hit a court date. In the meantime, they often lose their jobs -- which, ironically, makes it more difficult for them to pay off pending court fines.
Or, in Russell's words, "people get lost every day."
Before You Go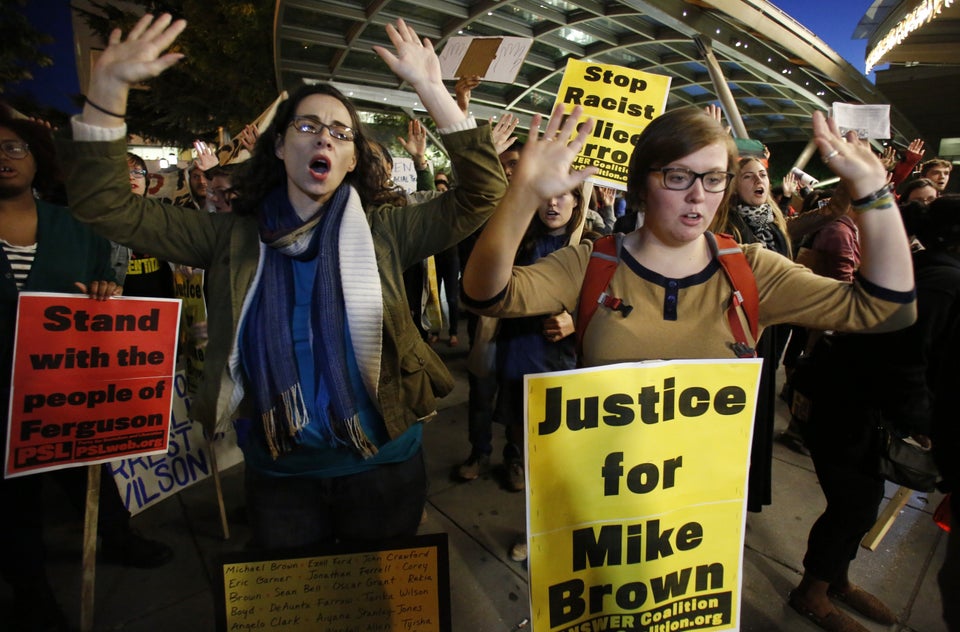 Ferguson
Popular in the Community