This week, St. Louis, MO has again been roiled by protest after the controversial shooting of yet another young black man, this time by an off duty police officer. Protesters who gathered outside Busch stadium where the St. Louis Cardinals were battling their way to the National League Championship Series were met with uncivil words by alleged Cardinal's fans.
Some folks say baseball has nothing to do with race relations in St Louis, but as a native St. Louisan, I beg to differ:
There are so many images of the grief, rage, and conflict that engulfed Ferguson, Missouri after Michael Brown, an unarmed, college-bound African American teenager was shot to death by a white policeman last August; but one image, in particular, got to me.
It was not the eyewitness descriptions of Brown, who, after being shot repeatedly, lay dead for hours behind a police line, as his blood pooled and dried in the afternoon sun.
It was not the Youtube videos I watched of police in riot gear opening fire later that night with stun grenades and rubber bullets on protestors who had taken to the streets with their hands aloft, shouting, "Hands up, don't shoot!" in homage to the last gesture Michael Brown made before being slain by police bullets.
It was not the televised declarations by the head of the 94 percent white police force as they circled their wagons, at first refusing to even identify the officer who shot Brown.
It was not even the front page photos of military vehicles looking suited for urban combat in Fallujah or Gaza City that began rumbling into this small, predominantly black, suburb of north St. Louis County.
The image that most got to me was a St. Louis Cardinals baseball cap, reverently placed on the lid of Michael Brown's coffin, by those who loved him most.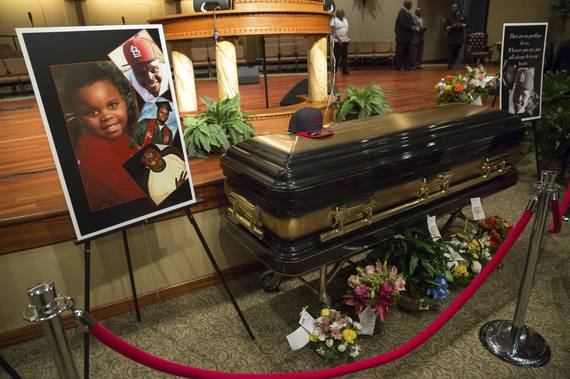 Baseball lives in that part of the American imagination where talent and heart are the keys to unlimited possibility. The field is level and everyone plays by the same rules.
It doesn't matter what you look like, where you came from, what schools you went to, or who you know. Baseball stands for the kind of America most of us still aspire to live in, where effort is the arbiter of success and the umps are fair and honest. But we know that outside the stadium, things don't really work that way, especially if you are poor, black, or both.
Lesley McSpadden, Michael Brown's mother, spoke truth as only a grieving parent can, about how hard it is for a young black man in a messed up place like Ferguson to graduate high school and get admitted to college, as her son had done.
She didn't need studies showing that black children are six times more likely to have an incarcerated parent than white children.
She didn't need to cite the NYT article about the average net worth of black household in our United States being just one eighteenth that of white households -- a bigger wealth gap than the one between whites and blacks in South Africa during the darkest days of apartheid.
Lesley McSpadden didn't need to rely on such statistics because almost anyone who takes an honest look at St Louis, Detroit, Cleveland, Milwaukee, Chicago, Baltimore, or any number of other American cities -- outside of their baseball-stadiums -- can see what she is talking about with the naked eye.
Her neighbors in Ferguson certainly get it.
The tiny city of Ferguson, Missouri now joins the list of those sad places in America where a trigger-happy cop can kill an unarmed young black man and walk away. But Ferguson didn't get on that map just because police killed a black teen with impunity -- such killings are woefully common in America.
Ferguson distinguished itself through the presence -- day and night -- of Mike Brown's neighbors; ordinary residents, some clad in St Louis Cardinal's baseball gear. They turned their town into a symbol for so many communities around our country where opportunities are scarce, career stunting entanglements with the criminal justices system are disproportionally high, and federally funded drug-war and Homeland Security programs have given rise to a frightening militarization of local law enforcement.
When somebody shoots unarmed black men we usually hear the tired refrain that the aggressor was somehow deathly afraid and acted to repel a life-threatening attack. Whether in the case of Trayvon Martin, the Florida boy killed by a self-styled "neighborhood watch" vigilante; Oscar Grant shot at point blank range on an Oakland train platform by a transit cop; Jordan Davis, shot dead in a Florida gas station in a dispute over loud music; or Vonderrit Myers Jr., the teenager shot several times by an off duty police officer in the Shaw neighborhood of St Louis last week, some version of that story is told.
In the case of Ferguson, that logic did double duty -- first to justify the inexcusable slaying of Michael Brown, and then as a pretext for the excessive use of force to quell the protests that arose in its wake.
I also grew up in St Louis County and, like Michael Brown, was once a restless 18-year-old Cardinal fan, thinking about college and trying to stay cool on muggy, August afternoons. Yes, I am white, I lived in a different part of town, and I survived to be an adult with kids of my own. But, at 18, I was curious about the world and asked the big questions, just like he did.
Race defines a lot of things in St. Louis.
In the 1960s my parents decided to move to an integrated neighborhood. They had gone to segregated public schools, but they believed in the America envision by the civil rights movement and wanted their family to be part of a better future.
In those days, there were not a lot of integrated options in suburban St Louis. My parents chose north Webster Groves, where there were a couple of square miles of integrated homes between a wealthy, all-white neighborhood south of the railroad tracks and a long established, all-black neighborhood to the north.
A century had passed since the Civil War, but sometimes the past didn't seem that far away on West Kirkham Ave. Our neighbors across the street lived on floodplain land the Federal Government had granted to their "freedmen" ancestors in the 1870s. White teens often gunned hotrod cars up and down our street. Some, with Dixie flags flying from their radio antennas, would yell hateful things at our black neighbors.
The most famous person living in our section of town was African American baseball legend Lou Brock. He moved there the same year we did, after the Cubs traded him to the Cardinals midway through the 1964 season.
That August, to everyone's astonishment, Brock hit and stole bases like he'd never done before. He lifted the Cardinals out of the doldrums and onto both a National League pennant and a stunning seventh game victory over the mighty New York Yankees in the World Series. Lou Brock became an instant hero to kids all over town.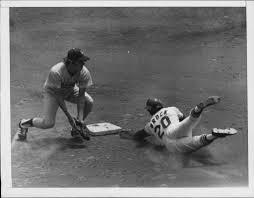 In our neighborhood, Brock was revered. And he used his fame to play a positive, high profile role in integration efforts. The Cardinals sponsored a wildly popular, annual Lou Brock night at the local junior high where integration, with all its wonder and tensions, was in full swing and where I would later start 7th grade, in 1970.
Lou Brock stayed with the Cardinals for 15 years, retiring with 3,023 career hits and a record 938 stolen bases. He entered the Hall of Fame in 1985, but the sixties were his epic years and he pushed the Cardinals to two more pennants and another World Series title before the decade ended.
The sixties, of course, were the same years that major race riots broke out in the black "ghettos" of dozens of American cities like Detroit, Los Angeles, Washington D.C, New York, Cleveland, Baltimore, Chicago, Buffalo, Newark, Philadelphia, and even Kansas City. People wondered aloud how St. Louis -- so demographically similar to segregated northern industrial cities that erupted -- never did; even after the assassination of Martin Luther King in 1968.
Some, like sports scholar Scott Powers, thinks baseball strengthened civic bonds and that the leading role of African American players in the stunning success of the Cardinals, especially in 1967 and 1968, helped the peace in St. Louis. The story is surely not so simple, but there is no doubt that St. Louis bucked a trend by staying calm during the "long hot summers" of the 1960s and that guys like Lou Brock were an important part of that story.
At its best, baseball should help bring communities together. At least that is what I've always thought. It was the sport that broke the color line in the 1950s and for white boys like me neighborhood pickup games were a great way get to know other kids, black and white. Most people who follow baseball closely have probably noticed that, for a variety of reasons, the sport has less African American players than it did in past decades -- but that withstanding, the sport still has a positive role to play in the life of the wider community. The Cardinals need to embrace the whole community like they did in the 1960s and 70s, not just well to do suburbanites who can afford the rising ticket prices.
No, baseball cannot be held responsible for ending poverty, restraining police aggression, expunging racial biases from our hearts, or fixing our broken criminal justice system. That is our job, as Americans.
What baseball gives us a is chance to practice the art of civility and, if for only a moment, imagine that that fair play is the American way.
If you get caught up in the beautiful madness of the postseason this year, take a moment between innings to imagine Michael Brown and Darren Wilson, the police officer who shot him, meeting out on that field instead of on the streets of Ferguson. Out there, where the rules are fair, don't you think it would have ended differently?
Related
Popular in the Community