ST. LOUIS -- Kevin Moore, the man who filmed Freddie Gray's violent arrest, was detained in Baltimore on Thursday night, along with Chad Jackson and Tony White, two activists who had previously filmed protests in Ferguson, Missouri.
On April 12, Moore released video of Gray's arrest to multiple media outlets immediately after filming it on his cell phone. Moore told the Baltimore Sun that Gray was "folded like origami" by police officers during the arrest.
Jackson and White are affiliated with WeCopwatch, an organization that focuses on police accountability. They had traveled to Baltimore to help train activists to film police officers.
Jacob Crawford, a representative for WeCopwatch, told The Huffington Post over the phone that Moore has since been released with no charges. He added that Jackson and White remain in jail, and said White was allegedly injured by police officers during the encounter.
Jackson's mother Catherine spoke with her son after the police stop. She told HuffPost by phone on Friday morning that her son claimed Baltimore police were following him and Moore for a significant amount of time.
Catherine Jackson added that her son and Moore pulled into a parking lot, and were suddenly approached by police officers with guns drawn.
"I don't think they were after Chad, I think they were after the man who filmed Freddie Gray's arrest," she said.
The Baltimore Police Department did not immediately respond to HuffPost's request for comment.
Moore claims that he has been the target of harassment and intimidation by officers since he released the video of police arresting Gray. The Baltimore Police Department posted a picture over the weekend showing Moore recording the arrest, asking him to come in for questioning.
In a video interview with the site Photography Is Not a Crime on Friday morning, Moore said the police claimed that the stop was due to an illegal turn, but adds that he's skeptical of that reasoning. He believes the police waited to detain him and the two others when they were vulnerable.
"We were protesting. I was with some brothers from Ferguson, Missouri. They came out to represent us and show us love and really hold us down in a time of need. And I was like cool, let's go protest and go down to City Hall and do our thing," said Moore.
"The reason they picked us up is because they saw me with my revolution mask. Once they saw the masks they were all over us," he continued. "They waited good until we got away from those protesters before they tried to f*** with us."
According to Moore, police took his name, date of birth and Social Security number, but did not name any charges. Photography Is Not A Crime and other media reports indicate that Moore was released after about two hours.
Moore singled out one police captain who gave him his phone number, saying that officer seemed more helpful than the others.
"He seemed like he was [a] genuine type of guy. I might see what he's talking about. Maybe he can help us try to get this thing back together. But I don't know if I can work with these type of guys when they can't even say how they feel," Moore said in the video interview.
Moore also spoke with Vice News on Friday, noting that he had already answered a number of the police department's questions in an interview he gave before getting taken into custody.
In many ways, Moore's claims of police harassment recall the story of Ramsey Orta, the 23-year-old citizen journalist who filmed Eric Garner's famous last words: "I can't breathe." Nine months after Garner's death, police are still trying to put Orta behind bars.
Jackson's mother believes her son has once again been wrongfully arrested by police officers. Last October, Jackson was agressively arrested in Ferguson while standing on a sidewalk.
Catherine Jackson said Friday that the charges against her son have been inconsistent and that he still has not received information about his bail bond.
"They keep changing the charges ... At first he was charged with looting and drinking in public, then 3rd degree assault on police. He hasn't even gone before a commissioner to get a bond," she said.
Before You Go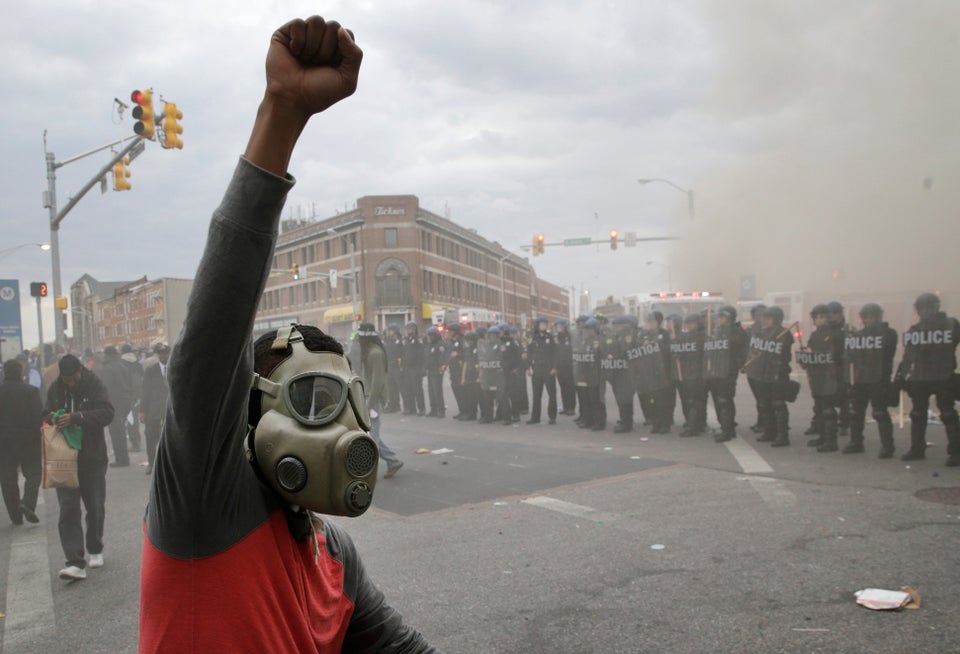 Baltimore Protests
Popular in the Community