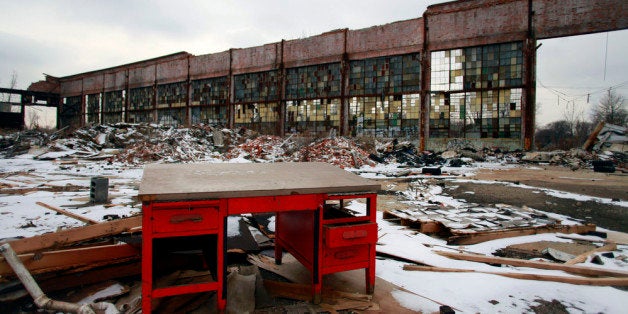 In the mid-1990's, myself and a hand full of Detroit-based preservationists put on the largest Historic Preservation Conference ever held in Detroit, the Michigan African American Symposium. Our goal was to bring together national, regional and local leaders from the traditional historic preservation movement and put them in the same room with city employees, community activists, neighborhood groups, educators and interested students. Our goal as organizers was to educate one another and together explore the activity of historic preservation as a social and economic tool in an urban environment.
Over 400 individuals attended this event at Cobo Hall including then Mayor Dennis Archer and several Detroit City Council members. One of our keynote speakers was the late Erma Henderson whose reputation preceded her as the most powerful African American woman in Detroit, a long standing progressive powerhouse of action in the city. I recall standing next to a relatively silent Mayor Archer as Ms. Henderson, his elder, started "doin' some teachin'" shall we say. As the first African American woman on Detroit's City Council, she held the attention of several generations in that hall while she patiently, yet sternly lectured us on the importance of developing, maintaining and never losing sight of, ones vision for the future of Detroit. Her message to all of us was simple: No vision, no future. Don't ever let go of it.
Noticeably absent from this powerful three-day conference were major real estate developers. At that time, most simply did not understand the key components to successful re-development of historic properties in Detroit. Fernando Palazuelo, the new owner of the Packard Plant, does understand and I believe he is going to be successful beyond our expectations in his goal of redeveloping the Packard for several reasons you may not have thought of:
1. Fernando Palazuelo is not from Detroit.
While this will pose challenges for his efforts on many levels, I believe, in this particular instance, it will work to his advantage. He appears to bring years of experience in skillfully steering similar projects in similar economies. More importantly, perhaps, he carries no baggage from years of repeatedly hurling his head against the wall in attempts to get anything done in a less than friendly development environment.
I am recalling it took 10, (thats T-E-N) years to redevelop the relatively small Garfield Building on Woodward Avenue as one of the early historic properties to be adaptively reused for commercial purposes. Development in Detroit is not for the faint of heart though it has gotten a bit easier in the current environment. Mr. Palazuelo does not strike me as a carpetbagger with a checkbook, he strikes me as a boots-on-the-ground soldier when it comes to working within a community, even one new to him.
2. Fernando Palazuelo is a Spaniard.
In my other life, I train horses and riders in the ancient art of Dressage. Google it. Two summers ago, I worked with 20 spanish stallions, the four-legged kind. The stallions were easy, it was the Spanish owner that befuddled me as I saw no logic to his decision-making. I sought the advice of a co-worker, a woman from his same village in Spain, as to his peculiar behavior. She smiled, shook her head, and sat me down while she, woman-to-woman, explained Spanish men to me in her thick accent: "Nancy, they allow their emotions to rule them. American men suppress them in business, Spanish men use them. A Spanish man makes all of his decisions with his heart first, and then his mind, all decisions".
What may seem as an illogical decision to acquire the worlds largest industrial ruin in a bankrupt city, is actually a decision that is based exactly where it should be: in the heart. In Detroit, anybody with means can come in here and write checks for building after building after building. What you can't buy is soul. No matter how hard you try. Decisions made with the heart are decisions with the capacity to change the world, or in this case, Detroit.
3. Fernando Palazuelo understands that whatever his life was before, with the exception of his family, it is over. His life is now the Packard Plant.
For 11 years of my life, I was partner through marriage in running Detroit's alternative newsweekly, the MetroTimes. As the owners, we were the bottom line 24/7 on all levels. Running any business in the city of Detroit, growing a business in Detroit, Americas most rugged urban core, is not a job -- it is a life. It takes a commitment that goes far beyond anything you've ever done. Any and all aspects of our life were sublimated to the business: our employees, our readers and the vision and mission of our work. Mr. Palazuelo has demonstrated an understanding of this level of commitment and is poised to "walk his talk" by taking up residence in his project, something that will likely endear him to his fellow Detroiters faster than anything else he could do. We don't do "talk" in Detroit, we do "walk/"
4. Fernando Palazuelo understands the role of story, of history, in creating a compelling redevelopment project.
In Detroit, with some more recent exceptions, we remain relatively unable to attract investment via conventional parameters. We have to sell into our strengths and those strengths are not necessarily the reasons investors come into projects in urban centers. Mr Palazuelo has recognized what we all know in our hearts to be true: What we have is unique and unlike any city in the world right now. Our grit, our history, our architectural resources, and our current economic environment, are one of a kind.
Detroit is the perfect storm of potential.
Our industrial flagship, the Packard, is connected to what came before, reflects reality now and it has the potential to define the future in architectural terms; a future that respectfully brings our past right along with it. It is basic human nature to want to be part of a resurrection story; to want to re-write a history with a golden pen and a happy ending. The redevelopment of the Packard and the story of the re-development of the Packard have the potential to communicate the future of Detroit to the world and that message is worth whatever it takes financially to get this done, with a solid financial return on investment inevitable.
Money doesn't follow money -- it follows vision. Erma Henderson knew that. We in Detroit know that. So does Fernando Palazuelo.
Calling all HuffPost superfans!
Sign up for membership to become a founding member and help shape HuffPost's next chapter