Women running newspapers is always a big story. In fact, when Jill Abramson takes the helm as Executive Editor of the venerable New York Times in September, it will be the first time in its 160-year history that a woman has run the show. That's news. She joins a small but elite group of women who've had the creative and influential task and title of Editor and/or Publisher of an American city newspaper, from Ann Smith Franklin, who became the first female newspaper editor in 1762 with the Newport Mercury; Anne Green, publisher of the Maryland Gazette in 1767; the iconic Katharine Graham, who ran The Washington Post from 1969-1979, right up to the very enterprising Caroline Titus, current owner, publisher and editor of The Ferndale Enterprise.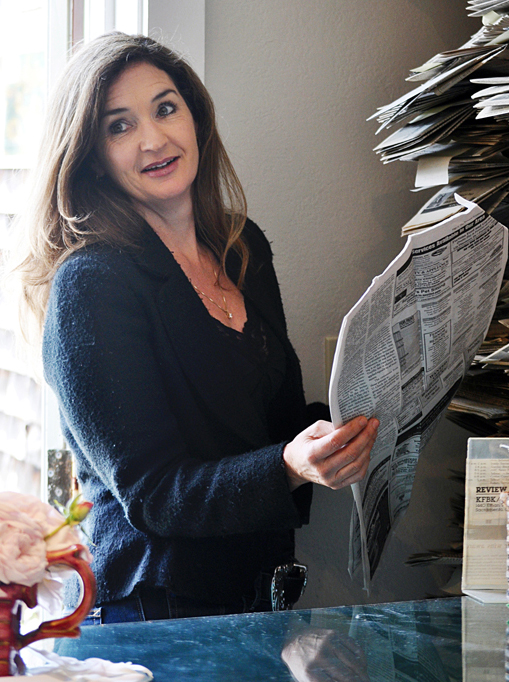 It's rare in today's hyper-digitized, multi-media world to hear any kind of good news about brick and mortar newspapers. They're dropping like flies and whatever life-support measures are employed - smaller pages, fewer sections, more ads, snazzy online editions - there remains a panic over how to maximize profits, meet journalistic standards and still put out a paper that people will actually pay to read. It's a task that's knocked out some of the best, yet in the midst of all this journalistic Sturm und Drang, The Ferndale Enterprise has endured, publishing a hard copy edition every Thursday for the last 133 years and still going strong from its tiny wood-shingled office on Main Street in Ferndale, CA., courtesy most recently of the indefatigable Ms. Titus.
It's almost too quaint to be true, this story. Like one told by Capra or Hallmark; filled with warmth, optimism, just enough dark corners to ground the narrative and a leading lady who defies the cliché of old men behind stern desks or terse Rosalind Russell types snapping at copywriters. In this story we find the nostalgic vision of a small town newspaper, a feisty community of farmers, artists and shopkeepers, and a vivacious wife, mother, writer and business woman who takes her ambition and finds it a home as editor and publisher of a paper that has defied and made history all while chronicling it.

Let's start with the town, Ferndale. Tiny farm town 262 miles north of San Francisco, 15 south of Eureka, in that part of the country people confuse with Oregon because it seems impossible for any state to have that much territory above what they already call "the northern part." But it's there, amidst the grand Redwoods, the mountains ranges and the wild northern coast. Tucked into hills and dales and wide green fields of dairy cows, five miles or so from the 101 and across the famous Fernbridge (readying for its 100th birthday this summer), is the Victorian Village of Ferndale. With just the right approach in just the right light, Ferndale can appear like the mystical Brigadoon, all charm and wonder with church spires piercing the clouds, its town center straight from a greeting card, one street more picturesque than the next. It's no wonder the producers of the 2001 film, The Majestic (Jim Carrey, Martin Landau), a Capra-esque fable of the 50's Blacklist era, chose Ferndale as its idyllic small town location; the entire town is on the Historic Registry and looks every bit the part!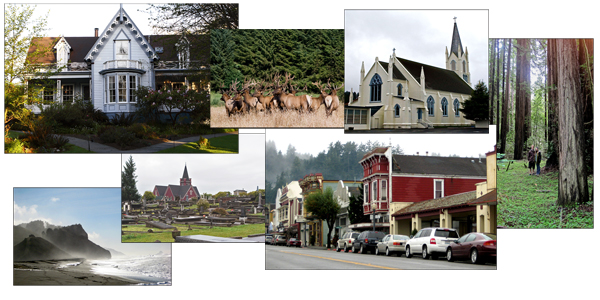 And into this charming burg came Caroline Titus, a British ex-pat who arrived with her parents on these sunnier shores in 1972, landing first in Hollywood as a hearty 10-year-old ready to take on the world and later to Woodland Hills, CA., where her father worked in the film industry. Her passion for writing struck early: she wrote her first Letter to the Editor to the San Fernando Valley News in 1978, indignant over the unexpected development of a rural field where she'd grown accustomed to riding her horse after school. The power of that pen, it seems, made quite an impression, setting the stage for her career to come. According to the 1999 article "Ferndale's Dan Rather" in the North Coast Journal:
She worked on high school and college newspapers, was graduated (in 1985) from Sacramento State University with a government/journalism major, and had a 10-year career in radio and television reporting in the state capital. "Which was great training for this job," she points out, "because when you're having to produce, you know, 15-20 news stories on radio in three hours, you learn how to write fast and come up with stories ... great training."
That training led to various other media jobs (even racking up some time with the notorious Rush Limbaugh!) but it was a personal life turn that ultimately landed her up in the real north. She met Stuart Titus, a Ferndale native going to school in Sacramento at the time; they fell in love, married, had their first child, and when Stuart landed a coveted post as manager of the enormously popular Humboldt County Fair (which is permanently housed in Ferndale), Caroline and baby Elizabeth headed north with him in 1991.
To transition from a city of 1.5 million to a very contained 1300 would be an adjustment for anyone but for the ambitious and energetic Caroline it was something of a culture shock, particularly in terms of her career goals. The next chapters cast her as a stay-at-home mother when daughter Abigail and son Grady joined the family, giving her time to find her feet and carve her place in the small town environment. But even while wrangling this mommy-track, she deftly kept her hand in the game by writing and editing a once-a-month supplement to Eureka's Times-Standard and more frequent articles for the local paper, The Ferndale Enterprise. Before long, as life and growing children allowed more flexibility, Caroline became immersed in her town's tiny but very vibrant paper. By 1995 she was the Managing Editor, then Editor-in-Chief, and in 1998, she bought the paper with its circulation of 1500 in a town of 800 families and thereby became one of the youngest, and certainly one of the few female, editors of an American newspaper.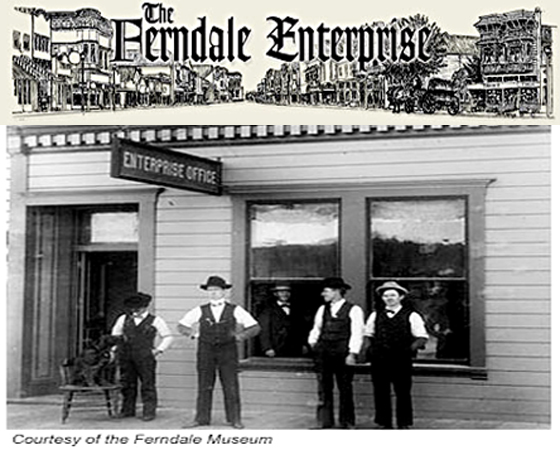 Sustaining a tradition started in 1878 is one thing; improving on the point is another. It's been under her purview that the Enterprise began accruing substantial recognition (with a current total of over 30 state and national awards), and Caroline quickly became known as a fierce crusader for reporting the stories that needed to be told. Her unvarnished coverage of local news has often incited controversy and debate in a small town where the newsmakers are frequently one's next door neighbor or local kin, but it also cemented Caroline's reputation as an unrelenting purveyor of truth and fairness in journalism. She's been tireless in her quest to cover every story from the local repertory company to the school teams; the car accidents and drug busts, the successes and struggles of the farming and tourism industries and the exhilaration of a great summer fair. City government and the school board were - and are - often the focus of her paper's coverage. In fact, a 2009 imbroglio with members of that Board and then-school Superintendent Sam Garamendi raised such a ruckus that other regional papers began covering the story as well, often with the slant of how Caroline's push for transparency won her both enemies and supporters. But it was the most recent controversy that brought Caroline into focus with the big boys; a story big enough that national news and The New York Times came calling.
In early 2009, a certain Rich Ghilarducci, then CEO of the local and economic behemoth The Humboldt Creamery located just across Fernbridge from Ferndale, slipped quietly out of town and never came back, setting into motion an economic catastrophe that swept like a tsunami over this entire dairy farming community. Madoff meets Green Acres, in Hollywood parlance. But there was nothing fictional or charming about this mess. It was financial malfeasance, big and destructive, generating heat like no other event in the region's history. Dan Barry of The New York Times chronicled the story in a piece called "Broken Trust Shakes Web From Farmer to Cow," part of his series, "This Land," which focused on various aspects of the economic crisis. That's big, when the New York Times comes to a town. But long before Mr. Barry or any other reporter, paper, or online news source got there, Caroline Titus was neck-deep in the unfolding saga, sometimes risking life and limb to get her story. Not only did she assign the first reporter to knock on the door of Ghilarducci's Arizona escape location to ask why he left and what was going on (that reporter managed to get the famous "arm shot" of him closing the door on her; Caroline ran it), she was tweeting from the San Francisco courthouse when his 30-month sentence for financial fraud was handed down on May 18th of this year.
It was Caroline's investigative reporting that unearthed many of the facts of the case that even Creamery board members (longtime dairymen) didn't know. Relentless about pursuing the truth of what really happened at the 80-year old cooperative, as well as the extent of Ghilarducci's fraud, The Enterprise became THE source not only for investigators and other reporters, but for a multitude of creditors who were owed millions by the eventual bankruptcy of this once seemingly impervious institution. The Enterprise ultimately won several national awards for their reporting on the Creamery debacle: for breaking news coverage, in-depth coverage, and investigative reporting. Quite a legacy for a small town rag.
And as legacies go, she's already set another in motion; it appears daughter Elizabeth is following in her mother's footsteps. Ellie, as she is known, just finished her fourth year at Stanford University, where she served as Editor-in-Chief of The Stanford Daily, interned at both print newspapers and online operations such as TexasTribune.org, and will be reporting this summer in Washington, D.C. A long way...yet not so far from the tree.
There's a good movie in here somewhere. Lois Lane meets Rosalind Russell by way of Katharine Graham starring Demi Moore or Julia Roberts or some other actress with the edge, the smarts, the looks and that indefinable spark Caroline brings to the table. There's romance, family, suspense, crime, punishment, small town life and big courtroom drama. And this wouldn't be a puff piece....she's ruffled enough feathers, stepped on enough toes and stirred up enough controversy to pit her fans against her detractors any day; in that tangible, unpredictable and fascinating way real-life has of unfolding. A good movie, I tell you.
Check out her work, read her paper, The Ferndale Enterprise; get a sense of the kind of thoughtful reporting that goes on even in a tiny town a million miles away from New York City. It's a good read. A good paper. When Jill Abramson comes on board at The New York Times later this year, she'll be joining some very good company.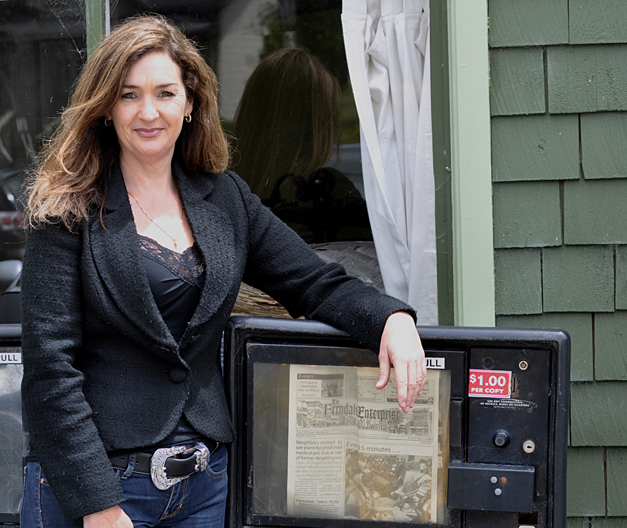 "I'm proud of the impact The Enterprise has in our community. From helping to raise tens of thousands of dollars for various causes, to righting social injustices, The Enterprise has been an integral part of Ferndale for more than 130 years. I'm proud of keeping The Enterprise tradition going and ensuring that it stays viable and healthy, hopefully for years to come." Caroline Titus, California Newspaper Publishers Association; California Publisher, Summer 2009
Ferndale collage by Lorraine Devon Wilke.
Caroline Titus and Ferndale Enterprise photos courtesy of Caroline Titus.

Calling all HuffPost superfans!
Sign up for membership to become a founding member and help shape HuffPost's next chapter