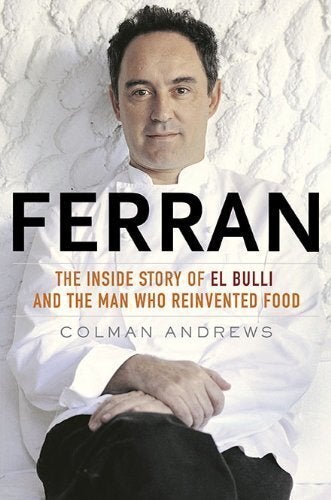 For a book that celebrates a break with traditional cooking, Colman Andrews's new biography of the avant-garde Spanish chef Ferran Adrià lays on the cream sauce with a heavy hand.

By the end of the first two chapters of "Ferran" alone, Mr. Adrià, the owner of the Michelin three-star restaurant El Bulli, has been compared by the author and others to Picasso, Le Corbusier, Walker Evans, Miles Davis, Charlie Parker, Eric Clapton, Jimi Hendrix and Elvis Presley. Mr. Adrià -- a pioneer of the culinary movement that's come to be known as molecular gastronomy -- is also likened to Tiger Woods, though whether to the pre- or post-bimbo-eruption Tiger Woods isn't made clear.

Mr. Andrews is a founder of the excellent food magazine Saveur and the author of four well-received cookbooks. In the fawning "Ferran: The Inside Story of El Bulli and the Man Who Reinvented Food," however, he's lost in the weeds. He's written hagiography, not biography. Reading "Ferran" is like being waterboarded with truffle oil.
Related